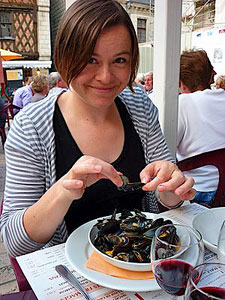 The accommodations were all booked online, often the result of random Google searches. They were often chosen for convenience to our route rather than from recommendation or endorsement. We had the full spectrum booked: a simple farmhouse, a quirky town house, a very rural ecological homestead and the highlight ~ a 15th century 'fairytale' château. Each day we would take delight in looking forward to the adventure that lay ahead at our accommodation – what would it be like? And what about the people? And what about the breakfast?

We particularly looked forward to our night at that château ~ Château de la Motte ~ where we had also booked to dine. It did not disappoint. The castle was most impressive as we approached it after quite a long and hot day in the saddle. We soon perked up. We felt like excited children exploring our new home for the night.

Monsieur and Madame Bardin were wonderful hosts and made us feel quite at home in our rather grand surroundings. We stayed in the Aimery de Brisay suite which had ceilings high enough to play tennis and was about the same size as my entire London apartment. Later we went down for dinner, I dressed as smartly as I could from of my limited selection of cycling clothes. Monsieur Bardin is quite a raconteur and was open to telling us about his home, it's history and his interesting family and life. He greeted us with a selection of local apéritifs, and we continued to relax.

KIM ENJOYING MOULES EN ROUTE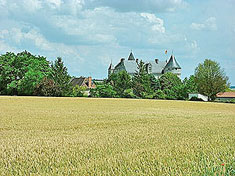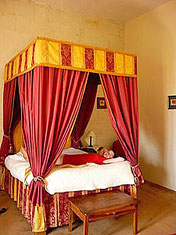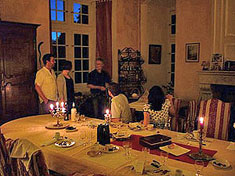 THE STUNNING CHÂTEAU DE LA MOTTE, OUR ROOM & DINNER WITH OUR HOSTS AT THE CHÂTEAU
Madame Bardin served up quite a feast for us, and Monsieur kept our glasses topped up with wines that were paired with each course. It was a very enjoyable and comfortable evening. Later we retired up the magnificent stone spiral staircase to our chambers where we spent a restful night.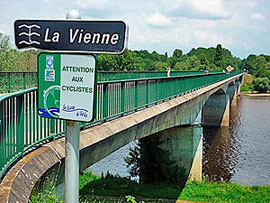 The breakfast was a delight, and we left with full tummies to send us on our way through the Vienne region and into the Charente. As we went further down through France it became hotter, and the hilly, rural scenery was lush and tranquil, but it was quite hard going. We finally made it to our destination, though by this stage we were quite tired and the finish line went unnoticed as we raced to the fridge for drinks before collapsing on the sofa.
We all enjoyed the adventure of our cycle and it was a life affirming experience. France is certainly a beautiful and varied country; the back roads are great for bikes; and compared with the UK it is refreshing to get away from the crowds. The highlight was the wonderful surprise and anticipation of the accommodations, the welcome and friendliness of the hosts, and all the wonderful food and drink that we enjoyed along the way.
Vive la France!
Sean is from Cornwall, which forms the tip of the southwestern peninsula of Great Britain, and he now lives in West London.
For a living he develops graphics software for sports broadcasters around the world, including the BBC.
His fellow cycle companions, Hugh and Kim, are from Scottish stock now living in Oxford.
They work for Oxfam, the NGO that works towards putting an end to poverty worldwide.
Click here for a virtual visit to Château de la Motte and book your stay!
[Photos Copyrighted 2009 by Sean Hosking. All rights reserved.]


---
Ici et Là
This column is intended to advise you about cultural events, news and happenings
in France or France-related events taking place in the United States
between now and the publication of our next issue.
In France. . .
o Jewel thieves were arrested in connection with the December 5, 2008 robbery from jeweler Harry Winston in Paris. Twenty-five suspects were caught after months-long surveillance by French police. About $118 million in rings, necklaces and watches had been stolen in the robbery. The arrests were made as the thieves tried to sell the jewelry.
o In 2008 Paris' Louvre Museum shared the spotlight with London's British Museum as the two most visited museums in the world ~ but the Louvre came in first with 8.5 million visitors. The Louvre also placed first in 2007. The National Gallery of Art in Washington, DC placed third in 2008.
o President Barack Obama has been recreated in wax by sculptor Eric Saint Chaffray and installed at the Grevin Museum in Paris after a formal unveiling at the foot of the Eiffel Tower. Wearing his signature dark suit and a red striped tie and white shirt, Obama joins the select group of world leaders including Angela Merkel, Vladimir Putin and past US presidents including Franklin Roosevelt and John Kennedy. The museum first opened its doors in 1882 and receives about 800,000 visitors a year.
o European leaders met in April to design a plan to encourage sanctions on tax havens, put caps on bonus payments and to play a stronger role and increased funding for the International Monetary Fund (IMF). The far-reaching measures included dealing with hedge funds and for more transparency on the global financial markets. Some G-20 members including the US, China, Britain and India are putting up resistance to global regulations, but the European nations feel that something must be done to correct the problems that caused the meltdown of the world's economies and to help ensure it doesn't happen again.
o Hostage-taking by workers threatened with layoffs reached a fever pitch in the spring in France. Large corporations such as 3M, Sony and Peugeot were sites of 'bossnapping', a non-violent way that workers detain their managers until they receive some compensation for loss of jobs. There is a growing sentiment everywhere, and especially by those losing their jobs, that the business elite caused the crisis but it is the workers who are paying.
o The passing of Maurice Grimaud: the well-known public figure died at the age of 95 in Paris on July 16th, and he was buried in Paris' Père-Lachaise Cemetery. Grimaud was the police chief of Paris during the May 1968 student uprisings, and he was admired by both sides of the conflict having been credited for playing a significant role in avoiding bloodshed. He understood why the students were protesting, and he managed to encourage restraint when the student uprising was followed by ten million workers going on strike. His career began in Morocco in 1936, followed by time spent in Algeria, Germany and as an aide to then Interior Minister François Mitterand. He was a recipient of the Legion d'Honneur, an award instituted by Napoleon in 1802 that is the highest award given by the French Republic for outstanding service to France.
o French vignerons are facing an increase of the vine disease called esca, a fungal disease on the rise since 2001 at the same time that sodium arsenate which kept it under control was banned as a carcinogen. The disease is especially serious in Armagnac and Cognac regions of southwestern France, and being seen on the increase in Bordeaux. It is said that perhaps 40 percent of the Gascony vineyards have been destroyed. A new cure is being sought, but it seems to be a long way off.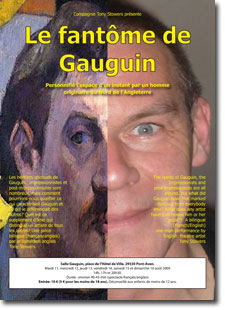 o Le Fantôme de Gauguin is the production scheduled for August 11 through 17 in Pont Aven, France. The 45 minute presentation in both French and English is a one-man show by Englishman Tony Stowers. The advertisement says, "The spirits of Gauguin, the Impressionists and post-Impressionists are all around, but what did Gauguin have that marked him out from everybody else?" You can find out by attending a performance. The admission is 10 euros (5 euros for anyone under 18). The program is probably not suitable for children 12 and under. For more details and information send an email to Tony Stowers at stowerstony@yahoo.fr. An added bonus is that Pont-Aven is a wonderful Breton town that is a delight for art lovers and everyone else who visits there.
o If you haven't ventured into the Yonne département of Burgundy lately, you really should. We especially recommend the town of Villeneuve-sur-Yonne and the marvelous little restaurant The Owl's Nest (Auberge La Lucarne aux Chouettes) owned by actress Leslie Caron. We can personally attest to the delightful riverside location, the exquisite menu selections, the atmosphere and décor which are the personal creations of Miss Caron. Four guest rooms are available at the auberge, and 100 meters away is The Residence, a charming and cozy weekly rental, also on the River Yonne which will delight you! For more information (accompanied by some lovely background music) visit the web site at http://www.lesliecaron-auberge.com/US/auberge_us.html.
o Les Montgolfiades de Duras et la Fête du Vin - a display of hot air balloons and a wine festival will take place for three days the second week of August in Duras (Aquitaine). For more information: http://www.tourisme-aquitaine.fr.
o Paris Quartiers d'Eté is the Paris neighborhoods Festival through mid-August. There will be theater, dance, concerts and events in locations such as the Tuileries Gardens, Palais Royal, Arènes de Lutèce, La Villette, banks of the Seine, Buttes-Chaumont Park. For details visit http://www.parisinfo.com.
o Take a trip to La Chaise-Dieu in the Auvergne in late August where you will enjoy the Festival International de Musique de la Chaise-Dieu, the 42nd Annual International Classical and Baroque Music Festival in this ancient village known for its 14th-century Abbaye St-Robert. Details at http://www.chaise-dieu.com.
o Provence is the site of the 28th Annual International Piano Festival. Piano ensembles and orchestras will be in different venues and locations in and around La Roque d'Anthéron every day. Locations include the remarkable Sylvacane Abbey, La Roque d'Anthéron's 18th-century church and the gardens of the Château de Florans. Learn more at http://www.festival-piano.com or visit http://www.ville-la-roque-d-antheron.fr.
o Not too far from Paris you can enjoy Saison Musicale, a series of concerts ranging from medieval to contemporary music in the Royaumont Abbey, a remarkable 13th century Cistercian abbey, from late August to late October in Asnières-sur-Oise (Ile-de-France). For further information visit http://www.royaumont.com.
o La Grande Braderie de Lille is a giant flea market and fair with visitors coming from all over Europe. The traditional dish of the Braderie ~ mussels and French fries ~ is served by the thousands throughout the weekend of September 5 & 6. Get details at http://www.mairie-lille.fr.
o The annual Marathon des Chateaux du Médoc et des Graves takes place on September 12th. It is the 24th Annual Médoc Marathon through the Bordeaux/Medoc area and its legendary wine villages, chateaux estates, and vineyards. Half of the 7,500 participants will be costumed, and each village and estate on the itinerary will offer spectators music, wine tasting, parties and other events. Information and last minute accommodations can be found at http://www.marathondumedoc.com.
o From September 16 to January 3, 2010 you can experience the Biennale de Lyon, the 10th biennial Contemporary Art Fair held in Lyon in the Rhône-Alpes region of France. For more information, please visit http://www.biennale-de-lyon.org or send off an email to info@biennale-de-lyon.org.
o Wine lovers will enjoy the Fête des Vendanges (grape harvest fair) in mid-September in Tain l'Hermitage (Rhône-Alpes). For information please visit http://www.tain-tourisme.com or telephone 33.4.75.07.02.02.
o Once again Perpignan (Languedoc-Roussillon) hosts Jazzèbre throughout the month of October. The city will become the center for jazz, from contemporary, salsa and blues to bossa nova and international jazz. Surrounding vineyards have adopted the festival and offer jazz and wine theme itineraries and excursions. Visit http://www.jazzebre.com (French only) or http://www.perpignantourisme.com to learn more.
o Paris is the venue for Salon de l'Automobile - the Paris' car show - Porte de Versailles, for two weeks in early October. More information can be found at http://www.mondial-automobile.com.
o And Paris is also the location for the annual Montmartre Harvest Festival for three days in early October. Montmartre invites everyone to celebrate the arrival of the precious Clos Montmartre wine. Sip the year's vintage and enjoy the highlights of this classic tradition: displays of regional produce, street musicians and singers, the election of the Harvest queen and a parade dedicated to Bacchus. Get more information at http://www.fetedesvendangesdemontmartre.com (French only) or http://www.parisinfo.com. And, to get a taste of what you'll find at the Festival, click here to read about it in one of our past newsletters
o Visit FIAC, the 35th International Contemporary Art Fair / Paris Expo at Porte de Versailles from October 22 to 25 in Paris. For information please visit http://www.fiacparis.com.
continued on page 3