by Marlane O'Neill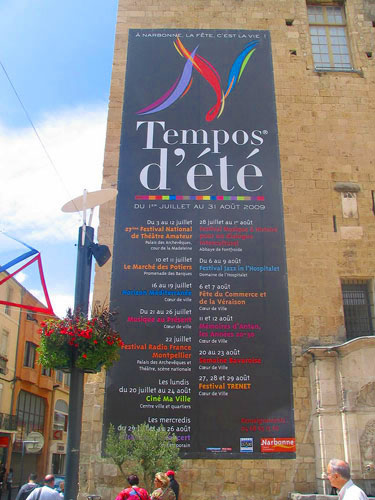 Who can resist a place with the slogan: Party is life! Such is the official theme of Narbonne's summertime, Tempos de L'Eté - La Fête, C'est La Vie. Toward the end of June, an enormous colorful panneau on the Cathédrale St. Juste was posted near the mayor's office announcing Tempos d'Eté (Summertime). Colorful triangular banners have sprouted across the city streets proclaiming In Narbonne La Fête C'est La Vie! Banners flutter on the city street lamps and adorn the Cathedral. A schedule of free music and dance events is posted everywhere. There's also a web site, www.mairie-narbonne.fr, where you can check out festivities. The entertainment is varied, from rock 'n' roll and jazz to grand organ concerts in the cathedral's fantastic central hall. The organ itself is a sight to behold, a couple of stories tall, about 20 feet wide, and it fills the enormous vestibule. Playing it must be a thrill. The events start on July 1 and continue until the end of August.
Summer in Narbonne also has cicadas, sea breezes, chilled rosé wines and midnight jazz at outdoor cafes and bars. In June, colorful medieval festivals filled the Via Domitia next to the Cathedral St. Juste. Tourists galore started to pour into the city, boating on the canal and riding the little white train that takes them sightseeing. Often they wear T-shirts declaring their last stop - one entire family of tourists is sporting Venezia (Venice) on their shirts. On the 14th of each month a lot of impromptu brass bands spring up in the streets, about a couple of dozen. It's an explosion of brass throughout the city. They play different genres of music in the town center and stroll around to play for various crowds. Who are we to argue - let's party!
Such is Narbonne in summertime, and more. So many outdoor events are going on that it is difficult to keep track of just the free ones. Then there are dozens of other happenings that one can pay to attend. There are events at the stadium, the theatre and the concert halls, some as little as five euros and up to fifty or more for a celebrity act such as Johnny Hallyday, one of France's most lionized pop stars. Nearby the beach town of Gruissan has frequent outdoor concerts featuring the big names.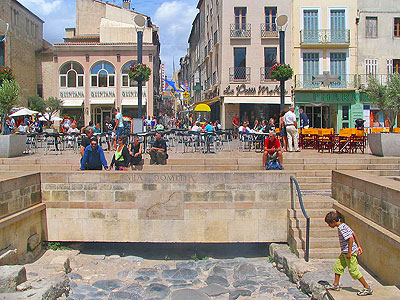 In addition to the official city events, the local restaurants and bars post their own calendar of happenings, so there is something entertaining to do every evening. Living in the center of the city has its advantages - the music wafts into the windows, and we let it lure us down into the streets to discover the latest jazz or rock group. Sometimes they start quite late, just around our bedtime, but we are usually enticed enough to forsake the pajamas and partake. One of our favorite places to listen to music is Le Centaurée, a canal side restaurant and bar. During the winter we watched the rugby games in the cozy saloon. Summertime finds them stretching their real estate across the road and along the grassy park toward the Canal de la Robine. At least 100 new place settings are added and the bands set up near the canal's balustrade. The Narbonnaise crowd the tables where they can dine until midnight or just order a bottle of chilled wine. An excellent bottle of rosé is only 9 euros, including tax and tip. We have been there often enough to merit a welcoming handshake and smiles from the owners. Of course, in France that only means that you have been there more than once! Restaurant owners take pride in one's fidelity to them.
Via Domitia, a gathering place and Gaul's first Roman road
As summertime bursts upon us, the festivities are accompanied by - what else - a heat wave. Our energies are seized with incredible languor and desire to do...nothing at all.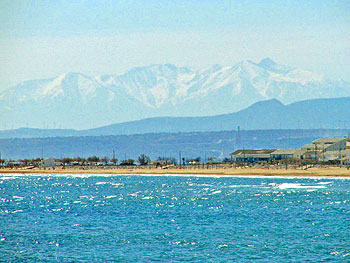 Heat can be a challenge, but then what is summer without some heat? The temperature soars over 100 Fahrenheit, 38 Celsius. The best way to deal with it is to give in. Resistance is futile. Narbonne is graced with some of the most beautiful beaches in France. Around noon, just when the temperature peaks we go to the beach, sit in the shade and bathe in the still icy-cold gin clear waters. Wait until around 6 or 7 PM. The temperature comes down again. We emerge on the city streets only in the evenings. After two sultry weeks even our toes are tanned, despite sunscreen and an umbrella, and we are full of salty air and sunshine. Oddly enough, the heat is a tonic when combined with sun, ocean breezes and cold salt water.
Finally, cool air breaks through with a steady breeze and the temperature falls back to the low 80s. Our brains can function again and life continues to be good. What was that entertainment schedule again? We're ready!
View of the Pyrénées at Narbonne Plage
Our first foray out into the midday sun is to see the Tour de France go through our neighborhood. Lance and company are traveling through our neck of the woods, so we are excited. An ideal spot near the town of Ripaud is located; we can drive almost right up to that part of the route and walk over to where they will ride.
It's my first time seeing the Tour, and I have no idea what to expect. We camp next to a bridge over a rocky waterway. Sunbathers lay on the water's edge below. The water is filled with big fat trout that look like they could be plucked out by hand. It is a peaceful setting of hills and crags above a stony brook. That's about to change quickly. It's 11 AM and the Tour should pass through around 2 PM. Hundreds of people are about - our spot is no secret. The entourage for the tour starts to speed by us around noon. It is like a high speed Mardi Gras parade. The various sponsors have created giant truck displays complete with dancing girls, huge sculptures and loud megaphones. They toss out all sorts of goodies, from key chains to replicas of the biking jackets their cyclists are wearing. Celebrities wave from the vehicles. The crowd is now elated.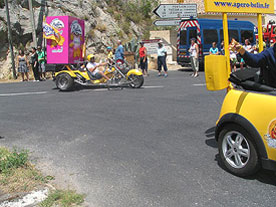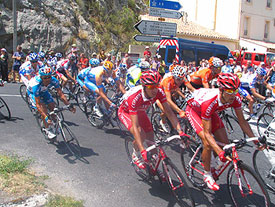 Tour de France sponsor (Belin) and the cyclists racing by
The poor gendarme (policeman) tries in vain to control the multitude as people leap around on the route. Suddenly a large shout comes from the road above us - the riders are here! They arrive in a whoosh with a huge cry from the crowd and all is a blur for two minutes. I am so close I can smell the sweat and the rubber tires as they go by. And then it is over! Until next year.
We've had a couple weeks of gentle summer now and are gearing up for August. We're ready to go back to the beach, but it's not quite hot enough with the temperature hovering around 80 and even lower. We even put a light summer blanket on the bed. August in France is usually a scorcher so we are preparing. Several beaches are within a half an hour drive from Narbonne, and we are checking them all out. Some are deserted and look like the Caribbean with straw umbrellas and tranquil shores. Others are more Miami Beach, loaded with people, restaurants and action. Take your pick ~ there's a smorgasbord of beach life around here. Luckily, the Narbonne beach (Narbonne Plage) is our favorite so far, only a 15-minute drive from the center of the city with easy (and free) parking and never a traffic jam in sight.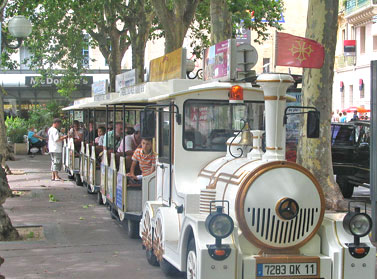 The Little White Train for visitors to see the city . . .
Anticipating more real heat ahead, we're soaking up the balmy breezes while they last. Another beach side discovery we make is Leucate Plage (Leucate Beach). This is just like California back in the 1950s, before development set in. A deserted looking tin roof building sits on the sand all by itself. It houses the most delectable food fragrances so we go in to look at the menu. Le Pilotis carte du jour is entirely made of seafood, butter and garlic, so it is hard to resist. On a Sunday, whole families plant themselves on the open-air porch, shaded by awnings. They lunch for hours, lingering over gambas a la plancha (grilled shrimp, Spanish style) that steam with garlic butter and are served with grilled vegetables and a salad. We try something we have never had before ~ whole calamari, purplish-pink and tenderly grilled along with some mussels. With a small pitcher (or two) of cold rosé to accompany it, it might very well be Heaven.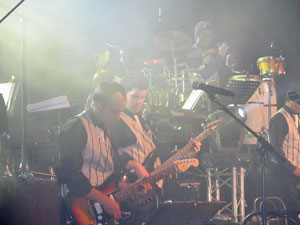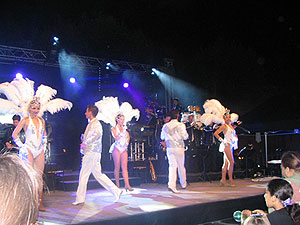 The music and dance revue on Bastille Day
Yesterday was Bastille Day. In addition to the fireworks at the sports stadium, the city set up a public Vegas-style music and dance revue in the center of town. Look at these photos! Quite a grand production, worthy of a five star resort. There were showgirls, light shows, trombones, horns and saxophones playing. Two drummers and several string players. A couple thousand Narbonnaise turned up, several entire families despite the late hour. The show started at 11:30 PM and ran until 2 AM. It would have gone on longer, but a light drizzle appeared and it was stopped for safety reasons. No matter, it was a really big show at just under three hours running without intermission. Party on Narbonne!
A Note about Wine
You may have noticed we aren't talking much about white wines or red. Rosé is southern France's summer drink. Served very cold and often in a bowl of ice, a pichet (pitcher) comes in whatever size you wish, quarter litre to whole litre. The average price is a fraction of what you would pay in the UK or USA. For example, four euros for a demi (50 centilitres) is common, even less if you are ordering your wine with food.
Despite its pale pink color, rosé wine is composed of red grapes that have shorter contact time with the skin on than red wine. Thus the color is not deep red or purple but rather a robust pink to peach color. The very palest rosés, those that are called gris (grey), are in contact with the red grape skin for only a matter of hours after the grapes are pressed. The deeper colors are obtained with longer contact and fermentation with the grape skins. In southern France many of the most popular rosés have a light ruby color.
Previously considered a wine for the uneducated, rosé is coming up in the world, and wine lovers are starting to appreciate its unique character and place at the dining table. Although it is served cold, like white wine, the flavor is quite distinctive from white. Because it is entirely up to the vintner to decide on the length of contact of the skins with the wine and thus the depth of the color of the wine, rosé is a wine that can be complex to comprehend in its entirety.
That distinction narrowly missed being severely compromised here in the European Union. Government toyed with the idea of allowing vintners to mix mostly white wine with a small amount of red to obtain 'rosé' and call it rosé on the bottle's label. Since white wine is composed of white grapes, not red, this would make a mockery of rosés; their distinctive flavors muddled, and real rosés would be lost in the confusion. In the USA and Australia, white wine is already added in small amounts during the rosé wine making process.
Happily, the EU refrained from passing the bill, and we can rest assured that rosés remain truly rosé. Our favorites are made nearby in Corbières. The red Corbières grapes are delightfully robust and fruity so they produce excellent rosés. Santé!
We are happy to announce that Notes from Narbonne
will be a regular feature of this newsletter. Thank you Marlane!
FOR MORE INFORMATION
For additional information about living or visiting Narbonne,
by land or canal boat, contact www.francehelp.info or email francehelp@live.com.
Please visit the Style de Vie page of the FRANCE On Your Own web site to read
Marlane's account of their life on the Canal du Midi.
. . . and Marlane and Rob offer newly-renovated gîtes for your stay in Narbonne.
Visit them at http://www.narbonnegites.com.
[Photo credits: Marlane O'Neill 2009. All rights reserved.
Mouse over photos for additional descriptions.]

---
DISCLAIMER: You have received this newsletter because your email address is on our Opt-In mailing list, i.e., you have requested to receive FRANCE On Your Own ©. If you would like to discontinue receipt of this newsletter, please send an email to publisher@franceonyourown.com with "unsubscribe" on the Subject line.
Unless indicated otherwise, photos, graphics, artwork and text in the FRANCE On Your Own © newsletter are all the property of Cold Spring Press and FRANCE On Your Own © and cannot be copied, duplicated or used in any manner by anyone without the express written permission of Cold Spring Press. FRANCE On Your Own © is published online by Cold Spring Press, P O Box 26098, San Diego, California 92196-0098. This publication is copyrighted and no portions of the text, artwork, graphics or photographs may be reproduced or distributed in any form or by any means or stored in a database or retrieval system without the written permission of the Publisher. For more information about FRANCE On Your Own ©, visit our web site at http://www.franceonyourown.com.
Recommendations made in this newsletter are based upon the personal experiences of the Publishers or contributing writers solely to provide information to subscribers. Cold Spring Press and FRANCE On Your Own © make no endorsements nor are any guarantees or promises of satisfaction given or implied. Any and all information is correct to the best of our knowledge, and the Publishers accept no responsibility for errors and/or omissions. The responsibility lies entirely with the traveler to obtain current information regarding accommodations, availability, schedules, prices, reservations, or any other pertinent details. We do not guarantee the historical accuracy of the contents of articles in this newsletter. Historical accuracy is dependent upon one's sources of information -- and contradictions often exist among those sources. Links to other web sites or email addresses are provided for informational purposes only and do not imply any guarantees of service or endorsement of any organization or their business practices.
FRANCE On Your Own © is electronically transmitted via email. To add your email address to our database for this FREE newsletter, send an email to info@franceonyourown.com, and please put Subscribe in the subject line. We do not share email addresses with any other organization.
BACK ISSUES of the print version of FRANCE On Your Own © are available on our web site at http://www.franceonyourown.com/Archives.htm.
©1998-2009 Cold Spring Press All Rights Reserved

---

previous page