Ici et Là continued . . .
o The Abbaye du Mont-Saint-Michel reveals its hidden face when peace and quiet return to the mount at nightfall. An evening walk around the Abbaye takes visitors through shadows, reflections and lighting effects ~ all accompanied by music ~ to discover a different side of what was known as the 'Wonder of the Western World'. July and August 2009.
o Since the days of Antiquity, the tale of Psyche and Cupid has inspired the greatest artists to create works of genius inspired by the theme of love. This exhibition features a rich collection of tapestries, sculptures, paintings, incunabula, artifacts and rich decor from Italian palaces evoking the myth of Psyche and its symbolic meanings. Exhibition from May 20 to August 31, 2009 at the Loire's Chateau d'Azay-le-Rideau.
o Rennes (Brittany) Jazz Festival - First edition of this jazz festival will take place in a nineteenth century castle only 3 kilometers from Rennes on a 25-hectare domain. See and hear the most prestigious names in jazz: Sonny Rollins, Herbie Hancock, Jamie Collum, Diana Krall, Keith Jarret, St Germain, and others. August 28-30, 2009. At Chateau d'Apigne. For details visit: http://www.rennesjazzfestival.com or send an email to info@rennesjazzfestival.com.
o The Musée des Arts Décoratifs hosts art déco jewelry in their exhibit entitled Bijoux Art Déco et Avant-garde: Jean Després et les bijoutiers modernes. Over 300 pieces of 1930s jewelry along with drawings and photos will remind visitors of this enduring style. The exhibit of designs thought 'too modern' in 1928 runs through June 28. More information can be found at http://www.lesartsdecoratifs.fr.
o The photography of Marc Ribaud, who captured brief moments in time in his photos, will be on display at the Musée de la Vie Romantique through July 26th. This living artist is renowned for his wide range of photos capturing daily life. Details at http://www.vie-romantique.paris.fr.
o Chartres is the location for an exhibit of the glass creations of female artists at the Centre International du Vitrail. The show, Capter la lumière: Femmes artistes-verriers du XXIe siècle runs through August 1st and focuses on a variety of creations from stained glass windows to engravings on glass. Information at http://www.centre-vitrail.org.
o If you find yourself in Rouen, Normandy this year, don't miss the joint exhibit of three museums: Voyages pittoresques; Normandie 1820 - 2009. From May 16 through August 16, you will enjoy the paintings and drawings at the Musée des Beaux Arts de Rouen, the photos and heliogravures of historic monuments and landmarks at Le Havre's Musée Malraux, and Caen's photo exhibit of cityscapes at its Musée des Beaux Arts. Further information is available at http://www.normandy-tourism.org.
o The grand wardrobes of the members of the royal court can be seen in Versailles through June 28 at the exhibit entitled Fastes de Cour et cérémonies royales: Le Costume de Cour en Europe 1650-1800. Take yourself to the Château de Versailles and learn about the history of court dress in Europe concentrating on France's strong influence from the middle of the 17th century until the early 19th century. This exhibit runs until June 28 and more details can be found at http://www.chateauversailles.fr.
In the US. . .
o French Country Kitchens is a new book by Linda Dannenberg. Those of you who love the French Country Diary each year (we order ours from the Pierre Deux catalog) by Linda Dannenberg with photos by Guy Bouchet, will definitely want to have this book to help you create a French Country kitchen in your own home. Click on the banner below to learn more and order it at a discounted price from Amazon.com.

o Columbia, South Carolina's Museum of Art will host an exhibit entitled Turner to Cézanne: Masterpieces from the Davies Collection, National Museum Wales. Visitors will enjoy over 50 paintings and works on paper depicting western art of the 19th and 20th century from naturalism to post-Impressionism - pieces were donated to the museum from heiresses Gwendoline and Margaret Davies, who managed to amass the largest collection of Impressionist and post-Impressionist art in Great Britain between the years of 1908 and 1923. Until June 7th. Information at http://www.columbiamuseum.org.
o Hurry to San Francisco's Legion of Honor before May 31 to view over 300 pieces of jewelry and decorative objects in the the show Artistic Luxury: Fabergé, Tiffany and Lalique, including Lalique's diamond, enamel and glass creation 'Poppy Necklace' from around 1900. Details at http://www.famsf.org.
o Jackson, Mississippi hosts the exhibit Raoul Dufy: A Celebration of Beauty at the Mississippi Museum of Art through the 5th of July. over 200 paintings, textile designs and drawings and some dresses made with fabrics by Dufy depict Dufy's talent as a decorative artist. An amazing exhibit! More information at http://www.msmuseumart.org.
o Henri Matisse and Modern Art on the French Riviera is the exhibit hosted by the Philadelphia Museum of Art through November 1st. Focusing on Matisse's creations, works by Picasso, Braque, Bonnard and Maillol are also featured. Information can be found at http://www.philamuseum.org.
o Saint Louis is the venue for the staging of The Ghosts of Versailles, an opera about the ghost of Beaumarchais creating an opera to entertain the ghost of Marie Antoinette, orchestrated by John Corigliano at the Opera Center through June 27. Information from http://www.opera-stl.org.

---
SPONSORING THIS ISSUE:

Luxury, History, Serenity in the French countryside
au Château is a great web site and resource for all your accommodation needs in the
French countryside and France's charming villages. Visit today to find reasonably-priced
quality lodging in elegant historic, family homes. http://www.au-chateau.com
---
FRANCO-AMERICAN PORTRAIT
Susan Herrmann Loomis: à table en Normandie with an American cooking teacher!
by Arthur Gillette
Based in Louviers (not far from Rouen, in Normandy) but with frequent sessions in Paris,
Susan Herrmann Loomis' On Rue Tatin French cuisine courses are widely reputed for their effectiveness and originality.
Arthur Gillette recently interviewed her for FRANCE On Your Own.
A.G. Your roots are in the state of Washington. What was the seed in your background that bloomed into an interest in cooking?
S.H.L. Actually, I come from a long line of good cooks. My grandmother grew up on a farm, was a very creative person, loved to cook, and insisted that the cooking be good! I started professional life as a journalist, and it seemed natural to specialize in food.
A.G. So, that's why you have eight books to your credit, ranging from a Food Lover's Guide to Paris to Farm House Cookbooks covering Italian and French as well as American cuisine?
S.H.L. That's correct. And number nine is on its way!
A.G. What led you to settle in France?
S.H.L. When I was young, my father was in the armed forces and stationed in, for example, Germany and England, where I attended school. So I had a kind of European upbringing.

A.G. But France?
S.H.L. Anyone in his or her right mind and concerned by cooking cannot but take an interest in France!
A.G. And why in provincial Normandy which, lovely though it may be, is rather far from the hub that is Paris?
S.H.L. Well, my husband was an artist and, frankly, rural Normandy was quite a bit cheaper than Paris. Here, we were not that far from the marvelous seacoast. Also, life in Louviers is calmer and more convivial than in the capital. And Paris isn't all that far from us, about an hour and you're back in the hurly-burly!
A.G. And you do go regularly to teach cuisine courses in Paris, no?
S.H.L. Oh yes, and occasionally as far away from Louviers as Portland, Oregon!
A.G. Why, how and when did you launch your cuisine courses?
S.H.L. After my first cooking-related books came out, the publishing industry had some serious hiccups. Since I had already organized some home-based lunches for visitors, and done some teaching, I decided ~ this was around 2001 ~ to try to help support the family by giving cuisine courses chez nous. I wanted to see if I couldn't make our home 'work' for us.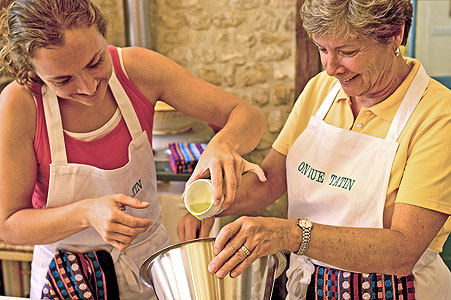 Students at work On Rue Tatin
A.G. And then?
S.H.L. As it turned out, I didn't need to do much publicity (I'm not much into advertising) but things began to snowball.
A.G. Your house is indeed rather special.
S.H.L. Yes indeed; in fact it's a former convent, founded in the 13th century in the shadow of the Gothic Notre Dame de Louviers Cathedral.
A.G. And why the name 'On Rue Tatin'? Just a reference to the very special tart which, although it contains apples for which Normandy is famous, apparently stems originally from a baking mistake made around 1900 by two sisters who ran a restaurant in the Sologne?
S.H.L. (laughs): No, no… In fact our house is on rue Tatin, named for one of Napoleon's generals.
A.G. Oops! Bad pre-interview research on my part…
S.H.S. Not at all! One specialty I teach happens to be the tarte tatin!
A.G. Your courses are not just 'cooking classes'. For you ~ and judging by feedback you've received ~ what are their most original and innovative particularities?
S.H.L. For me, authenticity is the name of the game. This isn't a marketing operation, and people come to a real home with children. They dip into our life, as it were. They also get to go to real local street markets and interact with the vendors. Then too, I only use ingredients available within a ten kilometer radius of Louviers.
A.G. Please share with our readers one of your most exceptional experiences at On Rue Tatin.
S.H.L. I recently hosted a grandmother, her daughter and her daughter's twin 15-year-old daughters. The kids were rather skeptical at the outset and were clearly bored. But at the end of the experience all three generations went away utterly enthralled! More proof of the pudding (or the tart!): many ex-students keep in touch by mail.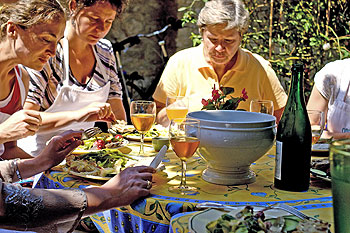 A.G. The name 'Louviers' apparently stems from the wolves (loups) that populated the area at the time of Joan of Arc's King Charles VII. 'A huge appetite' translates in French as 'hungry as a wolf'. Any cases of serious overindulgence among your students?
S.H.L. Well, you'd think that would be probable, but in fact, no. We don't serve 'help yourself again and again and again' platters, but individual portions. Nobody goes away hungry, of course, but in all these years we've not had a single case of gastric problems!
A.G. To sum up?
S.H.L. We don't go overboard, but do provide a hospitable learning atmosphere of what's been called 'casual elegance.' And the students seem to love it!
For more information about cooking with Susan Herrmann Loomis please visit:www.onruetatin.com
[Photo credits: Michael Loomis, John Rowley and the On Rue Tatin web site. Copyrighted by Susan Herrmann Loomis. All rights reserved.
Please mouse over any of the photos for a description.]
To order any of Susan's fabulous books, please click on the Amazon.com link below:

Check the leisurely strolls (helpful for digesting, even if you haven't gorged on a tarte tatin!) that
Arthur guides to help discover Paris Through the Ages in the Marketplace section of this newsletter.


---