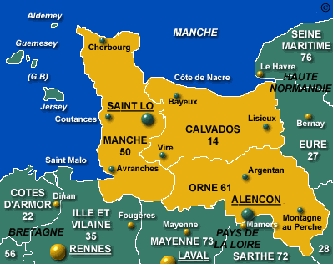 Many of you know the taste and quality of French butter, cream and cheese. Free-grazing dairy cattle are the source of some of the best dairy products in the world ~ Livarot in Calvados is the cheese capital of the region, and there are cheese museums at Vimoutiers and Camembert in the Orne.

Apple orchards are abundant in this part of France as well, and their fruit perhaps is most famous for use in cider and the French apple brandy known as Calvados, named after the département where it all began. Enjoy, too, delectable apple desserts such as Tarte Normande or Tarte Flambée au Calvados, an oyster dish simmered in a sauce made with apples cooked in Calvados brandy. And, with an immense coastline from the Baie du Mont St-Michel to the channel port of Le Havre in Basse Normandie, there is seafood of all manner to be found and excellent restaurants to prepare and serve it.

Calvados (14) begins our itinerary, as most people driving from Paris on the A13 autoroute arrive here first, usually in the seaside town of Honfleur. This is a picture postcard village bustling with tourists, interesting shops and a great selection of restaurants. Honfleur has attracted artists for nearly two centuries, and was made famous by Eugène Boudin, who was born in the village in 1824. The Musée Eugène Boudin, on rue de l'Homme du Bois and housed in the chapel of a former convent, is a must see with works by the artist and others. It is open from mid-February through December except on Tuesdays, and closed on May 1, July 14 and Christmas Day.
Honfleur has a noble history, first gaining prominence during the Hundred Years' War with England, and then serving as the port of departure for traders and Samuel Champlain when he set sail for the New World where he settled Québec. We highly recommend a visit.
Caen is the once-loved home of William the Conqueror and his queen, Mathilde. World War II took a grave toll on Caen, destroying 75% of the city, yet the two abbeys (Abbaye aux Hommes and Abbaye aux Dames) each with a Norman Romanesque church, and a castle built by William still remain. Much of the city is industrial and modern, but this older and historic part is worth seeing. Still standing is the late 13th century Eglise St-Pierre; it has a famous ornate Renaissance east end, added later with funds from wealthy residents of the city, and an original and simple Gothic nave. It lost its spire and roof during the War ~ the only parts that have ever been restored. The church remains as it was over the centuries and is a building of which the citizens of Caen are immensely proud. (Caen is pronounced kahn.)
William's castle is in ruins for the most part, with some surviving buildings used as museums. One of these, and worthy of your time in Caen, is the Musée des Beaux Arts, with an impressive collection of fine paintings and prints, many by 17th century French and Italian masters, and some exceptional pieces apparently acquired by Napoleon's plundering.
Perhaps most moving of the memorials to World War II is the Caen Peace Memorial, opened by French President François Mitterand in 1988, notably on the 6th of June. It touches everyone who visits, and an inscription carved on its façade, written by a citizen to honor the Allied forces who liberated the city, says, "Pain broke me, Brotherhood lifted me up, from my wounds sprang a river of Liberty".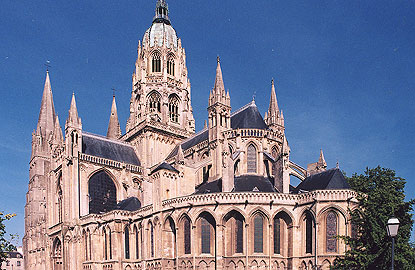 Do visit Bayeux renowned for its magnificent tapestry (actually an embroidery and not a tapestry), located in a renovated seminary, aptly named Centre Guillaume-le-Conquérant, on rue de Nesmond, closed only New Years and Christmas Days. The tapestry represents the Conquest of England and is also known in France as "Queen Matilda's Tapestry". It is an unbelievable 230 feet long. It is thought (but often disputed) that Odo, half-brother of William and Bishop of Bayeux, commissioned ladies from Kent, England to embroider a length of linen with scenes that told the story of 1066. This was done, perhaps, and if the story holds true, beginning in 1067. [Odo himself is a fascinating character having once charged into battle wielding a club since he was forbidden by scriptures to carry a sword.] Those who question the source of the tapestry and the story it tells, do agree upon one fact. It gives a moral lesson to justify the Conquest: Harold of England had sworn allegiance to William and broke his oath, paying the price for his betrayal.
The first major town to be liberated by the Allies in 1944, Bayeux escaped the damage suffered elsewhere. Pedestrian areas are quite inviting, allowing exploration of 17th-19th century buildings. Along rue St-Jean, walkers can enjoy the shops and numerous cafés. Make a special point to visit Cathédrale de Notre-Dame de Bayeux. Consecrated on July 14, 1077 in the presence of William, Duke of Normandy, King of England, it has undergone many additions and embellishments from the 13th to 15th centuries. The crypt, unaltered since the 11th century, is worth seeing. Guided tours are conducted regularly.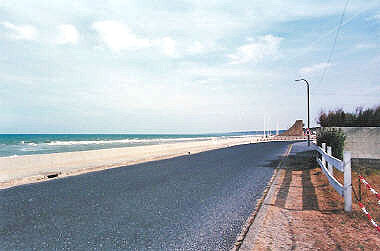 The Côte de Nacre may be more familiar to you than you know, for it is along this channel coast of Calvados that Allied troops made their infamous D-Day landings. Today, a barefoot walk along the lovely sandy beaches, especially at Omaha, will erase all thoughts of war ~ unless you look out toward England and see the remnants of the caissons that formed Britain's "Mulberry Harbor" near Arromanches.
The Côte Fleurie is the stretch of coastline between Villerville and Cabourg which is home to all those resorts we read about such as Trouville and Deauville, the latter known not only for casinos, horse racing and marinas, but also the celebrities who frequent it. Trouville is renowned for its 19th century connection to authors Gustave Flaubert and Alexander Dumas, for its ability to offer real life to those who visit, and for its superior location along the river. Deauville is a town on parade, filled with glitter and is a Johnny-come-lately having followed Trouville into existence ~ literally rising up from the marshes and created by a consortium chaired by the Duke de Mornay in the mid-1800s. We prefer the beautiful little town of Houlgate further west on the coast over either with its quiet ambiance and flower-filled window boxes.
You may hear mention of the Pays d'Auge, lush Normandy countryside filled with pear and apple orchards, lovely country manors and dairy farms. Its most important small city is Lisieux which attracts tens of thousands of pilgrims each year because of Sainte Thérèse of Lisieux who was canonized in 1925. Country drives through the Pays d'Auge are rewarded with samplings of cheese and cider and the wonderful small surprises of coming upon enchanting villages filled with half-timbered houses and friendly people.
Cheese lovers won't want to miss some very special towns: Livarot, considered the cheese capital of Normandy and Vimoutiers, the center of Camembert production. Yet, the town of Camembert itself lays claim to the best cheese museum in the region. Whichever you decide to visit, you won't be disappointed. Visit, too, the various farms and producers to buy cheese directly from the people who know it best.
The département of the Orne (61) is also known as Suisse Normande ~ a region of Normandy filled with cliffs and valleys which were carved out by the River Orne on its way to the north and is shared by the Orne and Calvados départements. The gorges are dramatic and the quiet country drives are pleasant.
The large town of Falaise is the birthplace of William the Conqueror, affording it more influence on the history of England than any other town in France. His parents were the Duke of Normandy (Robert the Magnificent) and a local tanner's daughter, Arlette, with whom Robert fell in love one day as she washed clothes beneath his castle walls. At the age of 39, William the Bastard would become William the Conqueror of England. A visit to the castle at Falaise is definitely recommended.
The Orne is very rural and extremely pretty providing those driving there with a lot to enjoy. The only large towns are Argentan and Alençon, both of lace-making fame, and the latter was once the capital of all of Normandy. The Orne is landlocked, but makes up for a lack of coastline with beautiful valleys and woodlands. In fact, it has one of the largest forests in all of Normandy.
Another thing the Orne has is a reputation ~ a reputation as horse-breeding country, for in the Orne is France's National Stud, Haras du Pin. It was begun in the late 1600s by Colbert, a minister to Louis IV, with the Stud's château and stables and soon became known as the 'horses' Versailles'. Today, it houses some 80 stallions of thoroughbred Arab and English stock as well as French trotters, giant Percherons and other breeds. Visitors can enjoy horse shows, dressage events and the annual hippodrome races during September and October in Le Pin au Haras.
Despite its peace and tranquility today, the Orne was home to a German panzer division during World War II, and it was here that the Battle of Normandy came to an end after 77 days in what General Eisenhower called one of the biggest slaughter fields of the War. There is a monument to American, British, Polish, French and Canadian armored divisions near Mont-Ormel just south of Chambois.
In the southwestern Orne you will find one of the largest regional nature parks in France, the Parc Régional de Normandie-Maine. And, in the nearby Andaines Forest, is the spa town of Bagnoles-de-l'Orne on the banks of a lake and quite the spot to visit at its peak at the turn of the century.
Not far from Bagnoles is the marvelous town of Sées whose Gothic cathedral, because of similarities with the one in Rouen, was used in the filming of The Messenger as the site for Joan of Arc's death by burning at the stake.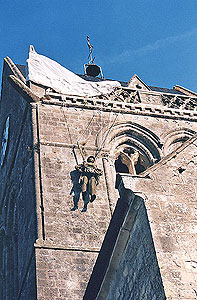 The Cotentin Peninsula makes up most of the département of the Manche (50), a land surrounded by water on three sides, rich in fishing villages, quaint towns and the famous port of Cherbourg at its northern tip. It seems quite Norman in its rugged isolation, protruding into the English Channel, and it provides visitors with a different kind of Normandy than they have enjoyed before. Place names are reminiscent of the Vikings who landed and settled here and, centuries later of the Allied forces who landed as well ~ places like Ste-Mère Eglise made famous in the film The Longest Day, or Utah Beach's memorial museum to US forces who came ashore on D-Day.
Special towns from Avranches in the south to Barfleur in the north are worth visiting. On a recent visit we most enjoyed the Cotentin's ancient capital, Coutances, with its grand Romanesque and Gothic Cathédrale Notre-Dame begun in 1040, whose twin spires soar 256 feet into the sky. We had the unique pleasure of listening to the magnificent voices of the cathedral choir during rehearsal on a May afternoon.

STE-MÈRE EGLISE
honoring the US Paratrooper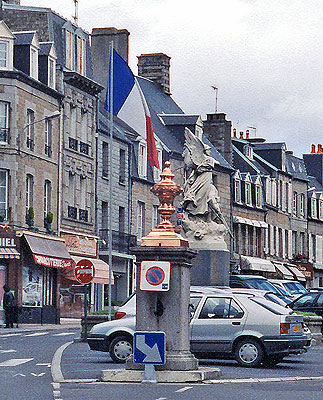 Then there is France's capital of copper, Villedieu-les-Poêles, just east of the ferry port and casino town of Granville (take ferries to the Channel Islands from here), where lovers of copper in all its forms will be in heaven. From weathervanes to ladles and all the pots and pans in between, this is THE town to visit. The name is translated into English as 'God's Town of the Frying Pans', but, of course, it sounds much better in French. Brimming over with copper, brass and pewter ware, guided tours can be taken to the Bell Foundry and the Copper Workshop. Buying copper for your kitchen here instead of back home will be very kind to your budget.
The western coast of the peninsula is on the Baie du Mont St-Michel and some of the fastest rising tides in the world. A visit to the Mont would count you among the largest groups of tourists to visit France, as it is the most popular attraction in the country outside of Paris.
The southeast corner of the département is home to the Parc Régional de Normandie-Maine, once again an inviting rural landscape and interesting for its pear museum and orchards ~ and shared with the Orne. In the Manche, fare focuses on seafood, and drives along the coastline between villages reminds one of New England.
Our visits to château bed and breakfasts for you to consider will provide more about this unique area. We hope we've inspired you to visit Normandy this year. Please continue reading for some information about places to stay ~ places that are very special and will create long-lasting happy memories of your days and nights in Normandy. VILLEDIEU-LES-POÊLES



Where to stay [click on photos to visit their web pages]:
Manche




Château de la Roque Château de Canisy Château de Servigny
[Château photos courtesy of their respective owners. All rights reserved.]
[Photos in body of text: Copyrighted 2009 by Cold Spring Press. Map courtesy
of France Keys. All rights reserved.]



---
Ici et Là
This column is intended to advise you about cultural events, news and happenings
in France or France-related events taking place in the United States
between now and the publication of our next issue.
In France. . .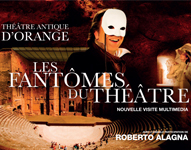 o The Ghosts of the Theatre of Orange (in the 2000 year-old Théâtre Antique). Fascinating, surprising, dreamlike, nostalgic, psychedelic, lyrical: the show 'The Ghosts of the Theatre' invites you to a fabulous and incredible journey through time starting in April 2009.
o June 20 to September 20, 2009 - The Belle Epoch is being revived during summertime at the Fabre Museum of Montpellier - The Czech artist Alfons Mucha (1860-1939) was one of the most brilliant artists during 1900's period of Art Nouveau style. His success was due to the posters he realized for Sarah Bernhardt, but he also was a genius regarding jewelry, illustrations, pastels and the unforgettable decoration he created for the 1900 Universal Exhibition in Paris. This exhibit in Montpellier, which received the National Interest Label, reveals the whole spirit of an epoch and Mucha's indefatigable creativity.
o Odorico Art Déco Mosaic Artists at the Brittany Museum in Rennes - This exhibition traces the artistic and commercial fortunes of the Odorico family, Italian immigrants who left their native Friuli region at the end of the 19th century amid the financial crisis gripping Italy at the time. Divided into three sections, it allows visitors to learn about the Odorico family, their contribution to architecture and to the decorative arts. By showing drawings, photographs and decorations, the exhibition highlights key moments in the family saga, economic adventures, the complex techniques mastered by the company, and the huge variety of orders it had to meet.
continued on page 3