Shopping Chic in Paris - Part One
by Maxine Schur

"Paris is the most extraordinary place in the world.
My eyes ached and head grew giddy as novelty, novelty, novelty ,
nothing but strange and striking things swam before me."

Charles Dickens, 1844
from a letter to Count D'Orsay

In Paris over the last several years that I have learned how to 'put myself together.' The saleswomen, as well as my good Parisian friend, Sabine, have taken me in hand and taught me important laws on how we must shop. I say we, to include all women who want to improve not just their appearance, but their lives, by imaginative and strategic credit card mischief.

From Sabine I learned how to shop, for she's the best shopper I know. Perhaps it is Sabine's North African grandmother who has blessed her with the art of the bazaar. She scans the wares of any store within seconds. She bargains for things like a lawyer while charming the salesperson with deadly precision. She shops the way the way many Parisian women shop ~ with premeditation and drama.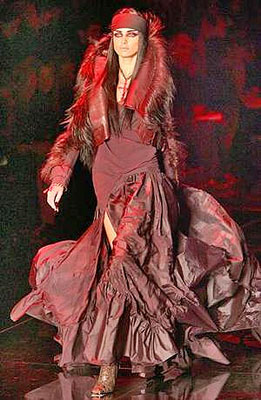 To give an example, a few years ago a friend from San Francisco had come to visit me in Paris and was interested in buying clothes. Paris is overwhelming for tourists because every single arrondissement boasts oodles of seductive boutiques, and where do you start? Sabine took us to a boutique in the la-di-da 16th. The shop was so tiny that it looked like it had almost nothing for sale. I soon realized that this was merely a storefront and somewhere behind, above or below must lie a treasure house, for gorgeous things just appeared. My friend picked out a rainbow striped velvet jacket, black velvet pencil skirt and white silk blouse. Sabine herself chose a green silk cropped jacket while I stood there as she later affectionately described, 'Like a Dear in the Headlights', when she pronounced, "Maxine you need a bustier!" (pronounced boost-yay) I suppose I did need one as I was not only sure I didn't have one, I didn't even know what it was!
It turns out that a bustier is one of three words that the French use for our word, 'corset.' Depending on whether the corset is laced or has hooks or buttons, the item is either a corsage, a guêpière, or a bustier. We think of corsets as something quaint ~ so Scarlett O'Hara ~ but in France corsets remain an essential piece of both under and outer wear and perhaps this is one reason why it has often been said that when French women are dressed well, they are what the French call 'fashionably undressed.'
I was shown several jewel-tone silk fabrics and chose aubergine. Within seconds, a very old man suddenly emerged. I have since observed that many shops in Paris house, in some murky antechamber, a very old man whose sole purpose is to appear at just the moment you need to be fitted. I have also learned not to be embarrassed about having a man in your dressing room as you stand half naked behind a too-small curtain. The old man will be all business, posting pins between his teeth as he drapes your bust in silk and measures your bust. Had he been a woman you would have been tickled in more ways than one, as she would have measured by lightly rubbing your breasts with her hands ~ yes, that's how it's done here. Quickly, the old man took his measurements then informed me that my bustier would have silk covered buttons down the back and he certainly hopes, heh, heh, that I have a Monsieur in my life to button (and unbutton) all of them as they will be many and small. Then he returned to his hidden realm. Now, I thought, I will pay (most likely through the nose) for this exquisite bustier, and if you, too, are now thinking this ~ you're wrong.
"It is time," Sabine suddenly announces, "to take a coffee!"
Yes, the timing seems off not just to me and my friend, but to the dismayed shopkeepers who have already begun to tally the total.
Abruptly leaving the shop, Sabine leads us to a café where over café crèmes, she pulls out her calculator and does the math. She adds up the purchases that all three of us want then she slashes that total by 25% to come up with a figure above which we must not pay. "And", she adds with glee, as if in Marrakech, "they must give us baksheesh."
Back at the boutique, she transforms into a pussycat. She meows at them and purrs her offer. They must appreciate, she smiles, that she has brought them not one, but two customers and both are buying! Even she is buying! And, she will bring them more happy visitors from America. After rapid fire discussion, the store owner capitulates, and to our joy presents each of us with a Chanel camellia of white and black silk. We depart in triumph, and on the sidewalk Sabine whispers to me, "In America, your bustier will create a furor."
Besides strategy, one of the best things Sabine has taught me is that the experience of the purchase remains forever a part of that purchase ~ like a fetish. If you have a choice between buying an item for the same price at a department store or at a flagship store with embroidered Louis XVI chairs, you must make the effort to buy at the more beautiful one. The experience you have in the lovelier ambiance will linger in your mind, enhancing the pleasure of your purchase for years to come.
Of course, shopping for anything in France is a great pleasure. Even window shopping is considered delicious. Why else would it be called Lêche Vitrine, 'Licking the Shop Windows'? Shopping for clothes is never a chore nor even a peaceful pastime as it is in America. No. To shop in France is a heady experience because of the constantly changing array of imaginative things. It is courteous, slightly formal and above all, highly educational. I have been given so much helpful unsolicited advice from salespeople here that I am thinking of writing a book, Everything I Learned about Life, I Learned in a French Shop.
I learned, for example, that the French look at the appearance of things much differently than we do. A chic man I know here says that if you dress truly stylish, you will look bizarre back in the States. Fashion here is an induced epidemic that leaves few untouched. And in Paris, anything goes. Everything on the planet is grist for the French aesthetic mill and nothing ~ nothing ~ is too odd to be thought delightful. All manner of curious things are used to serve the fashion gods. I am the proud owner of pretty necklaces made from buttons, rubber water bottles, metal springs and zippers.
In France, I put myself together differently. I wear perfume that has pepper in it and have gloves with tiny inner pockets for sachets. I wear a pale green hat that sports a baby blue felt heart secured by diaper pin and another hat that is brown and looks no more than a collection of dried leaves tumbling down my head. I have trousers with hidden thigh-high slits up the side and a matching purse with felt flowers snapped on. But wait! The flowers are roses and the purse comes as well with snap-on daisies, should I grow bored. Nothing is too strange for the French to wear. If it's inventive, it's chic! "Isn't this a bit much?" I have asked hesitantly before each of my purchases ~ the black and white beret with the red leather flower, the Isabel Marant dress with a wide angle watercolor image of Paris on the inside of the dress, the skirt and blouse with the jewelry already embedded in it, or the purse made from old colorized French films.
"Pas de tout!" the vendeuse cries, surprised, even offended at my concern. Often the saleslady herself will put on the item to show me the way it is to be worn. How that shames me! Yes, it does look charming. Ca engaié, Madame, which in French means that the thing you think odd about the item is the very thing that makes it more gay (in this context, more merry). It enhances its allure. One vendeuse demanded rhetorically, "Haven't peasants always done this by embroidering their rustic clothes with flowers?"
Another vendeuse, a young salesgirl, cute as candy, with touches of turquoise in her hair, regarded me for several moments as if I were bland as blancmange, then with a rippling laugh and a little shimmy, cried "Il vous faut un peu de WAOUH!" ("You need a bit of WOW!") Later, when I came to regard myself in the store mirror wearing the skirt with three different hem lengths, I knew I was on the right track for getting WAOUH! and the sale is confirmed when I hear that lovely but odd French compliment, "On you, it succeeds."
The main thing to remember when shopping in France is that the French are not only bold with fashion; they're fussy. The French are fussy because they inherited a tradition of aesthetics in grooming and fashion that dates to the Renaissance, and they can't shake it. They keep up with fashion as with current events for they understand Jean Cocteau's famous words, "Style is a simple way of saying complicated things."
Now, the French take a long time making decisions when they shop and the salespeople expect you to consider carefully and discuss all aspects of the item, no matter how seemingly insignificant. I can only illuminate this fact by relating the time I walked into a candle shop in a small bastide town in the Dordogne. My friend waited outside as I was to quickly buy just a candle candle I'd seen in the window. I emerged twenty minutes later and to her question, "What took you so long?" I explained, "I bought two."
Don't miss Part Two of Shopping Chic in Paris in our August issue!
Maxine Rose Schur - maxineschur@yahoo.com - http://www.maxineroseschur.com
Do visit Maxine's web site...find out about her children's books,
travel writing and world adventures!
---