---
Subscribe to our FREE online Newsletter. Click here! (Please put Subscribe in the subject line.)

---
Trip Cancellation insurance is a very important part of travel planning.
Most carriers assume no financial responsibility to travelers for cancellations due to events beyond their control.
---
Bienvenue! Welcome!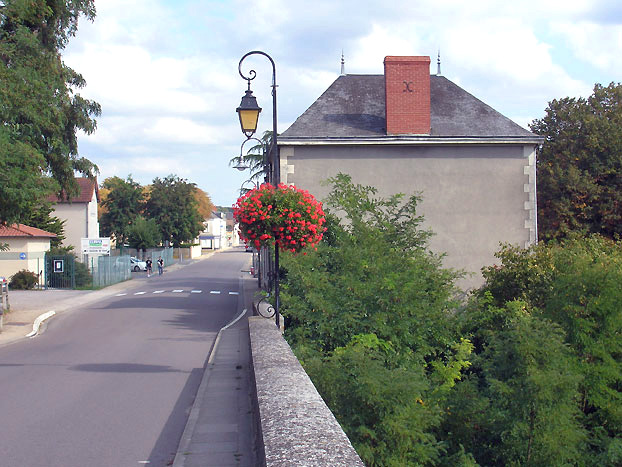 Dangé-St-Romain on the River Vienne
[ Photo © Cold Spring Press. All rights reserved. ]
Since 1997 FRANCE On Your Own has been encouraging
and simplifying independent travel to France!
Our Web Site offers . . .
Style de Vie - the French lifestyle, culture and traditions that make France the envy of others

Carte Postale - a glimpse at a place in France that you may already know or might want to visit

Classifieds - where our readers can place ads for France-related products and services

Marketplace - carefully chosen offers relating to travel in France

Galerie - limited edition prints and other artistic representations of France

Archives - a listing of our six and a half years of print publications still available to you

Links - selected links to France-related web sites

Search - a feature enabling you to search our site for what interests you

Contact Us - just click the button and send us an email anytime
and, perhaps most important of all
Newsletter - read more about FRANCE On Your Own below and by clicking
on the Newsletter button at the top of any page


Our Free Online Newsletter offers . . .
FRANCE On Your Own is an online publication,
and to receive yours FREE just send an email to us
at publisher@franceonyourown.com with Subscribe in the subject line.
Your email address will immediately be added to our database.
[We never share subscriber information with any other organization.]
FRANCE On Your Own concentrates on regional features,
cultural updates, and articles on places, people and pastimes in France.
Our goal is to encourage independent travel to France.
We will offer you information on romantic and historic château accommodations,
travel and transportation advice and news, occasional original illustrations,
color photos, visits to cities, towns and villages in France, and insider information
to help you plan that perfect and unique vacation in France - one of the world's
most popular, appealing and tourist-friendly countries.
* * * CLICK HERE TO ACCESS OUR 2004 to 2020 ONLINE NEWSLETTERS!* * *

---
What will you find in issues of FRANCE On Your Own?
a comprehensive look into the culture, landscape, architecture, lifestyle, history, towns and cities in each département from Brittany to Provence, Bordeaux to Burgundy and everywhere in between
useful planning advice about packing, driving, public transport including taking the train and the Paris métro, shopping, health, safety and more
recommended reading to help with your trip or to learn more about Paris and France
contact information for accommodations, dining, museums, tourist offices
in-depth reviews of French château bed and breakfasts (chambres d'hôtes) and small hotels for that perfect vacation
more about extended stay vacations at farms and rental properties throughout France
the inside scoop from experts who live in France -- their articles are in almost every issue!
upcoming events in France - fêtes, festivals, concerts, museum exhibits and other cultural happenings
the travel experiences that other readers share with you
tests of your knowledge about little known Paris facts with Paris Enigmas (past issues) and a fun game to find out the real meaning of idiomatic expressions in Twisted Tongues.
insight into the seductive world of French wine with our occasional Wine Report and visits to Bordeaux, Burgundy, Provence and other wine regions
original pen and ink illustrations exclusive to FRANCE On Your Own
beautiful color photos adding to the special flavor of our newsletter
articles written by us based upon our first-hand experience as travelers in France
contributed articles from residents providing unique insight into a country that never ceases to please and fascinate those who choose to explore its riches
opportunities to attend language, cooking, art and other classes and courses while on vacation in France
the fascinating and carefully-preserved prehistoric side of France including the menhirs of Brittany and the cave paintings of the Dordogne
the ins and outs of Paris from those who know it best -- our experts on the scene
little villages and big cities highlighting the attractions you won't want to miss
occasional peeks into the homes of the French as their special guests
little-known historic sites as well as the famous monuments and France's architecture including Medieval, its very own Gothic style and the Renaissance
and so much more!
Our newsletter presents a personal glimpse into the real France and all the ways you can discover FRANCE On Your Own.

Subscribe today! Just click here!

** And, click here to request one or more of our Back Issues **
---
---
VISIT OUR PARTNERS BELOW WITH JUST A CLICK OF YOUR MOUSE


Improve your French with Yabla online video magazine
Click on banner to try it FREE!
---
Home | Newsletter | Classifieds | Style de Vie | Carte Postale | Marketplace | Galerie | Archives | Links | Contact Us |Search

©1998-2023 Cold Spring Press All Rights Reserved
[Unless indicated otherwise, all photos, graphics and text on this site and the FRANCE On Your Own newsletter
are the property of Cold Spring Press and FRANCE On Your Own © and cannot be copied, duplicated
or used in any manner by anyone without the express written permission of Cold Spring Press.]

This site is listed on