Will the Burgundy 2015 Vintage be the equal of 2005? by Lynne Hammond, Partner, Bringing Burgundy to You


We
welcome back Lynne and David Hammond
,
an English couple who has lived and run their business in Burgundy since 2003.
Their first article appeared in the FRANCE

On Your Own

Summer 2013 issue.
Bringing Burgundy to You

organizes a private wine tasting Masterclass for groups of 2 to 30 people in Burgundy and elsewhere.
They also have an online boutique of Burgundy wines.
In this vintage review, Lynne ~ who holds a Diploma from the prestigious
École des Vins
in Beaune, Burgundy ~
offers opinions on the 2015 Burgundy vintage and looks back over other recent years.




The
2005 vintage is widely considered to be the best for decades. Will 2015 be its equal? Here is what Claude Chevalier, President of the BIVB (Burgundy Wine Trade Body) and Burgundian vintner says: "We have an excellent year that I compare with 2005. This 2015 vintage will, in my mind, enter the annals of history."



The

2015 vintage is now maturing in tank and barrel throughout the cellars of Burgundy. Most growers tell us that we are looking at an exceptional year for white and red Burgundy right from Chablis through to Macon. We barrel-tested reds and whites during November 2015, and while some whites were still finishing their fermentation and difficult to taste, others expressed wonderful freshness. The reds had great color and structure and were already reflecting the style of the appellation and, particularly in the case of premier and grand crus, expressed balance between tannins, acidity and fruit.







Hot weather but the right type of August rain


So what makes a great vintage? In Burgundy it is the right weather at the right time. In general, this means a cold winter with heavy frosts, a warm spring with regular rain, and a hot summer without hail (which devastated many Burgundy villages for four consecutive years) along with sufficient rain to swell the berries and a cool, dry harvest period. Weather-wise, 2015 fitted the bill perfectly resulting in excellent grape quality. For example, if there is too much rain, we get thin berry skins resulting in low tannins and pale color in the reds, which often means the wines will not age well. Conversely, too little rain and berries don't swell resulting in less juice which means yields can be low at harvest.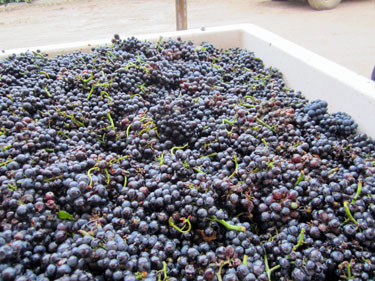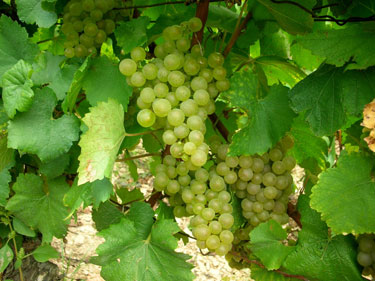 Add to perfect weather the 'human element' of skilled vineyard management and winemaking, and the result is an excellent wine. After the 2015 harvest, the consensus was that grape quality was superb although yields, in some appellations, were down again. However, the shortfall differs markedly across the region with, on balance, Côte de Nuits suffering more than Côte de Beaune. Some appellations report up to 30% reduction while others are close to normal. A living example of Burgundy's remarkable micro-climate, the Maconnais being further south lacked rain and, consequently, yields will suffer more while at the northern tip of Burgundy in Chablis a late hail storm devastated a Grand Cru vineyard with 50-80% losses in that parcel.

Much of June, all of July and early August 2015 were very hot with temperatures regularly in the mid to upper 30s. We had drought conditions and growers in early August were reporting small berries with little juice. And then, thankfully, it rained! Late August saw high temperatures but increased rainfall ~ steady rain, not short, sharp storms. Weather conditions were ideal in the first ten days of September, the harvest start date for most growers.

Where has all the wine gone?

2015

is likely to produce exceptional, well-balanced wine that will age well. However, the small yields in recent years still mean that for many producers stocks are low. It comes as a surprise, perhaps, that vintages such as 2013 are already limited and 2014 is appearing in restaurants and for tastings. Growers that can withstand the cash-flow impact are holding off bottling their 2014s until March of this year. Fortunately, 2014 was a year with closer to average yields, which may help mitigate the very low yields of 2010, 2011, 2012 and 2013 to a small extent. [To read the

Bringing Burgundy to You

review of every Burgundy vintage since 2002, please visit http://www.bringingburgundytoyou.com/vintages.php and scroll through.]



Although

50% of Burgundy wine is sold within France, the historic UK export market has seen a remarkable drop in quantity from 20 million bottles in 2011 down to 11 million in 2014. The BIVB believes the cause is the rise in price of Chablis and Macon wines (the two most popular in quantity for the UK market) above the symbolic £10 mark. However, overall price increases have averaged out at 5% ~ not a particularly significant figure. Other export markets, notably the USA and Asia, are taking up the slack resulting in an overall small 4% fall in export volumes. Overseas, Burgundy retains its high quality image.



What to buy now . . .

Among recent vintages, 2011 where available, is good to drink now but probably not a wine to lay down. On the contrary, 2012s are excellent to keep and will improve with age ~ although quantities are low. 2013s and 2014s are wines to drink early, as a general rule. So, for those looking to have a cross-section of Burgundy in their cellars, buy a range of 2012s and 2013s and snap up any 2011s, too! But do it now, as the wines are really scarce. Do make sure you leave space in your cellar (and budget!) for the 2015s, which will start to become available toward the end of this year and into 2017.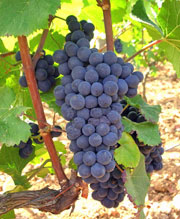 How can

Bringing Burgundy to You

help?
If

you are planning to visit Burgundy with a group of friends and family perhaps you will be renting a château or

maison.
If so, what better way to develop your appreciation of Burgundy wines than a private Burgundy Wine Masterclass. We come to you and take you through a tutored tasting of Burgundy wines while commenting on the geography, terroir, vintners, flavors, aromas and vintages. We also have a web-based boutique of over 100 Burgundy wines and can ship worldwide.



Talk

with us about our Cellar Plan service where we will advise on the Burgundies you currently have in respect to aging and food pairing, and we can suggest a selection of wines if you are starting to build your Burgundy collection.

---
THE BEST TRASH IS

TRASH PEOPLE DON'T PRODUCE

:

Recycling in France

by Arthur Gillette


On

at least one occasion in the late Middle Ages when Paris was under siege, the municipal authorities ordered people to bring their trash to the city walls. There, it was burned to send up thick smoke and thus discourage the enemy. So recycling is not totally new in France! But then it was for military defense while today it stems from ecological and economic concerns.


A

sign on the door of a large room in the cellar of my apartment house in the Parisian suburb of Meudon (12 train minutes from the Gare Montparnasse) says Salle des Ordures, i.e., Garbage Room. Inside are several huge bins, each equipped with two wheels to ease the garbage men's task in dragging them to empty into regularly passing trucks. Odd as it may seem at first sight, flip-up covers of some bins are gray while others are yellow. The gray ones are for food leftovers and other garbage while the yellow ones invite me and my neighbors to recycle household trash.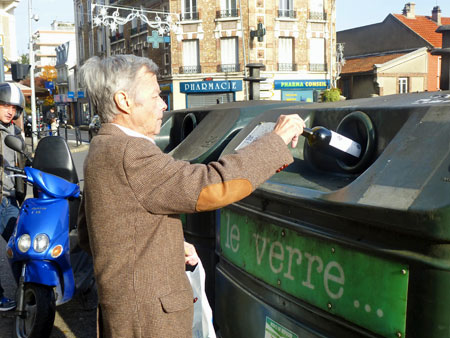 Each year the average home in France produces no less than 600 kilos (1,320 lbs.) of household waste, much of it reusable. In recent years, national-regional-local government authorities, not to forget private enterprises and non-governmental associations, have been paying greatly increased and active attention to proper disposal of this massive mess.


Even

much of the apparently useless garbage (gray bin cover – annually worth
€
430 per French household) can be compacted to serve as fuel. As much as 27% of public lighting in Paris alone is powered by it. And the yellow bin cover? This must be (but is unfortunately not always) selectively disposed of to be collected and recycled. It amounts to some 15,000 tons per year in Paris alone and includes paper, cardboard, plastic bottles, tin and aluminum cans, etc.
One

ton of paper and paper-based trash recycled saves 1.3 tons of wood from being 'harvested' in forests. Plastic bottles are mainly, but not only, transformed back into plastic bottles. And 19,000 old tin and aluminum cans go into a new car, while 250 of them form a bicycle frame.


And

glass? Special bins for recycling bottles and other glass objects have been placed by local and regional authorities on sidewalks – fifty-nine in Meudon alone, i.e., more than one per thousand inhabitants. Special bins are also available in public places for textiles, batteries, light bulbs and so forth.


Recycling
for transformation and reuse, including the manufacture of new objects to be sold, has recently created more than 18,000 jobs in France. Private enterprise has been far from inactive in recycling. Much selectively recuperated and treated material is recommercialized via various companies, its purchase profit mainly helping offset government expenses in this area.

A

national optical store chain (with 1,350 outlets nationwide) has joined other bodies in creating the Krys Group Enterprise Foundation which not only collects but also cleans and repairs eyeglasses which it then provides free of charge to very needy children and adults in poor countries. In 2012 alone, this involved 160,000 pairs of glasses following 12,000 professional voluntarily-executed eye examinations via 25 field projects in Africa, Madagascar and India.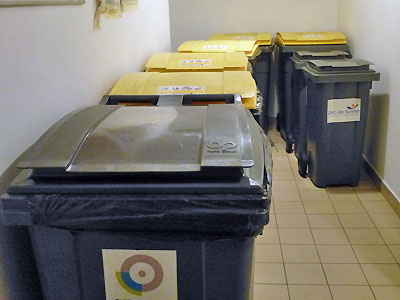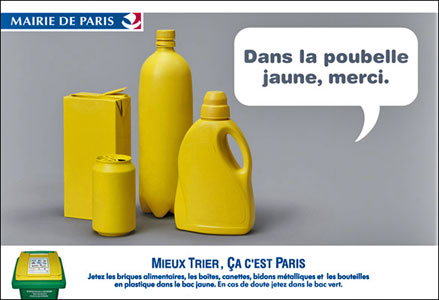 Gray or yellow?
In the yellow trash, thank you
.
Individual

initiative is also taking place in French recycling
: near the large bins in my cellar's Garbage Room sits a big bag regularly brimming with plastic bottle caps.
A volunteer neighbor collects and delivers them to the Bouchons d'Amour ('Love Bottle Tops') association. They are then sold, the money earned enabling mainly the provision of wheelchairs and other equipment to aid needy handicapped people.
Put briefly,

on a folder currently going the rounds in Meudon:

"

The Best Trash is

Trash People Don't Produce."
[Photos by Madeleine Liegeon unless otherwise noted.]