This column is intended to advise you about cultural events, news and happenings
in France or France-related events taking place in the United States & elsewhere
between now and the publication of our next issue.
In France. . .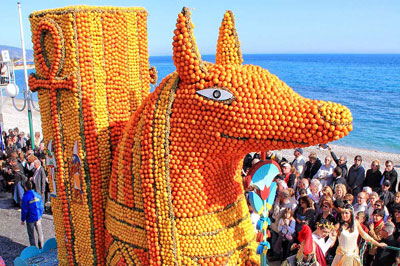 o Visit Menton for the 83rd annual Fête du Citron, that began on February 13 and continues

through March 2

. To quote the Fête's web site,

"

During the festival, the Biovès Gardens take on dazzling yellow and orange sunshine colors. The décors are incredible, some requiring nearly fifteen tons of citrus fruit. Every year, it takes thousands of hours to create these ephemeral sculptures, with the fruits placed on one at a time."

For Americans, this event may seem somewhat similar to our annual Rose Parade in Pasadena, California, with fruit replacing flowers and other plants. The Fête goes beyond the grand sculptures in the gardens to a parade and a dramatic spectacle after dark. View this video from

the 2015

Fête du Citron

. Hours are Monday to Saturday 10AM to 6PM, Thursday 10AM to 7PM and Sunday 9AM to 7PM. You can visit the site and buy tickets online by clicking here.




o The replica of Général Marquis de La Fayette's frigate,

L' Hermione

, on which he sailed to America in 1780, is now back home in Rochefort, France. But for those of you visiting Brittany this year, here is the schedule ~ perhaps you can visit

L'Hermione

yourself:



June 4

Departure from Rochefort to the commercial harbor

La Pallice

and dock trials at sea.


July 1-8

Visit to St Malo - entry in the Vauban Basin City Corsairs of July 1, late afternoon.


July 13-19

Escale à Brest for maritime festival entry into Brest Harbor on July 12 in afternoon.
Participation in the parade between Brest and Douarnenez July 19


July 23

Return to home port of Rochefort





o

Tens of thousands of fish have been moved from Paris' Canal Saint-Martin, a popular waterway created at Napoléon's request and which attracts tourists and locals throughout the year. The fish were moved to the River Seine so that the Canal could be emptied on January 7th. The fish ranged from small catfish to 35-pound carp, and the authorities were pleased to find that very few of them were sick or malformed considering what they found at the bottom of the canal. Dredging the canal will allow repair of its walls and renovation of the locks. A lot of trash was found in the canal from beer bottles and bicycles to rolls of carpets and weapons. The last cleanup was in 2001, and 35 species of fish are known to live in Paris' waters. Don't plan to visit any time soon; the cleanup will continue until April at a cost to the city of about €9,500,000.




o

Seven spelunkers

(cave explorers) from Spain were rescued by French authorities in the Haute-Garonne

département

of southwest France after having been trapped overnight by rising waters. Six men and one woman, part of an original group of 15, were unable to get out of the 300-meter deep chasm on their own, but were lifted out in the morning exhausted but uninjured. The other eight were able to escape during the night and contacted French authorities at 4AM. The cave is located southwest of Toulouse about 30 kilometers from the Spanish border. [Note:

spelunker

comes from the Latin

spelunca

meaning cave and c.1300 from Old French

spelonque

.]



o High-speed rail

between Aeroport Roissy-Charles de Gaulle (CDG) and Paris will become a reality. France has finally approved construction of this much-needed rail line to be completed by 2023 at a cost of 1.6 billion euros. It will be called the CDG Express and comes after a 2006 plan was scrapped because of political infighting and construction challenges. Currently, there is an RER commuter train between the two points that people complain about due to overcrowding, no room for luggage, lack of security and too many stops along the way. This new line will give easier access to Europe's second largest airport.



o

The French Foreign Minister

, Laurent Fabius, will be leaving the government, and attended his final cabinet meeting on February 10th. He is 69, but at the age of 37 in 1984 was France's youngest Prime Minister. He is now expected to become head of France's Constitutional Court. His most recent role, for which he was highly praised, was overseeing the successful UN climate negotiations this past December in Paris. President Hollande, while reshuffling his cabinet the next day, has appointed Jean-Marc Ayrault to take Fabius' place. He, too, is a former Prime Minister and is a fluent German speaker. This is seen as an advantage in dealing with Berlin and such pressing issues as the migrant crisis. He also named Emmanuelle Cosse, a member of the French Greens Party (EELV) as housing minister and appointed two other ecologist politicians as under-secretaries in his new government. Hollande is looking ahead to elections in 2017 and needs the ecologists' support, as they have not been pleased with Manuel Valls who was named Prime Minister in 2014. It appears that Jean-Luc Melenchon, leader of the radical Left Party, will run for President in 2017, a blow to Hollande's hopes of uniting his Socialist Party with the Lefts ahead of the election.




o

The Unterlinden Museum

in Colmar (Alsace), shown in the photos below, reopened on December 12, 2015, just in time for the Christmas market season. Closed for three years, the museum underwent an extensive reorganization of its collection and major works including a new wing dedicated to contemporary art. It is home to the Isenheim Altarpiece. [See page 5 for P J Adams' article on the Colmar Christmas Markets.] On January 23, 2016, President Hollande presided over the inauguration of the renovated museum.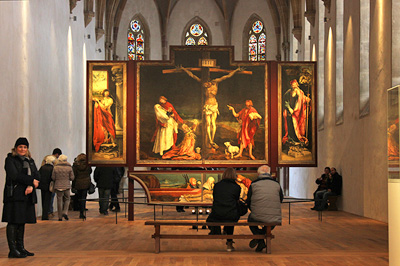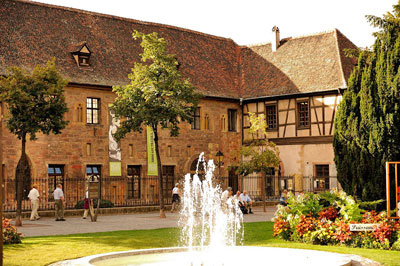 o

The Musée d'Orsay

will host

Le Douanier Rousseau: Archaic Candour

, an exhibit by self-taught artist, Henri Rousseau, comparing his paintings of those who inspired him with the work of avant-garde artists who called him the father of modernity. His masterpieces from both the Orsay and the Musée de l'Orangerie will be shown alongside paintings by Suerat, Kandinsky, Picasso and others on loan from prestigious international museums. March 22 to July 17. For information visit www.musee-orsay.fr.




o

Paris' Musée Jacquemart-André

is the venue for

Normandy: The Open-Air Studio

,

an exhibition of some 40 works of art painted during the emergence of the Impressionist movement, the interaction between French and English painters of the mid-19th century, and the creation of the 'school of nature'. The museum is a work of art itself, and is worthy of a visit whenever you are in Paris. More information is available a www.musee-jacquemart-andre.com.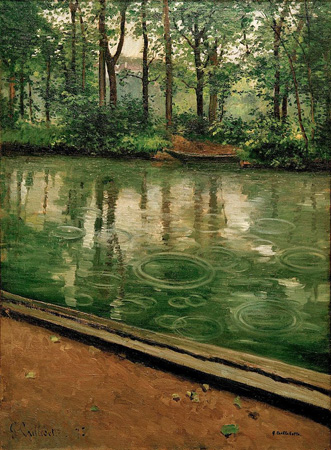 o

The work of Gustave Caillebotte

(1848-1894), specifically with a garden theme, will be the subject of an exhibit at

Musée des Impressionismes Giverny

, 99 rue Claude Monet in Giverny, France, from March 25 to October 30th. This artist, who died at the young age of 46, has today become one of the more important figures in the group of his Impressionist friends. Caillebotte was born in Paris to an upper class family. He supported his friends such as Renoir and Monet by purchasing their work, and he purchased a home in Yerres where he planted a garden and built a greenhouse. Caillebotte had great respect for photography as an art form, and his paintings were much more realistic than the other impressionists. You may recognize his well-known paintings of Paris such as

Paris Street Rainy Day

(1877), and another scene depicting rain in

L'Yerres, pluie

(1875) that can be seen in the Indiana University Art Museum in Bloomington, Indiana. For further details of the exhibit in Giverny visit www.mdig.fr.



o

In keeping with our feature on Lorraine and Alsace,

we want to let you know that the

Verdun Memorial Museum

will reopen on February 21 after over two years of renovations and additions. In recognition of the 100th anniversary of the Battle of Verdun, the new Mémorial de Verdun opens its doors on the same date, February 21, that the German attack began in 1916 ~ a battle that lasted 300 days. One historian wrote that there was no battle before or after that was as important as Verdun in the French memory. The battle lines didn't change significantly after those 300 days of fighting, but over 300,000 French and German soldiers lost their lives and 750,000 more were wounded. To learn more about the re-opening of this important museum, visit www.memorial-verdun.fr.


In the US . . .

o

Saturday Nights at the

Getty presents: Mary Lattimore and Jeff Zeigler performing live cinematic scores.

Saturday, February 27

at 7:30 PM at the Getty Center, Philadelphia-based harpist Mary Lattimore and multi-instrumentalist Jeff Zeigler perform an original live score to Philippe Garrel's

La Révélateur

and Guy Maddin's

Odilon Redon

, two enigmatic films that mine the aesthetic atmosphere explored by the exhibition

Noir: The Romance of Black in 19th-Century French Drawings and Prints.

The visual poem,

La Révélateur

, uses hyper-sensitive film stock to create startling deep black voids in contrast to blinding white within each frame. Made in the days following the May 1968 student uprisings in Paris, the film is a collection of dark, unraveling moments where unusual and dreamlike realms are conjured.

Odilon Redon

, a short film by Canadian artist and filmmaker Guy Maddin, is the film realization of Odilon Redon's 1882 work

To Edgar Allen Poe (The Eye, Like a Strange Balloon, Mounts Toward Infinity)

, which appears in the Museum's exhibition. Maddin translates the drawing into his signature frenetic and whimsical revival of silent-film era style. For more information and tickets, click

here

.



o

The Getty Museum

announced in January that it has acquired an significant collection of 18th century French decorative arts. This combined gift and purchase from economist Horace Wood Brock, contains 31 elaborate works including seven clocks, gilt bronze candelabra, a porcelain ink stand and more. The pieces were produced in Paris representing the fine artistry and skills of the time and were meant to show the good taste, status and wealth of their owners. They cover a range of styles including late Baroque and Neoclassical. The Getty has been borrowing some of Brock's collection since 1997. More information about this and other exhibits can be found at

www.getty.edu/museum

.

o

Rail Europe

is the largest distributor of European rail products in North America. The company combines maps, schedules and fares of over 50 different train companies across Europe, and that creates a one-stop shopping experience for the North American traveler. We have used Rail Europe to book our tickets in France for over 25 years. Their web site is user friendly and tickets can either be printed at home after booking or sent by FedEx to your home or office. Established in North America in 1990 as Rail Europe Inc., the roots of the company actually enjoy a much longer US history dating back to the 1930s. It began as a small New York City office, growing steadily through Eurail Pass in 1959 and the subsequent appointment of Rail Europe as the sole North American distributor of the pass. Rail Europe is a North American company owned by the French National Railroads (SNCF) and the Swiss Federal Railways (SBB). The company's recently launched app and mobile site are the first-ever mobile rail booking tools. Capitalizing on existing features within Rail Europe's state-of-the-art web site, the mobile site and app include a user-friendly booking engine, suggested side trips and the ability to access travel information on the go. For further information go to their web site at

www.raileurope.com

. Or telephone 1.888.382.7245 from the US and Canada.

o Woven Gold: Tapestries of Louis XIV

will be at the Getty Center, 1200 North Sepulveda Boulevard, Los Angeles until May 1. It is the first major tapestry exhibit in forty years in the western United States and features 15 tapestries created in weaving workshops in northern Europe between 1540 to 1715. It is on loan from Mobilier National in Paris and exemplifies the flourishing of tapestries in Europe under Louis XIV. Details available at

www.getty.edu

.

o Don't miss

a rare visiting exhibit at the Virginia Museum of Fine Arts in Richmond entitled

Rodin: Evolution of a Genius

. This exhibit was put together by the Montreal Museum of Fine Arts in cooperation with the

Musée Rodin

in Paris. The show explores Rodin's techniques, materials and models, including his muse Camille Claudel, and includes plaster works, marble figures, photos and ceramics, most of which have never been exhibited in North America. More information about this important show at

www.vmfa.museum

.

PARIS' PUBLIC FOUNTAINS - Part Two in the Series

by Arthur Gillette


PLACE DE LA
CONCORDE: Plenty of Water (and Symbolism) from Two Fountains

In
1836, the Egyptian Viceroy Mehemet Ali made a gift to France of a huge ancient obelisk from the Luxor Temple. It was erected ~ and still amazes passersby ~ at the center of the Place de la Concorde. During the following decade, and presumably to illustrate France's water-borne presence and power (the Navy Ministry is just there), architect Jacques Ignace Hitorff commissioned the construction of two fountains to accompany the impressive obelisk. Made of cast iron rather than stone, they also symbolize the country's technical modernity.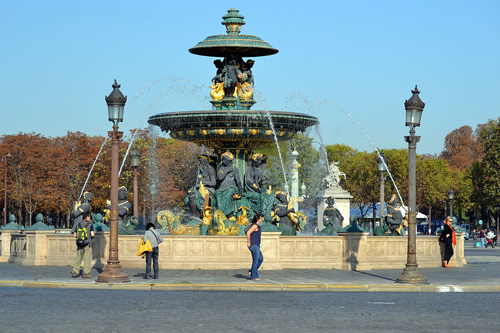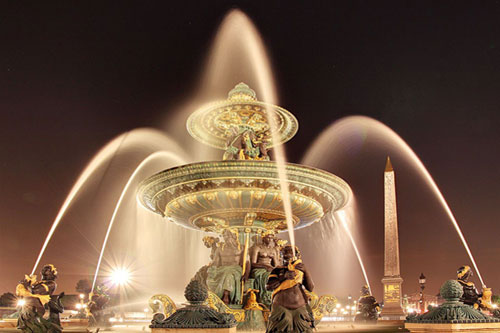 << South
of the obelisk is the Fontaine des Mers (Sea
Navigation Fountain). The seated figures (a bit hard to make out even at close range) symbolize oceans, the Mediterranean, fishing and fish, coral, pearls and seashells. Also present are representations of swans, commerce and astronomy.

>> North
of the obelisk is the Fontaine des Fleuves (River Navigation Fountain). Here the statues symbolize (also difficult to make out) the Rhine, the Rhône, and products made possible by their irrigation such as grapes, wheat, various fruits and flowers. More readily recognizable are the gilt boat prows jutting out from the fountain's base.
. . . continued on page three