It was the Spring of 1997 when the first issue of FRANCE
On Your Own
was published in print format and sold by annual subscription. Times have certainly changed! Today's newsletter, still a quarterly, is free and online since 2004.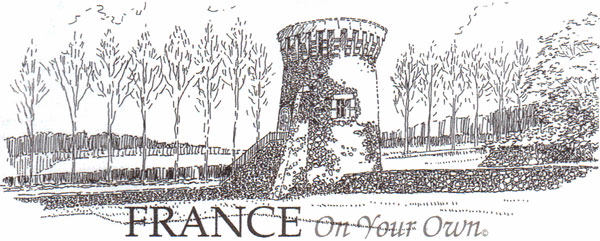 Each issue of our masthead featured a different drawing of a scene in France by
our artist-in residence, such as this one along one of France's many delightful canals.

The
premier edition had articles on resources, research, planning your trip, driving in France, and more, and the featured region was Normandy, a part of France we loved then and still love today. That
first issue's goal was to promote independent travel ~ traveling without tour buses or preplanned itineraries from tour companies. We wanted then, and still do now, to encourage you to get out a map, do research on your own, and see where you want to go and what you want to see in France. This should not be a daunting task but actually great fun ~ how many times have we heard that 'planning is half the fun'? Well, it really is.
Now
, with the Internet offering everything at our fingertips, planning is easier than ever. Check on airline tickets, perhaps a rail ticket, travel insurance or that car you will need if you even
think
of leaving Paris and venturing out into the countryside. Find a hotel in Paris, and for an authentic French experience, book a room at a
chambre d'hôtes
in a rural area. You can read other travelers' reviews before booking, and we suggest you book on a web site that offers human interaction so that you can ask questions, request special amenities and receive personal attention. Everything required for your trip is online and easy to access.
Today
, many people read FRANCE
On Your Own
on hand-held devices and tablets as well as laptops and home computers. We can easily include photographs and web links to useful sites. But, we want to remind you that back issues of the print version of the newsletter are still available (with a few sold-out exceptions), and they are listed at
http://www.franceonyourown.com/Archives.htm
, our web site's Archives page.
We
would appreciate it if you, our readers. would pass the word along about our newsletter so that more people will subscribe. And, as each issue carries two banner ads reaching many thousands of subscribers, we invite anyone who would like to place an ad that pertains in any way to France to
contact us
.