This column is intended to advise you about cultural events, news and happenings
in France or France-related events taking place in the United States & elsewhere
between now and the publication of our next issue.
In France. . .
o A French teenager
, a 16-year old girl named Camille, was a volunteer archaeologist in July when she found a tooth dating back 560,000 years. The science community sees this as a major discovery because very few human fossils have been uncovered for this period in European history. The tooth was discovered at one of the world's most important prehistoric sites,
Centre Européen de Prehistoire
, near Tautavel in the Pyrénées-Orientales
département
of southwestern France.
o L'Hermione
, the replica of General Lafayette's ship, has returned to France. After stopping at Brest harbor in Brittany, it returned briefly to Rochefort, its home port, but is now once again under sail headed for Bordeaux. It entered the Gironde Estuary on August 19th and will arrive in Bordeaux on the 20th.
Bon voyage!
o
The French
drugmaker Sanofi has developed a candidate for a dengue fever vaccine that in tests protected more than three quarters of the participants in children ages nine and older; in children under nine it was 56.1 percent effective and other age groups received varying degrees of protection. There will be follow-up tests, but in general the researchers said there was a reduction in dengue disease among children receiving the vaccine. Trials were conducted in Asia-Pacific and Latin American tropical and sub-tropical regions. There are 50 million cases annually in the world which, according to the World Health Organization, results in death in more than 20 percent of the cases.
o
The Picasso
painting seized in Corsica by French customs agents, and worth about 25 million euros, has been returned to Spain where it is considered a national treasure. Spanish officials refused to let the owner, Jaime Botin, move it to London three years ago, but it was found on a vessel in early August on its way to Switzerland. The painting is called, 'Head of a Young Woman'.
o
More art smuggling,
and another Picasso, was stopped last December, but the news was released only recently.
'La Coiffeuse'
, The Hairdresser, is worth about $15,000,000, and was just returned to France where it had been stolen 17 years ago. Someone from Belgium sent it FedEx to the US claiming on the customs forms that it was an arts and crafts gift worth about $37. When inspected by US customs in Newark, New Jersey, the 13"x 18" work of art was found. It is owned by the French state.
o
France,
like the western United States, is experiencing a drought resulting in fires in Provence's southeastern Var. Also, a fire raged in the pine forests of southwestern France just west of Bordeaux at the end of July. Some ten thousand campers had to be evacuated in the Var, and thirty mobile homes were ablaze in one campground near Fréjus. The President of France encouraged everyone to be especially vigilant.
o The chef
who led the
nouvelle cuisine
movement, Roger Vergé, died on June 5th at the age of 85. Vergé's restaurant, Le Moulin de Mougins, earned three Michelin stars within 5 years of its opening in 1969, and celebrated chefs, including Daniel Boulud and Alain Ducasse, trained in his kitchen. His cuisine was strongly influenced by herbs, spices and the sun-ripenend vegetables of Provence as well as his travels to Africa and Jamaica. Juila Child was a friend, and she once said that he could not have come from anywhere but France ~ that he was "a quintessential example of what a true chef should be", and he inspired her love of France and its food.
o Uber
cars were the target of French taxi drivers in Paris and at the airports and railway stations in late June, as the drivers protested losing business to UberPop. The ride sharing service has been banned in France since January, but enforcing the laws has proven to be difficult. In Bordeaux and Marseilles, the taxi owners were protesting the fact that Uber continues to disobey the law and its drivers are still operating. There are legitimate complaints that the Uber drivers do not pay taxes, do not undergo the 250 hours of training mandatory for taxi drivers, take no tests, have no taxi licenses, do not carry sufficient insurance, and set their own rates which taxi drivers do not. There were incidents in Strasbourg where taxi drivers overturned or damaged Uber vehicles and assaulted the drivers. Uber is facing growing limits on its operations in EU countries and legal challenges fueled by the taxi lobby. Uber is illegal in Germany and Spain as well (and also in South Korea), and in late June Paris police arrested two of Uber's top executives for ignoring the law. Uber has filed a complaint regarding the laws in the three countries to the European Commission.
o
A French man, living in Japan, was declared the world's best cheesemonger. Fabien Degoulet, from a family of dairy merchants, traveled to Tours, France, for the competition in early June. He won over a dozen leading
candidates from around the world, as an international jury based their decision on taste pairing, knowledge, cutting and presentation. Guillaume Cardinet of France came in second, and a Belgian, Nathalie Vanhaver, took third place.
o
French inheritance laws changed as of August 17 under the EU's uniform rules of Regulation (
650/2012
). Only the UK, Ireland and Denmark will opt out. This law applies only to cross-border succession ~ people in participating countries can decide if they want the inheritance laws for
fixed
property (homes, land, etc.) to be the law from their last country of residence or that of their nationality. The laws that are still governed by national rules (i.e., the rules of France) apply to who is to inherit and what share of the estate goes to children and spouse, property law and family law in an EU country, and tax issues related to the succession assets.
o The French
have called off their search at their Indian Ocean territory of Réunion for the missing Malaysian Boeing 777 that disappeared last year. Since the appearance of the wing flaperon on July 29th, nothing else that has been found washed up along the shore has any connection to the airplane, so French authorities said they will maintain vigilance near Réunion but will not be continuing an organized search operation.
o In Lorraine: Rebirth of the Verdun Memorial
will open in mid-November 2015. This memorial preserved one small piece of the blood-stained earth from World War I, and you will see large-format projected images from the archives, background sounds, videos, artillery sound effects and more, which will give visitors a first-hand experience of what took place in the French-German battlefield.
o In Blagnac/Toulouse

Métropole (Midi-Pyrénées) opened its new Aeronautical Museum in 2015. The new discovery park, called

Aeroscopia,

shares its knowledge of four historic aviation icons: the Caravelle, Concorde, Super Guppy and Airbus A300B, and there are more than 30 historic planes on display along with cultural exhibitions and activities.
o France

continues to be the world's number one tourist destination, year after year. There were 83.7 million visitors to France in 2014, and 2015 is shaping up to outpace that number based upon forecasts of reservations made thus far and other indicators.
In the US . . .
o Warriors, Courtiers and Saints: The Etchings of Jacques Callot is the title of the exhibit at the Stanford University Cantor Center through February 15, 2016. During his brief career, Jacques Callot (1592-1635) challenged the old assumption that printmakers were incapable of inventing original compositions by creating elegant, expressive prints. This exhibition features a selection of 16 prints that demonstrate Callot's remarkable range ~ from recording the horrors of war to rendering whimsical landscapes, formal courtly scenes, and somber religious subjects ~ all in his light and fluid style. Further information at http://museum.stanford.edu/

o For anyone in Southern California next Sunday, August 23, don't miss the lecture at the Getty Museum at 2 o'clock entitled Fit for a King: Louis XIV and the Art of Fashion . Louis XIV recognized fashion's propaganda value as well as it economic importance, and he was deeply invested in establishing the superiority of France's clothing and textile industries. Art historian Kimberly Chrisman-Campbell examines the Sun King's lasting contributions to French fashion as well as his own exquisite taste. This lecture complements the exhibition A Kingdom of Images: French Prints in the Age of Louis XIV, 1660-1715, on view at the Getty Research Institute until September 6.
o New York's Frick Collection will present From Sèvres to Fifth Avenue: French Porcelain at the Frick Collection through April 24, 2016. More information at www.frick.org.

o The Hollywood Bowl in Los Angeles is the venue for The French Connection, a concert featuring the Los Angeles Philharmonic that will include Mozart's Symphony No. 31 Paris, Ibert's Hommage à Mozart, Haydn's Symphony No. 85 La Reine, and Poulenc's Organ Concerto. August 25 only. Details at www.hollywoodbowl.com.

o The Bullock Museum in Austin, Texas, will host the exhibit La Belle: The Ship that Changed History a presentation of the reassembled remains of a 17th century French vessel that sank off the Texas coast, the result of a failed expedition led by explorer René-Robert Cavelier. Opened August 8. Information at www.thestoryoftexas.com.


THE BOOKSHELF: A Passion for Paris - Romanticism and Romance in the City of Light


a book by David Downie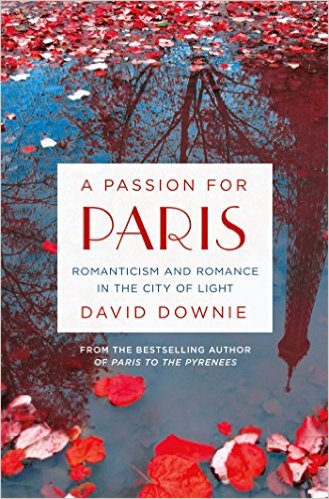 This
is the second of David Downie's books that we've read and enjoyed. We reviewed
Paris,

Paris
back in 2011, and this book is certainly as interesting and perhaps revealing more about our favorite city. David Downie has a way of weaving the lives of people who lived long ago into today's life experiences ~ people of different times who shared the same streets, neighborhoods and special places in Paris. His ability to capture you, until you find you've read several chapters without realizing it, says much about his talent as a storyteller and his ability to make history truly come alive.
There
are chapter titles such as
'A Drunken Boat, A Starving Writer, and Two Giant Clarinets'
. Who could resist delving into that one? But the author begins with his life in San Francisco and about his idol, Nadar, the photographer (and hot-air balloonist) whose given name was Gaspard-Félix Tournachon, and whose 19th century life in Paris was calling him. It was in April of 1986 that David Downie arrived in Paris to begin his search for all those places and the romantic men and women who were in Nadar's photos from the 1800s.
He
realized early that those people who wrote novels about Paris, who photographed Paris, and who wrote music about Paris didn't make Paris romantic; they made people
think
Paris was romantic. So, the author set out to search for the romantic secrets of the City of Light. This book takes us along.
Perhaps
most appropriately, he began at Père-Lachaise Cemetery which is, for those of you who have had the pleasure of visiting know, a place where you can visit almost anyone who was anyone in French society, theatre, the art world and beyond. They are there, and when you are there, you feel their presence.
When
you read this book, you will see Paris through David Downie's eyes. He writes about today's effort to 'standardize' the world, "dethroning the French language, French culture, French food, French national identity...." or that's what so many French believe. UNESCO is lobbied to place French cuisine and the French way of eating on its list of World Heritage 'intangibles'. He writes about the French penchant for protecting their rights and their freedom ~ women's rights, sexual freedom, freedom to organize workers, and strike "against the one percent who don't pay taxes" ~ and everyone fights for those rights!
In
his quest for Paris' romanticism, the author tells us that the modern Romantic Age began in 1830 by a group of French Romantics, having met each Sunday throughout the 1820s near Place de la Bastille at the Arsenal Library. Downie declares that France and the United States are both "children of the Age of Enlightenment and revolutions", and that it explains why Americans feel Paris is pulling them. His time spent at the Arsenal Library was discovering who the Romantics were. He writes about Victor and Adèle Hugo and her infidelity and his mistress, Juliette, at some length; he writes scathingly about Napoléon III about his hidden agenda for modernizing Paris (His view of Napoléon III and Haussmann is exactly the opposite of Stéphane Kirkland whose book we reviewed in our last issue. To each his own.); of Balzac and Baudelaire and of the many secrets and secret lives the famous led in 19th century France.
What
is most impressive about Downie is how well he knows Paris. Its seems he knows every street, every park no matter how small, every statue and what took place in every neighborhood. He notices and appreciates architecture, and he ties that and all his knowledge of Romantic Paris into what is going on today ~ such as the 'love locks' on the bridges over the Seine which the city is now removing.
In
Part Five of the book entitled
Romantic Romps
, the author focuses on the renowned George Sand, "the Great Woman of the Age of Romanticism" and a most prolific writer; we read of her relationship with Chopin, her home in Nohant, all the time she spent in the Luxembourg Gardens, and the many secrets about her 'romantic' life. He tells of the artist Delacroix in Paris and at his studio at George Sand's home in Nohant where his palette, paint boxes and his collection of memorabilia brought back from Morocco are preserved. Walk with the author along the Seine as he points out that which you may not have seen before or visit the café that inspired Dumas to pen
The Three Musketeers
~ where Comte d'Artagnan lived for fourteen years.
Page
after page the reader is offered something fascinating, a new perspective, and a better understanding of how Romantic Paris came to be. It is probably worth taking the book along on walks through this incredible City of Light so you won't miss anything!
A Passion for Paris - Romanticism and Romance in the City of Light

is published by St Martin's Press, New York
Copyright 2015 by David Downie ISBN 978-1-250-04315-3 (hardcover) and ISBN 978-1-4668-4125-3 (e-book)