LES ÉTANGS DE COROT -
Peaceful Countryside Relief from Busy, Busy Paris
by Arthur Gillette
Somewhat – or quite – stressed by Paris, nipping from monuments to shops to museums to restaurants? What about a bucolic visit to one of the suburbs' calmest and most beautiful rural venues? High among the favorites of mine and my lady are found at Ville d'Avray village, the Étangs de Corot. These are two adjacent lakes named for the 19th century painter who frequented them and left this 'souvenir'.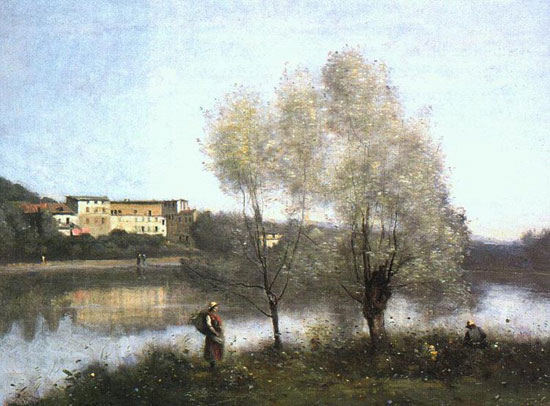 Some twenty minutes by train from downtown Gare St. Lazare (by RER, Regional Express Railway, Line A to nearby Versailles) and about the same amount of time on foot from the Sèvres-Ville d'Avray station, the Étangs (ponds) are surrounded by a forest dominated by majestic weeping willows. They are not only beautiful but also peaceful and generally (mercifully!) little-frequented, at least on weekdays.
Ville d'Avray was settled in the Middle Ages and long focused on vineyards. Its étangs began to attract noble visitors in the 17th century as a relaxing getaway from the royal hustle and bustle at King Louis XIV's nearby Versailles.

Perhaps to avoid making his brother jealous of his (that should probably be His) Versailles, Louis gave him the St. Cloud domain toward Paris from Ville d'Avray. Its castle, destroyed since, was then nobly rebuilt. To provide water for its extensive new park and lake, created by master landscaper André Le Nôtre, the future Étangs de Corot were mobilized and enlarged, taking the shape you can see today.

In the late 19th century, after the railway opened, they drew the Parisian haute bourgeoisie, not to forget artists like Corot. And, they simply haven't changed since.
The visit is anything but strenuous. Leisurely strolling along the paths that surround them, and stopping a bit here and there perhaps to observe the local birds' flapping and diving shenanigans, you can circle the étangs in about three quarters of an hour.

Hungry afterwards? You can find respite at the rather luxurious, four-star Étangs de Corot hotel/restaurant overlooking one of the lakes. My personal preference there is the relatively inexpensive (€29 for a meal, wine not included but affordable) Café des Artistes where you can sit outdoors surrounded by shrubbery with your feet almost in the nearby Étang.

Bonne promenade et bon appétit!