Featuring:

The Lot département




The départements of France ~ a little history


The département Lot, taken from the province of Quercy, was one of 86 established during the French Revolution, specifically on March 4, 1790. At that time, Lot was larger than it is today, having included the district of Montauban. In 1808, Lot lost a quarter of its area when Montauban became part of the newly-formed Tarn-et-Garonne. The départements of France were officially created to replace the Ancien Régime provinces, numbering them with 2 digits and in alphabetical order (i.e., 01 is Ain). Départements are each a part of a larger region, and almost all are named for rivers, mountain ranges or coastlines, so the Lot is named for its primary river. The Lot (46), Aveyron (12), Tarn (81), Tarn-et-Garonne (82), Haute-Garonne (31), Ariège (09), Hautes-Pyrénées (65) and Gers (32) are all part of the administrative region of the Midi-Pyrénées of southwestern France, a region cobbled together in the 20th century ~ eight départements that don't necessarily have much in common with one another. The number grew to the current 95 départements in France when nine more were formed in 1860, 1922, 1968 and 1975. There are eleven French Overseas Départements known as DOM-TOM (Départements d'Outre-Mer - Territoire d'Outre-Mer) with three-digit designations. Credit for this new system is given to Revolutionary leader Abbé Sieyès, a clergyman ironically pro-Revolution, although the idea of départements had been mentioned by others years earlier.


Let's Visit the Lot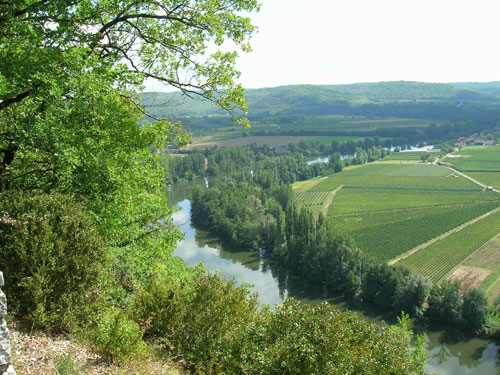 Our visits to the Lot have always been memorable and very pleasant ~ from tiny Martel to the drama and history of Rocamadour, and from the Grotte de Presque to St-Cirq Lapopie. The rugged landscape ~ with two major rivers, the River Lot and the River Dordogne, and smaller tributaries such as the River Célé, River Bave, and River Céou ~ includes the hilly terrain, gorges, prehistoric caves and steep cliffs of the Parc Naturel Régional Causses du Quercy which comprises much of the département. Your time here is enveloped in beauty and nature at its best.

The River lot has its source in the Cévennes and travels westward 299 miles before emptying in the Garonne River. It is a winding, beautiful waterway with many towns and villages perched on hills above or on its banks. Some of those worth visiting are Puy l'Evêque, Luzech, the road to Crayssac (where this photo was taken), Cahors, and St-Cirq Lapopie.


The Lot's capital and prefecture is the large town of Cahors with inhabitants numbering just under 20,000. Cahors is surrounded on three sides by a bend in the River Lot, can easily be reached by auto via four major départemental roads and is not far from the A20 autoroute. A direct train from Paris' Gare Austerlitz station will reach Cahors in five and a half hours. The city has existed since Celtic times and occupied by the Cadurci tribe until being overrun by the Romans around 50 BC. Cahors is the birthplace of Pope John XXII (born Jacques Duèze or d'Euse in 1249). In the 14th century its bankers were the first to charge interest on loans, a practice that the Catholic church considered a sin and for which its name became synonymous. Thus, it is mentioned along with Sodom in Dante's Inferno!

Be sure to take Le Petit Train de Cahors for a great 45-minute ride to explore the city. You will visit old streets and take in its rich history. Commentary will be provided to describe the buildings, the Roman vestiges and more. Add another ticket to include the one hour fifteen minute cruise around the city, under the Valentré bridge and relax as you see it from another vantage point. The cruise is available from April to October.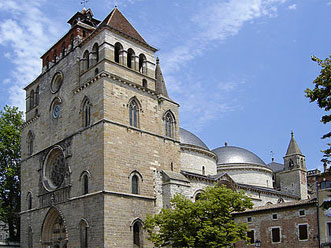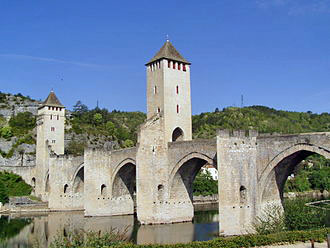 Cathédrale de St-Etienne Pont de Valentré


We are certain, however, that you will find Cahors delightful. The 14th century old quarter, the Cathedral of Saint Etienne which is a national monument, and the famous Valentré bridge ~ whose construction began in 1308 and took 70 years to complete ~ are all special attractions in the city. The Romans left many monuments behind, as they did throughout their conquered lands, and several remain today in Cahors. The remains of an oval Roman amphitheatre were uncovered in the town when excavation began for an underground parking garage near Boulevard Gambetta, and the Arc de Diane is at the vestiges of the ancient Roman baths.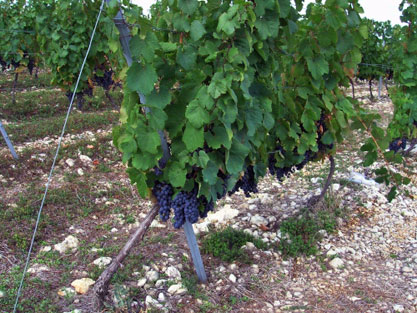 Wine made from dark, purple Malbec grapes has its origins in Cahors for which the region is famous. The rich, 'black' wine of the Lot takes is name from this important town, and Cahors Malbec has become very popular around the world in recent years. But, it isn't new. Cahors winemaking began with the Roman arrival in the Lot about 50 BC. The rich wine of Cahors had a stellar reputation from the Middle Ages until the phylloxera epidemic devastated the area between 1883 and 1885. Then, when a severe frost struck in the winter of 1956 destroying most of the vineyards, they all had to be planted again. It was at this time that the Malbec grape became more dominant, and Cahors wine was awarded AOC classification in 1971 requiring a minimum content of 70% Malbec grapes for this appellation. Today, many Malbec wines come from Argentina, and the vignerons of Cahors have developed an association with those South American vintners whose grapes originated in France. Wine experts can distinguish between the Malbec from Cahors' gravel-y, limestone, terraced terroir (shown in this photo) which they say has more structure, firmer tannins and is darker ~ and the fruitier, smoother-textured Argentine Malbecs.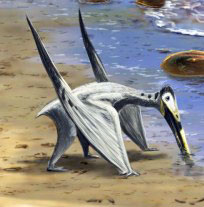 Crayssac, just 10 minutes west of Cahors on the D811, has something special to see: Pterosaur Beach ~ a place without sand or water, but a unique paleontological experience with Jurassic period footprints left behind by shellfish, crocodiles, turtles, lizards, pterosaurs, dinosaurs and many more creatures that lived here 150 million years ago. This site has provided scientists with definitive evidence that pterosaurs were quadrupeds, not bipeds, as previously assumed, and the prints left behind demonstrate how all the various creatures moved along the sand. France is very rich in prehistoric sites, and this is but one of them found in the Lot.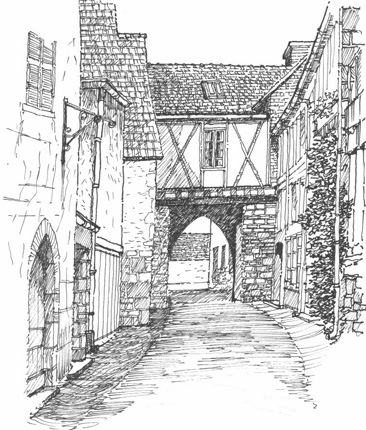 The commune of Martel, with slightly over 1500 residents, is a tiny charming village well worth a visit. We had lunch at La Mère Michelle, a homey, bustling restaurant where we were the only tourists, and it was delightful ~ home-style cooking with generous portions, good service and no pretenses. It made us think about how lovely it would be to live in Martel where everyone knew everyone else and all seemed friendly and welcoming. It was many years ago that we visited Martel, so we were pleased to find that this restaurant is still there!


Martel's 'skyline' is distinctive for its seven medieval towers. There is Musée de Uxellodunum, a local Gallic archeological site that was besieged in 51 BC by Julius Caesar himself. It is difficult to confirm that the commune of Martel is named for Charlemagne's grandfather, Charles Martel, who drove the Saracens out of France. But, it is suggested that he established the village, gave it his name and helped build the Church of Saint Maur. Another hypothesis comes from one Jean Vidal who goes further and says, "Charles Martel, who defeated the Saracens in 734-735, had built the Church of Saint Maur to the place called since Martel, in memory of the victory he had won in this place." It seems that Vidal may have a few of his facts wrong, as the battle against the Saracens he refers to by date was in Narbonne and not in Quercy. In any event, the village is quite pleasant, historic links notwithstanding. This drawing shows one of its charming streets.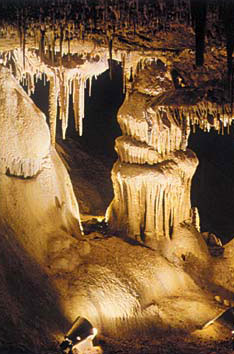 The road to Rocamadour south from Martel is the D840 that crosses the River Dordogne and the location of the Grottes de Lacave (shown in this photo) is a short detour west at a bend in the river near Belcastel and Lacave. There is about one mile of galleries which you reach by an electric train and elevator, and the guided tour is about 90 minutes including more than ten caves. Photography is permitted.

Humans have inhabited Quercy since about 400,000 years BC, but around 40,000 years BC the colonization by Cro-Magnon man took the place of the last Neanderthals. They used caves and rock shelters in the valleys and camped on plateaus. Their cave art, vast networks of underground caves, and megalith burial sites which came about 3200 and 2000 BC tell us much about their lives and culture. Some twenty prehistoric sites have painted or engraved artwork, and the Lot has the third largest number of megalith monuments in France ~ about 500. Some of the most important sites to visit are the Grotte du Pech-Merle, near Cabreret northwest of Cahors and not far from St-Cirq Lapopie, and the Grottes de Cougnac a few kilometers north of Gourdon.

One other site not to be missed is the chasm, Gouffre de Padirac, about 14 kilometers northwest of Rocamadour. This is a round hole 30 meters in width by 75 meters deep. It was an underground cave whose roof collapsed, stopping the flow of an underground river. Since its discovery in 1889, several expeditions have visited the twenty-one galleries. Visit their web site for some incredible photos and information about visits and tours.

continued on page 4