MARSEILLE TO MILAN BY TRAIN
by Anita Rieu-Sicart



In the last few months the Italian train service, Thello, announced they were to start up a new direct rail service connecting Marseille with Milan. Thello is a collaboration of the Italian Rail service Trenitalia, and the private French rail and bus company, Transdev (Veolia), that has now successfully been granted rights to implement new coach and bus services throughout France.



The

New Marseille-Milan line was inaugurated this past December 15. I had traveled to Milan twice previously by train, having to change twice, at Nice and then Ventimiglia, so I was keen to try this new seamless service out for myself. My two previous trips had been pleasant from Ventimiglia onwards, although a bit slow, but very comfortable and very reasonablly priced, particularly in 1st class. Reasons for the length of this rail journey along a main tourist highway from the South of France into Liguria, and its up-to-now non-connectivity are many and various - but mainly one would imagine tied up with the lack of progress in the development of improvements to rail service in the French PACA region, wrangling about which has been going on for the past ten or so years. SNCF had abandoned the direct connection to Ventimiglia in 2009, where the trains linger slightly longer to allow changeovers of electrical currency, now possible by bi-voltage. In the meantime Trenitalia and its high speed rail service, Frecciarossia, have been investing in the Italian rail side of that cost improving services and facilities, and will be investing even more in the next few years.


As I am tall with long legs, leg room is much appreciated. Budget flights are all very well, but when it takes your knees several hours to recover you really wonder. And train travel – centre to city centre without all the hassle of turning up an hour more before departure, along with all the issues of security - is what I opt for when possible.



Accordingly

, I and two trusty cohorts - my guests over Christmas and New Year - decided to try the service out, booking tickets a couple of months beforehand, going first to Milan and from there via the Italian high speed rail service to Florence for some culture junketing. The Thello train leaves Marseille at 15h30, arriving at Les Arcs-Draguignan (my station, in the heartland of the Var, near Le Muy) just before 5PM and Milan just before midnight. The prices are between €30 and €70 Marseille to Milan and from €15 to €45 Nice to Milan in second class.






The

Thello trains, part of the Trenitalia Frecciabianca fleet, have been recently renovated with reclining seats and plenty of room for luggage, offering 1 to 2 first class and 6 to 7 second class carriages with a capacity of 450 to 600 places depending upon the season. All coaches have air conditioning and generous space for luggage (two large suitcases per passenger) plus what one can carry. Anything over might incur a small charge, but seat size in 1st class is 63cm, reclining 110 degres, and in 2nd class 53 cm width, reclining 105 degrees. There are small tables, a reading light, and power sockets to EU type C, tripolar outlets. There is also a 2nd class coach outfitted to welcome mobility impaired passengers, with 2 seats for passengers travelling in wheelchairs and specially adapted toilets. Plus there are baby changing tables in each train.



We

found the Thello service a delight, and just great. There we were at Les Arcs-Draguignan on platform one with our wheelie suitcases, and Thello came in right on time at 16h55.

The Thello Team – bright & cheerful



A

very efficient and cheerful lady controller was on hand to help us up the steps and into the carriage. She later came along and checked our electronic tickets with her state of the art hand held mini computer which obviously told her what reservations had been made, how many were getting on and off, and where - all very novel.



As

the journey to Milan from Les Arcs is six hours, we had opted for first class, but we could equally well have opted for second class as it looked just as comfortable. The seats in first class were only slightly larger, both extremely comfortable with lots of leg and storage room. Both first and second class carriages, have a 2 + 1 seat conformation with lots of space for luggage storage between the seats and corridor space for trollying.



The

train whizzes through the wonderful vineyards of the Var to finally emerge parallel to the Mediterranean providing fascinating glimpes from time to time of the Riviera and the Ligurian coastline until you reach Genoa where the train, after a short interval for engine changes, seemingly reverses out to head for Milan.



We

had packed a picnic, but there was a nice stand-up buffet car with a pleasant attendant offering beer, wine, water, sandwiches, plus a trolley service that merrily circulated at regular intervals with cheerful attendants in charge. One of the reasons for the length of the journey is that there have to be so many stops - the Mediterranean coastal resorts are the destinations of most travelers - you just can't go at huge speeds between. Although the Italian side to Genoa is due to refurbished and speeded up in the next year or so, it still passed pleasantly, and we got into Milan Central Station slightly ahead of time just before 22h50.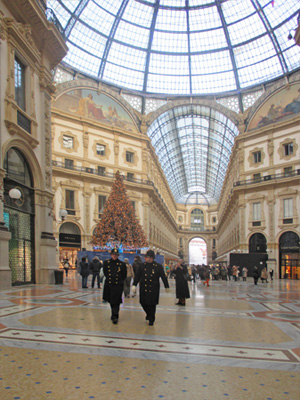 The Victor Emmanuelle (Milano Centrale) rail station arcade



I

had been apprehensive. I am a worry wart, knowing that arriving at that time of night we would have to be lining up for a taxi - would it be a problem, would taxis be few and far between, and would we be stuck there waiting? But it was absolutely no problem at all; we followed the signs to the taxi stand, with others ahead of us and loads of people arriving from destinations all over Italy, and the taxi queue was emptying at the speed of light as taxis, lickety-split, three abreast, swarmed in, we were carried off within about five minutes to our hotel. Our little mini holiday in Italy proceeded just wonderfully.



If you want to read more about Anita's time in Italy, please subscribe to the

Var Village Voice

,

a wonderful English-language newsletter that is the favorite of all the English speakers in the Var of Provence.

It is an interesting and information-packed monthly that is sure to please every reader! Subscribe at:

anita@varvillagevoice.com

or visit her web site at http://www.varvillagevoice.com




KNOW THE SIGNS:
Driving in France
continued from page one. . .
You

will note there are several different road designations in France. There is the

autoroute

beginning with

A

on your map or GPS, such as

A11

or

A13

out of Paris and the

A7

(known as the

Autoroute du Soleil

) to the southeast. Autoroutes are noted by their prominent

blue and white signs

.

(Maps also show them as E roads - for European - but the numbering is the same. E10 is also A10 for example.)

The

N

roads are

national

roads and traffic moves quite well, although they do pass through many cities and towns along the way. These roads are indicated by their

red signs

with white lettering. Next are the

départementale

roads known as

D

roads, usually quite scenic and traversing rural areas and small villages. They are often one lane in each direction, but well paved and signposted. Their signs are

yellow

with black lettering. Finally, you may come across a

C

road, often a narrow, one lane road that will take you off the main roads and can be quite an adventure! We've used them as shortcuts between two D roads, although they are not always well-paved and do curve a lot, so you may find them confusing. The signs have a white background with black lettering.


An

important reminder for all drivers in France is that speed limits are strictly enforced. There was a time when they were not, and drivers, both native and foreign, drove at very high speeds, and accidents were all too frequent. Traveling today on French roads has never been safer, with the lowest number of highway fatalities since 1948 when data was first recorded, according to a report in January of 2014. Speed limits are now strictly enforced; in many cases they have been lowered such as on the

péripherique

(ring road) around Paris, and radar speed cameras have been installed throughout the country.
This more vigilant enforcement of the laws has resulted in far fewer accidents and safer roads for everyone.
Interior Minister Manuel Valls is even asking for the installation of 'black box' recorders in all French vehicles, similar to those on aircraft, to record information for investigators to determine the cause of crashes. We recommend that everyone visiting France drive within the speed limits - especially to get more enjoyment from the beautiful landscapes and better appreciate this amazing country - and, of course, to stay safe.
Here are some signs with which are probably familiar or that are self-explanatory. Note that red on signs indicates caution or something prohibited. (Mouse over each sign to see its description.)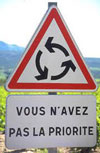 Parking legally is important, so here are signs to watch for:















Now for some common and not-so-common road signs: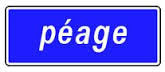 Directional signs, so you know where you are and where you are going:





Buying gasoline (or gazole for a diesel car) is easy enough, unless it is a Sunday! The stations along the autoroutes are open, but don't expect them to appear very often. Local stations are closed on Sundays, although the ones in shopping centers may have self-service pumps - but no clerks at the windows. In this case, your credit card has to have a chip so that it can be inserted with the short side into the narrow slot. These self-service pumps do not accept cards with a magnetic strip for swiping. It is best to fill up on a weekday or Saturday - and be sure that is done before returning your rental car. It must be returned with a full tank.