This column is intended to advise you about cultural events, news and happenings
in France or France-related events taking place in the United States
between now and the publication of our next issue.

In France. . .

o The 68th Cannes Film Festival will be held the 13th to 24th of May this year. Americans Joel and Ethan Coen will be co-presidents of the Cannes Film Festival Jury.

o

French Actor Louis Jourdan, the suave and debonair leading man who first became famous as Leslie Caron's co-star in 'Gigi', died at his home in Beverly Hills, California, on February 14th at the age of 93.

o

The largest castle in Europe

, Château Fort de Sedan, is the setting on May 16 and 17 for the 20th annual Medieval Fest. Tens of thousands of visitors will come to enjoy craftsmen, animations for children, musicians, and hundreds of exhibitors at the market. Sedan is located in the Ardennes

département

of northeastern France only about 13 kilometers from the Belgian border.

o

France

is home to the largest linked ski area in the world,

Les Trois Vallées

, which is actually

four

valleys climbing to a height of almost 11,200 feet. There are eight different resorts served by 169 lifts, and, because of the altitude, there is more certainty that there will be snow. The area's most inviting place to stay is

Courchevel 1850

, a village with 19 4-star hotels, the most of any one location in France.

o Look for

Peanuts

in France: a new television series debuted in November,

en français

, of course. Charles Schulz, the late creator of

Peanuts

was an avid Francophile, so now French children can enjoy the

Peanuts

characters as American children have for decades. The stories will be taken from Schulz's original comic strips, and the animations will look like watercolors on textured paper. The frames will move across the television screen as though you are reading a comic strip. The short strips (one to two minutes in length) are shown in groups of five or six and are on France 3, a French public broadcasting station. Schulz's widow, Jean, was approached about the project when she was visiting an annual comics convention in Angoulême, and she was happy to give it her blessing when she learned that the original comic strips would be the foundation for the work - something that had never been done in animation. She said that her husband visited France often and had a real connection with the country, adding, "He loved the people, and he appreciated the way they enjoyed life."

o

Hire your own chauffeur

for vineyard visits in France. Pierre-Raymond GALMES is a registered and insured chauffeur with wine country experience, and Burgundy is his specialty. However, he is available to drive your rental or his private car in any of France's wonderful wine regions. Visit his web site at burgundy-chauffeur.com or contact him by email at francechauffeur@aol.com.

o Château de Détilly in the Loire Valley has a few available Spring weeks for rent at a 33% discount of their regular rates. You can still book April 26 - May 2, May 2 - May 8 and June 7 - June 13. Contact

au Château

for prices and to answer any questions you may have.

o The

new Michelin Guide

was

released on February 2nd with the usual surprises. In New York, Daniel Boulud's flagship French restaurant, Daniel, lost one of its stars, so it now has two - down from three it held since 2010. In Paris on the Champs-Elysées, Yannick Alléno, who took over Le Pavillon Ledoyen last year, maintains the 3 stars of Ledoyen under the previous owner; in eastern France, there is a new 3-star restaurant this year: La Bouitte in St Martin de Belleville, upgraded from 2 stars. You can get a copy of the red guide for Paris or one for all of France from Amazon.com. See the easy link below to order your copy.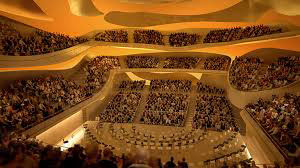 o La Philharmonie de Paris, the magnificent facility designed by award-winning architect, Jean Nouvel, was inaugurated on January 14 with many notables in attendance including President François Hollande. This 2400-seat auditorium sits on hill in Parc de la Villette alongside the Cité de Musique and the Conservatoire National Supérieur de Musique. It is 65,000 square feet of space devoted exclusively to the study, practice and performance of music. Dramatic curved balconies make it unique and graceful. The architecture is spectacular with sweeping steel forms and a wall (seen in the photo below) with the concert program for everyone to see, whether standing outside or driving by in a car on the Boulevard Périphérique. Located on the northeastern edge of the 19th

arrondissement

, it is accessible by the Métro, RER and the tramway stop at La Villette. It will be open to the public all day to see performances, attend exhibits, tour the Museum's collection of historic instruments, hear recordings, eat a meal or just enjoy the building. No visitor to Paris should miss seeing this grand concert venue.






o The Mayor of Paris

, Anne Hildago, wants to begin banning polluting trucks and buses from Paris beginning in July. By July, 2016, she wants this ban to extend to all of the most polluting vehicles. She has already announced a ban by 2020 on all diesel vehicles, as well as limiting cars in the center of the city and extending 30 kph speed limit zones. Adding to the number of cycle lanes is another of Hildago's goals, part of the €110-million bicycle development plan. A plan is also underway to incentivize businesses in the city to buy cleaner vehicles through financial aid and prime-rate loans.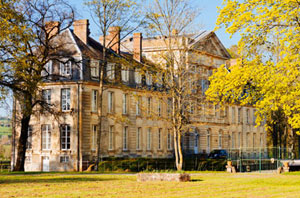 o Château de Courtomer in the Orne

département

not far from Paris is inviting guests to accept a 10% discount on weekly rental rates with bookings for 2015 and 2016. A special code is needed to obtain the discount, so contact

au Château

and mention this special offer.

o Château de Challain in the Loire Valley is offering B&B accommodations until May 1st at a greatly reduced rate: all rooms are €200 each per night with breakfast included. Or rent the château for 30 guests at 1950 per night (2 night minimum). Contact

au Château

and mention this special offer.

o Une Histoire: Art, Architecture, Design des Années 1980 à Nos Jours will showcase 400 works and objects by nearly 200 international artists, architects and designers including paintings, installations, videos, films, sculptures, drawings and photos at the Centre Pompidou through December 31. More information at www.centrepompidou.fr.





Château de Courtomer


o The French government announced that the Musée du Louvre, the Château de Versailles and the Musée d'Orsay will soon be open to visitors 7 days a week. This change will come about between 2015 and 2017, so be sure to check their web sites before your visits. They are louvre.fr, chateauversailles.fr and musee-orsay.fr.


o Pierre Cardin opened Passé-Présent-Futur - a 20,000 square foot museum in the Marais in November. It showcases the 92-year old designer's most representative creations including haute-couture, accessories, furnishings and jewelry symbolic of his love of the avant-garde. For information visit pierrecardin.com.


In the US . . .


o The Cantor Arts Center at Stanford University presents Daumier on Art and the Theatre, on view until March 16th. After 1840, Honoré Daumier (1808-1879) made numerous prints for the popular press that dealt with art theory, the public reception of painting, and the performing arts. with sharp wit and a keen understanding for the complexities of modern life, Daumier turned his critical eye on the artists, musicians, dancers and singers in the spotlight as well as their audiences in these insightful and charming images. This installation contains 13 prints, all by Daumier. The Center is open free to the public Wednesday through Monday, 11 AM to 5 PM, with extended hours on Thursdays until 8 PM. Visit their web site at museum.stanford.edu.