Lighthouses on the Island of Ouessant
by Betty Werther
As promised in our Spring newsletter, this issue of FRANCE
On Your Own
will focus
on several of coastal France's lighthouses. We are happy to begin with interesting
lighthouses of Brittany, contributed by our friend and lighthouse aficionado, Betty Werther.
The French word for lighthouse is 'phare', pronounced '
far'.
Le Phare de Créac'h on the Island of Ouessant (Ushant in English) off the coast of Brest on the westernmost tip of France, is celebrating its 150th anniversary this year. For about 50 of those years, Europe's most powerful lighthouse has been lulling - you might say 'flashing' - me to sleep with its two white beams every ten seconds through my bedroom window in our family's vacation cottage just across
the bay.

One of my grandsons, Yann, who is half Breton, could identify all the Ouessant lights almost before he could talk. For much of his childhood summers he sat on my window seat at sunset - refusing to go to bed until the Créac'h began flashing.

Brittany (Bretagne), especially La Finistère, (meaning 'end of the Earth'), is crowded with more lighthouses than any other region of France. Of the country's 120 lighthouses on over a nearly 2000-mile coastline, 57 are located in Brittany's five départements, and 22 of those are in the Finistère. Ouessant, an island with only an eight by four kilometer surface, leads the show with a cluster of five: two on land, the Créac'h and Le Stiff, and three at sea, Kereon, Nividic and La Jument. Yann named his cat Nividic!

Often blanketed in fog or beaten by tempests, Ouessant is surrounded by some of the most treacherous waters anywhere. For mariners over the ages, the dictum was "Qui voit Ouessant voit son sang" - "He who sees Ouessant sees his blood". Some 50 shipwrecks are recorded in her rocky depths, about half of which can be explored through the local diving center.

The concentration of warning signals - lighthouses, buoys, beacons and foghorns - can also be explained by the island's location at the mouth of the English Channel off the 'Rail de Ouessant', the island's Shipping Fairway or traffic lane, which accounts for 25 percent of the world's maritime traffic - over 54,000 vessels a year.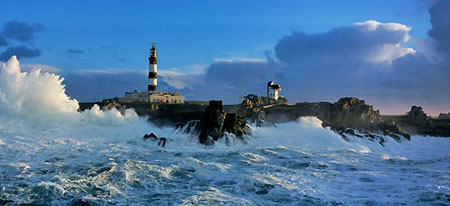 Phare le Creac'h, Ouessant, Brittany

continued on page two