Le Normandie

Disaster in New York: What a Then-Four-Year-Old Remembers
by Arthur Gillette


I grew up in suburban New Jersey, and one of my earliest and most striking (indeed shocking) memories stems from 1942 and seeing the French luxury liner Le Normandie completely tipped onto her port (left) side between two Manhattan wharfs. The immediate explanation was 'sabotage', but my Dad doubted that a German spy or an American Nazi could have pulled off such a major coup in the heart of New York city. This is what I saw at the age of four: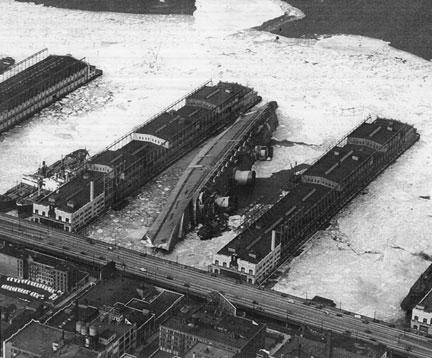 The capsized Normandie at a Hudson River wharf

Whatever the explanation (and I'll come back to that below), this was a major blow to French prestige and a ship known as a symbol of France in the 1930s ~ a pinnacle of luxury and raffinement à la française.
Begun in 1931, Le Normandie's construction was delayed by shipyard strikes. Then,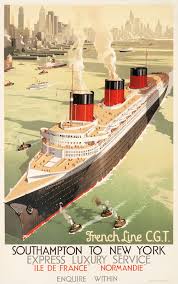 although she was launched in 1932, the Depression delayed commercial navigation until October 29th 1935.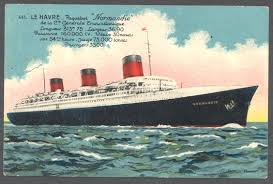 A French Line postcard of the period shows the grand liner's departure.
And

her maiden crossing to New York arrived – after skimming across the Atlantic at speeds reaching an amazing rate of 30 knots, about 35 land mph – on October 26, 1936.







On board, passengers were treated to incredibly luxurious surroundings. Here, for example, is a first class stateroom. The ship also boasted a swimming pool, beauty parlor, exercise room and movie theatre among other amenities for the passengers to enjoy.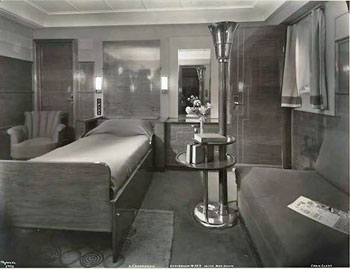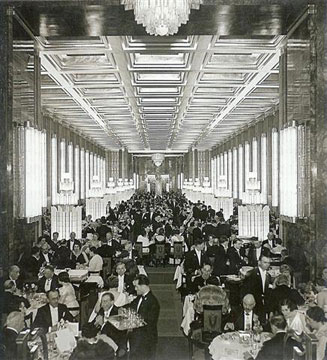 Anyone hungry ? Here is the main dining room with furnishings by no less than René Lalique.
After Pearl Harbor, Le Normandie was requisitioned by the U.S. government, which renamed her S.S. Lafayette (recalling that Marquis' support for the American Revolution) and planned to turn her into a troopship. The catastrophe that sank the ship happened during her conversion. Today the general consensus is that my Dad was right: not sabotage but a terrible accidental fire caused by sparks from a welding torch that raged throughout the structure largely via kapok life vests.
Reconstruction proved impossible, and the ship was scrapped in 1946.

Remnants of her decoration are exhibited at the Metropolitan Museum in New York and the Carnegie Museum. Her whole image remains steadfastly in the doubtless tiny four-year-old's corner of my brain.

Editor's Note:
The SS Normandie was built in Saint-Nazaire, France, for the French Line

Campagnie Général Transatlantique

.

She entered service in 1935 as the largest and fastest passenger ship and is still the most powerful ever built.
She made 139 westbound crossings from her home port of Le Havre to New York. Seized by US authorities in New York
when France was occupied in World War II, the ship was renamed the USS Lafayette after the French general who aided in the
American Revolution. It was in 1942 that the ship caught fire and capsized and came to rest at Pier 88 in the Hudson River.
This is the current site of the New York Passenger Ship terminal. In addition to the gilt panels salvaged from the ship, artist and
decorator Jean Dupas decorated the Grand Salle of the Normandie with 400 panels of painted and frosted glass which, along with
the Chariot of Poseidon, are now at New York's Metropolitan museum. Lalique's fountains can be found at
Miami's Fontainebleau Hotel, and a set of bronze doors once decorated the home of actor James Garner.
The Normandie was the most luxurious of Transatlantique liners and was a veritable treasure of Art Déco design.


[Editor's Sources of photos and information: Wikimedia, Wikipedia, Ellen T. White]

Contact Arthur Gillette to take advantage of his amazing knowledge of Paris (and France)
by enjoying one or more of his Paris Through the Ages Strolls.
Visit our Marketplace page for a complete list of strolls and information about Arthur.