This column is intended to advise you about cultural events, news and happenings
in France or France-related events taking place in the United States
between now and the publication of our next issue.

In France. . .

o NEWS: France, Italy , England and Switzerland have recently experienced raging flood waters, landslides and several human casualties due to torrential rains. During the week of November 10th, the Gard and Hérault regions of France suffered greatly, and the city of Montpellier was taken by surprise when the River Lez burst its banks. Rain moved east to the Vaucluse and Bouches-du-Rhone regions of Provence, as well as to the Var and Alpes-Maritimes which were already waterlogged after days of rain.. . . A two-pointed hat that once sat upon Napoleon's head was auctioned outside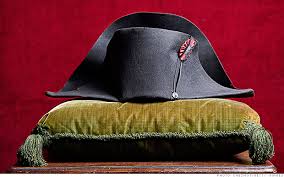 Paris by auctioneers Osenat, Binoche and Giquello on November 16th for almost 1.9 million euros ($2.2 million), about five times its estimated value. It was purchased by a South Korean during the auction of Napoleon memorabilia offered by Monaco's royal family..

. .

Paris Chatelet Theatre will present a stage version of the popular 1952 film musical

An American in Paris

on November 22. It is the world premiere of the production about an American soldier wooing a French girl following World War II, and the music, of course, is by George and Ira Gershwin. It is the combined effort of Jean-Luc Choplin of the Chatelet Theatre and Broadway producers Stuart Oken and Van Kaplan and will have a cast of 34 singers and dancers. It will run until January 4, 2015, and then move to New York's Palace Theatre from March 13. . .

Brittany's

elegant

Ch

âteau

de La Ballue

will host classical concerts at the château through December 2014. Reservations for

Concert et Nuit au Ch

âteau include one night in a double deluxe room or suite the night of the concert, a breakfast/brunch the next morning, two concert seats, cocktail reception following the concert with the artists, access to the amazing Gardens of La Ballue which is classified a

Jardin Remarquable

, and access to their spa. For more information and available dates, click here to send an email. . .

Speaking of gardens

, the exceptional and elegant Burgundy guest house, La Borde, has been the recipient of Condé Nast Johansen's Award for Excellence 2015 for europe and the Mediterranean. This is the second time La Borde has won this award which was presented for the property's "charm, comfort, service, beauty,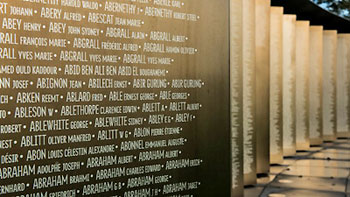 refinement...". La Borde, like La Ballue, has also received the designation

Jardin Remarquable

from the

Comit

é

des Parcs et Jardins de France

. The owner's have designed and planted a series of amazing gardens over the past fourteen years, and this recognition is well deserved. . .

President Hollande

inaugurated a unique memorial commemorating the centenary of World War I, following many months of events marking the devastating conflict from 1914 to 1918. Millions of troops and civilians of all nationalities died and some 20 million were injured. At the Notre Dame de Lorette military cemetery in northern France stands the 'Ring of Remembrance' carrying the names of 579,606 soldiers who fell in the battlefields - allies and enemies alike - French, British and German. It is a huge elliptical ring with 500 gold-colored steel plates on which the names are engraved . .

. Last week

a search was on for a 'tiger' supposedly seen outside of Paris near the village of Montevrain near the popular Disneyland Paris theme park. It was last spotted by truck drivers on Friday, November 14, but authorities have decided that it is not a tiger but another species of large cat, perhaps a lynx which has been extinct in France for many years. The PETA animal rights organization has asked that restraint be used if capture is possible. . .

France and Germany's

third quarter GDP expanded, escaping the possibility of recession for the time being. Germany's growth was 0.1 percent, while France's was 0.3 percent, showing that economic growth has improved, although not enough to ensure the job creation that France needs. [Sources include Agence France Presse and France24].

o The

Centre Pompidou

in Paris features Surrealist

Marcel Duchamp: La Peinture, Même

whom Modernists thought was the man who killed painting. His studies on exhibit show the influence of Symbolism, his interest in literature and science, and his Fauve and Cubist periods. Through January 5. More information at www.centrepompidou.fr.

o The Grand Palais will host an exhibit of Japan's beloved artist,

Katshushika Hokusai

- printmaker, painter, draftsman and engraver. He produced thousands of works of art, but is most appreciated for his landscapes. The Grand Palais will present 500 exceptional works showing the way the artist combined Japanese and Western art, and these pieces will never leave Japan again once the Hokusai Institute opens in Tokyo next spring. Through January 18. Details at www.grandpalais.fr.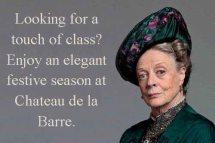 o Usher in the New Year Downton Abbey style at Château de la Barre as guests of Count and Countess de Vanssay, the 20th generation to live in this exceptional château. Three nights from December 31 to January 1 will be enjoyed with a VIP welcome, cheese and wine tastings, supper in front of the fourteenth century fireplace, complete with a lovely, comfortable en suite room. The next day will include visits to the royal châteaux of the Loire, a Renaissance Feast at the home of Leonardo da Vinci, period costumes, musicians and a magician. The first day of the New Year will take you to the Medieval city of Le Mans, wine tasting in a troglodyte cellar, a Grand Siècle dinner at Château de la Barre and a Champagne toast to the New Year. The final day, January 2, includes the farmers' market in Vendôme, a stop at Cheverny castle and on to Chambord before returning to Paris. Open to as many as four couples or as few as one couple. Contact us soon to be sure to reserve your place for the festivities.

o The 18th century was particularly prosperous for the Gobelin tapestry workshops, and

Gobelins au Siècle des Lumières

at the Mobilier National's Galerie des Gobelins presents the golden age of this royal manufactory with a display of thirty preserved tapestries through January 18th. There will also be restored sketches in the exhibit. More information is available at www.mobiliernational.culture.gouv.fr.

o The Musée d'Orsay will feature the works of Goya, Géricault, Ingres, Rodin, Picasso and others in its exhibit

Sade: Attaquer le Soleil

. The marquis, Alphonse Donatien de Sade, who lived from 1740 to 1814, transformed literature and the arts, and the artists' works explore the ferocity and singularity of desire, deviation, extremes, the monstrous, and imaginary worlds. Until January 25. Details at www.musee-orsay.fr.

o 50 great works of the painter Pietro Perugino, considered one of the greatest artists of the Italian Renaissance, will be exhibited at Paris' Musée Jacquemart-Andre until January 19, 2015. Among the work exhibited will be ten of Raphael's, someone he greatly influenced, in Le Pérugin, Maître de Raphaël. Information can be found at www.musee-jacquemart-andre.com.


o Painter, sculptor, printmaker, assembly artist, filmmaker and performer, Niki de Saint Phalle, will be honored in an exhibition at the Grand Palais focusing on the many issues to which she was devoted in her lifetime including racial discrimination, violence, civil rights and female identity. More than 200 of her works are displayed in 21,500 square feet of space, the first major exhibit devoted to her in twenty years. Through February 2, 2015. Details at www.grandpalais.fr.


o Château Coulon Laurensac in Bordeaux specializes in small group wine tours several times during the year. Take advantage of the expertise of this certified wine expert to get into some very private wine producing châteaux to taste the very best Bordeaux has to offer. The tours include ground transportation, restaurant visits and more. For details, please contact us - soon!


(Last spots available, just 3 double/twin rooms and 1 single room - contact us today!)

(Last spots available, just 1 double/twin room and 1 single room - contact us today!)
6 days, 5 nights and limited to six double/twin rooms and one single!
Tour price: € 4495 Euro (per person, double or twin occupancy; one single room available)
Your Tour host and Bordeaux Wine Expert: Ronald Rens, M. Sc., Wine Master
Due to the exclusive nature of these tours, this program will sell out.
In the US . . .
o Hillwood Estate will be the setting near Washington, DC, for Cartier: Marjorie Merriweather Post's Dazzling Gems, a selection of pieces collected by one of Cartier's most devoted American clients. The show accents the taste and lifestyle of the cereal heiress as well as the creative design and flawless craftsmanship of the jeweler. Highlights include an Art Déco ring with a 21-carat emerald that once belonged to Emperor Maximilian of Mexico. Through December 31 at Hillwood Estate Museum and Gardens; www.hillwoodmuseum.org.
o
The Dallas Museum of Art
will host
Bouquets: French Still-Life Painting from Chardin to Matisse
until February 8, 2015. There will be more than 60 works by well-known and lesser-known artists as well as the works' connection to science and industry, such as mass production of textiles. Details at
www.dma.org
.
o Malibu, California,
will be the setting for
Ancient Luxury and the Roman Silver Treasure from Berthouville
, a treasure trove discovered by a Normandy farmer plowing his fields in 1830. There were more than 100 gilt-silver statuettes and other objects from the Roman Era now housed at the Bibliothèque Nationale de France. The objects have spent the past few years in the conservation studios of the Getty Villa, and will be on exhibit from now through August 17, 2015. Information at
www.getty.edu
.
o Ill-health
prevented Henri Matisse from standing at his easel to paint when he was in his seventies, and so began his work with scissors.
Henri Matisse: The Cut-Outs
is a collection of about 100 of these masterpiece collages, first beginning as small works and then growing to monumental size.
Drawings, illustrated books, stained glass and textiles are also included in the exhibition. Through February 8, 2015, at New York's Metropolitan Museum of Art. Visit
www.moma.org
.
o New York's Brooklyn Bridge
has become a popular tourist destination in the past four months, but not in the way the authorities would approve. Following the climb to the top by a Russian tourist, and later by two German artists, on Sunday, November 16, police arrested a French tourist who scaled the landmark apparently to take photos. He descended at the request of a police officer and was arrested, preventing him from taking his flight back to France on Sunday night. By Monday he had been charged with reckless endangerment, criminal trespassing and disorderly conduct. His $7,500 cash bond was paid by an anonymous donor, but he was able to launch an online fundraising campaign to pay the donor back - and by Tuesday afternoon had raised $8,000. Yonathan Souid, age 23, is a student in Marseille and lives in La Rochelle, France on the Atlantic coast. He was in the US with a Chabad trip intended to gather Jewish students from around the world to celebrate Shabbat on November 7th. He said his instant love for New York and his enthusiasm overcame him and he wanted to take photos of the New York skyline before going home, prompting him to climb the bridge. His stunt will now require him to stay in New York until December 9th for his court date, so he has asked some friends in New York to help him find a place to stay.

LIGHTHOUSES ON THE ISLAND OF OUESSANT
continued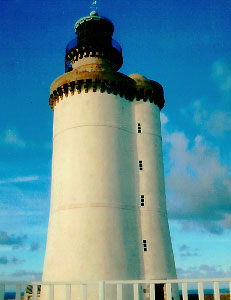 The
first lighthouse, Le Stiff (from the Breton 'spring' for the one that gushes from a nearby cliff), inaugurated in 1699, was built under the Marquis de Vauban, chief military engineer to Louis XIV. It was built on the island's highest point to guide passing ships but to also serve as a military observation tower. Closed to the public for several decades due to severe rot, it is now protected as a National Monument (along with the Créac'h), and since last June re-opened to visitors after a restoration that cost about one million euros.



The

Créac'h also houses the 'Musée des Phares et Balises', under the direction of the Parc National Reginal d'Armorique. Its unique collection of over 800 objects traces martitime signalization from the legendary Pharos of Alexandria and other antique lights, through a full range of Fresnel lenses, to the energy-saving halogen and LED (light emitting diodes) lamps of today. A curent show commemorating the 150 years since the tower was built in 1863 focuses on its social and human context.
"You might say that Ouessant is itself an open-air museum," said Delphine Kermel, the curator who also runs the Museum. "The life of the islanders is so intricately linked with its lighthouses and the sea in general."
The

chief 'keeper' of the
Créac'h
, Jean-Yves Berthelé, after decades of shifts on Kereon and La Jument, now bears the title

CTRLP,

Controleur Principal

. "
It's really aggravating when everybody, particularly journalists,

keeps wanting to see our profession only in the past. Today we have even more responsibility," he says, describing the software enabling him and his colleagues to remotely control about 120 lighthouses, buoys and beacons throughout the

Mer d'Iroise

, stretching to the Ile of Sein.

Each light has its own integrated signal

linked with computers in the
Créac'h
.


"But

nobody's interested in this work" said Berthelé. "All they want are 40 meter high waves. Lighthouses may not play the same role they used to,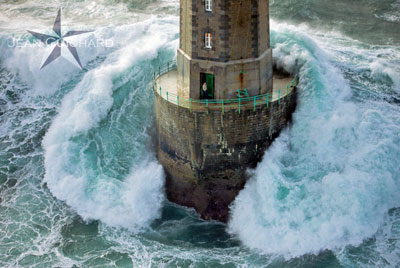 but they're still a comfort, often vital,

especially when GPS and other electronic devices break down – and they do."



In

any case, law requires that lighthouses, buoys and beacons function. Jean-Yves and his two colleagues are there to make sure they do. One of the three, Theo Malgorn, was standing in the doorway of the Phare de la Jument when, in 1989, a huge wave (some reach 20 to 30 meters) struck, and photographer Jean Guichard shot what became a world famous picture, shown here.



"We

were used to bad storms, and I really didn't feel the big wave coming, said Theo, who after twenty years at sea, is happy to be home on dry land. "I was cooking on an upper level when I heard the helicopter and came down to have a look. As soon as I realized the danger, I rushed back inside and shut the door."



Since

rough seas, mighty currents and tides limited the number of work days, it took nine years to build the seven-story, 47-meter high tower on a jagged rock called 'Ar Gazec' in Breton: La Jument (The Mare).



La Jument

has special significance for my family. My husband used to fish in the surrounding waters, frequently talking with the keeper who was usually fishing himself. We were sure that this was Maurice's favorite place on earth, so that's where we scattered his ashes when he died in 1998.



It

also took nine years (1907 to 1916) to build Le Phare de Kereon, washed by the violent Fromveur current between Ouessant and Molène, with a gift from a descendant of Charles-Marie Le Dall de Kereon, a naval office guillotined at age 19 in 1794 during Le Terreur. Because of its sumptuous oak paneling and marquetry - one floor has a compass rose in mahogany and ebony - Kereon was nicknamed "Le Palace".



Hardy

souls can enter "Kereon Lighthouse Shift Change" on their computers for a quite terrifying video, now historic, since Kereon, France's last manned lighthouse, became automatic on January 29, 2004.



Whatever

the future holds for lighthouses, which, everyone agrees, constitute an important part of a nation's history and identity, their symbolism will remain intact like the great cathedrals and castles.



Appropriately

, on December 31, Ondine Morin, who runs

Kalon Eusa

(Heart of Ouessant) took the amazing photo below of Phare de Nividic and will
welcome revelers under the Phare de
Créac'h
when, she insists, but only on that night, the Lights talk to each other, tell their secrets, memories, fears and love stories. Then, after a countdown to the rhythm of each flashing beam, at midnight a glass of sparkling Champagne will usher in the New Year 2015.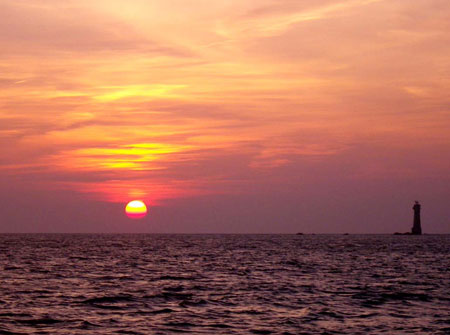 Phare de Nividic at Sunset. Photo: Ondine Morin


Click
here
to read (in French) the December issue of
Kalon Eusa
from Ondine Morin
and to see another of her spectacular lighthouse photos!