ANCIENT PARIS SHOP SIGNS - From Puns and History to Sexism
by Arthur Gillette
Let's
imagine you wanted to market a product to the Parisians of several hundred years ago. How did you get your message across? For starters you could have displayed a description of your ware's advantages. Sorry. That wouldn't have worked because your potential buyers were about 85% illiterate. OK, what about sexual imaging? Nope – the Authorities-That-Were frowned on anything even vaguely akin to draping a lightly-clad damsel across the hood of a new-model sports car.
So, you began by inventing a (curiously) unrelated symbol for your goods. Many merchants did so, and their long-gone shop signs left such street names, e.g. in the Latin Quarter, as Rue de l'Hirondelle ('Swallow Street', ca. 1200) and Rue de la Huchette ('Little Hutch Street', sign attested in 1284). Although perpetuated in Parisian toponymy, these advertising gambits were apparently not striking enough.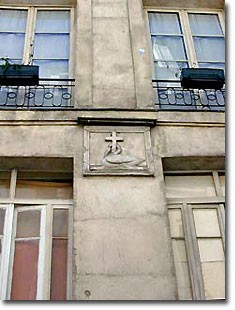 What, then, about a humorous presentation, like some of today's TV ads? Ah, now there was an idea to explore! Number 13 rue Saint-Séverin was a 14th-century inn. Its name? 'At the Sign of the Cross'. How did you get prospective clients to remember that? With a bas-relief pun, still visible today on its façade: a swan (cygne pronounced the same as signe: 'sign') curling its neck around (you guessed it!) a cross. On neighboring Little Hutch Street, today's number 14 was built in the 18th century, but (in an oval wreath on the second floor façade) a stylized letter Y recalls a workshop dating from 300 years earlier. It produced gentlemen's garters, called lie-grègues – pronounced roughly the same as French for "Y", i-grec ('Greek-I', representing the letter ypsilon).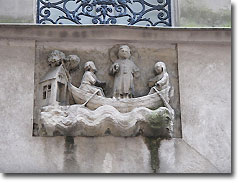 Popular historical allusions, often with religious overtones, were also called into service by some shopkeepers. Possibly the oldest Paris shop sign in existence, dated by experts as 14th century, survives on the façade of 42 rue Galande. It recalls the climax of the 'Saint Julian the Poor' legend: nearby Saint Julien le Pauvre church, consecrated around 1240 A.D. A young nobleman enamored of hunting, Julian (6th century A.D.?) was faced one day by a talking stag who, in exchange for his life being spared, predicted that Julian would… murder his parents. Horrified, Julian and his wife fled the parental castle to an undisclosed abode. But the parents tracked them down and arrived at the hideout one evening when Julian was out hunting so late that his worried wife had gone to look for him. On returning home, Julian found two people snoring in the marital bed and killed them.
As penance, he donated his worldly goods to the Church and founded a kind of hospice by a river (the Seine? the Saint Julian church?),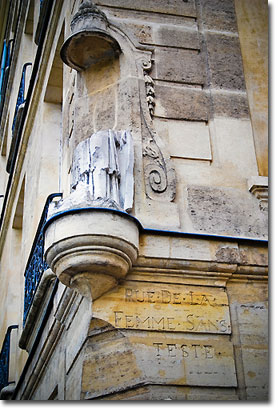 across which he ferried the ill and poor free of charge. One day, a cowled stranger asked to be taken across. In mid-stream, he threw back his cowl (the sign shows this climactic moment) and pardoned Julian his sin of parricide – the stranger was Jesus!
Humor, history… the cutting edge of old marketing could also call on sexism. At the corner of Quai de Bourbon and Rue Le Regrattier, on the Ile Saint Louis, is a carved inscription defining the latter thoroughfare as Rue de la Femme Sans Teste (17th century spelling for 'Headless Woman Street'). The headless woman in question has nothing to do with the adjacent decapitated statue (actually Saint Nicolas, patron saint of mariners) but recalls a shop sign on the street advertising second-hand goods. The logic? Where a woman has no head she has no tongue; and where a woman has no tongue, tout est bon.



[Mouse over photos for detailed descriptions and credits.]
Contact Arthur Gillette to take advantage of his amazing knowledge of Paris
and nearby sights by enjoying one or more of his Paris Through the Ages Strolls.
Visit our Marketplace page for a complete list of strolls and information about Arthur.
Email: pouchkine38@gmail.com




A Travel Insurance Review
by Damian Tysdal
While carriers and travel suppliers assume almost no financial responsibility to travelers for cancellations that occur due to events beyond their control, travelers can protect themselves by having the right travel insurance plan. Here are five reasons you may want to take a second look at travel insurance.
1. You might have to cancel your trip - or abandon it and return home to handle an emergency.
One of the most popular reasons travelers buy travel insurance is to have coverage if they have to cancel their trip, and it's a very valid reason because even if your trip to France has to be delayed a few months, you still may want to take it. After you add up the cost of prepaid airfare, tours, and accommodations, a trip to France can start out costing thousands of dollars.
What most travelers don't know is that trip cancellation coverage is also bundled with trip interruption coverage, which is similar to cancellation except that it covers the unused portion of a trip if a traveler has to suddenly return home. Trip interruption coverage also reimburses a traveler for unexpected return airfare costs and lodging should they need it on their return trip.
The covered reasons for trip cancellation and interruption vary from policy to policy, and it's important to understand the covered reasons to fully understand your options should you have to cancel. For example, you may have to cancel or interrupt your trip in the event a family member develops a serious illness or dies, but that family member has to be listed as a covered family member. Beloved family pets don't count, unfortunately.
2. Medical emergencies can happen anywhere, anytime.
Tourist buses crash, flu viruses attack, people get hurt - it happens all the time and a medical emergency can be quite costly when you consider emergency transportation, physician's expenses, medicines, X-rays, and more.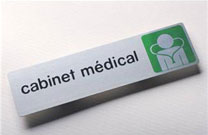 France has a strong network of medical practitioners, so you will have no problem finding a doctor even in a very small town. The standard of medical care in France is extremely high. To find a doctor, ask any local resident or step into a pharmacy and inquire. If the patient is too sick to move, a doctor will make a visit to their accommodations. Ask your host to contact a local doctor. The cost is slightly higher than a visit to a doctor's office (cabinet du médicin), and the payment and refunding expectations are the same.
The standard principle of the French health service is to pay first, make a claim and be reimbursed (except with hospital treatment). Visitors from the European Union countries are advised to be sure they have health insurance coverage before traveling to France. The same is true the US visitors to France, although many make the mistake of believing their existing health insurance plan will protect them overseas. In truth, their health insurance generally stops at the border, and Medicare always stops at the border.
Some US health insurance companies will reimburse a traveler's overseas expenses at out-of-network rates and with proper documentation; and some Medicare supplement plans provide travel medical coverage up to a relatively small limit. Should you, or your spouse or traveling companion become seriously ill or be seriously injured, however, it may not be enough.
While trip cancellation and travel medical emergencies are the primary reasons travelers like to purchase travel insurance protection, there are a number of other reasons you might want to buy travel insurance for your trip to France.
continued on page three