Look inside. . .
with a click . . .
> as we stroll with Arthur Gillette to discover the buildings and history of Art Déco Paris.
~
> to see what's new on The Bookshelf. Read our review of Edwin Mullins' fascinating and informative newly-published book, The Roman Provence Guide.
~
> for some important and informative tips about travel insurance from an expert in the field in our article Travel Insurance Review.
~
> as we explore Paris to uncover what's behind all those unique Ancient Paris Shop Signs.
~
> for this issue's Feature on the Allier département of the Auvergne region: a most happy surprise!
~
> to see what's new and what is happening in Marlane O'Neill's little city in the south in this edition of Notes from Narbonne.
~
Our next issue will continue our series that began with our Summer edition: Fall in Love - with These French Villages Part II .



And, don't forget to enter our Photo Contest!
PARIS ENIGMAS . . . A Quiz on Your Knowledge of Historic Paris . . . and France
by Arthur Gillette
Question from the last issue: What is the origin of the name 'Montmartre'?
Answer: For a long time it was generally accepted that Montmartre derived from Mons Martyrum - 'Martyr's Mount' - for it was there that, in the second half of the third century, the first bishop of Paris. Denis, was beheaded along with two of his acolytes, Eluthère and Rustique. According to a tenacious legend, Denis picked up his head and walked all the way, preaching along as he went, to the town still called Saint Denis, where he was buried - a site you can still visit: the marvelous, superbly gothic medieval Cathedral of Saint Denis. Aha! As sometimes happened, the name of Montmartre may in fact have been 'borrowed' (recuperated is more like it) by the early Christians from rather earlier Roman nomenclature: Mons Mercurii. It is now pretty generally recognized that atop Montmartre there was a pagan temple to the god Mercury.
Our new question: Many sources, including a very reputable guide book to Paris, show the floor plan of city's Notre Dame Cathedral as perfectly rectangular. In fact, the Cathedral is slightly twisted, as you can see here: http://ndparis.free.fr/notredamedeparis/menus/paris_notredame_plan.html
Why?
Contact Arthur Gillette to take advantage of his amazing knowledge of Paris
by enjoying one or more of his Paris Through the Ages Strolls.
Visit our Marketplace page for a complete list of strolls and information about Arthur.
Email: pouchkine38@gmail.com

[See the answer to this edition's question revealed in our Winter 2013 issue.]

---
SPONSORING THIS ISSUE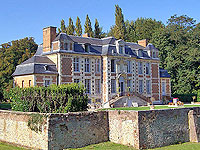 Château de Saint-Maclou-La-Campagne
in Normandy is waiting to welcome you to the perfect bed & breakfast
experience. Four elegant guest rooms to choose from, or rent the entire château.
Golf courses, polo, beaches, horseback riding, cycling,
the races at Deauville and historic Honfleur are all just minutes away.
Click on above photo for more details.

---
next page


©1998-2012 Cold Spring Press All Rights Reserved
Recommendations are not guarantees of satisfaction and are made only
to assist travelers with suggestions and web sites that we have found very useful.