The month of September is our favorite time to be in France for two reasons: school is back in session so there are fewer tourists and because the weather has always been so close to perfect. This year was a bit of a surprise with hot humid days both in Paris and later in parts of the southwest. But it didn't dampen our spirits because we were just where we wanted to be!

From exploring an ancient abbey and two citadels to sharing wonderful meals with interesting hosts and fellow travelers, we found ourselves discovering the new and rediscovering the familiar - enjoying it all. But, part of planning a trip so that it will be successful includes transportation of all kinds. Getting from place to place is always a challenge - the maps and calendars come out and all the puzzle parts come together. In the end, we hope we've made the right choices and enjoy the many ways to travel in France.

Planes

First, of course, was flying from the U.S. to France. The outbound flights were uneventful, but an unexplained delay on the first leg of the return home made our connection in Atlanta somewhat rushed. It was all part of the very long trip from the west coast of the US to France and back again - something that makes us empathize with Australians and New Zealanders who have so far to go to reach Europe. We're willing to wager that most people don't find flying much fun anymore!

Trains

After our initial few days in Paris, it was time to get to the Atlantic Coast and the port of La Rochelle.

Rail Europe has been our resource for booking trains in France for more years than we can count. They have web sites customized for many countries, so people around the world can go online and book in their own language and currency - and have their tickets delivered to their door prior to traveling. It is important to coordinate the times the train will arrive with the car rental pickup. Keep in mind that almost all car rental agents are closed for two hours at lunch time, so if you arrive during those hours, it helps to find a restaurant for lunch until the agent's doors open again. It was easy to find train schedules for the trip to La Rochelle and the return trip to Paris from Châtellerault. Rail Europe will not provide final schedules or accept any bookings more than 60 days prior to travel. So, when ordering tickets for train or TGV travel (TGVs require reserved seats which Rail Europe will include with the ticket - there is an additional charge for the reservation), we always wait until 60 days before our final train trip and order all tickets at that time. That ensures that all schedules are fixed and tickets will be available for purchase. Once again, the Rail Europe web site and efficiency paid off, and this part of our planning went without a hitch.

Automobiles

The rental car is always the surprise of any trip. You choose one online but are really only guaranteed something similar in nature. You really don't know what's awaiting you at your destination. Unfortunately, this year we (for the first time) requested a car with an automatic transmission which translated (somehow) to BIG in the eyes of the rental agent. This resulted in our having a car far too large for most parking spaces even in the smallest of cities and towns, despite the fact that it offered a comfortable ride and more than ample trunk space. Next trip: back to a manual transmission! Lesson learned.

One thing to prepare for is the cost of fuel. Our car had a diesel engine - somewhat less expensive to operate than one with gasoline - but there was always a shock when we'd fill up and see the total amount on the pump! Be prepared.

Taxis came in very handy in September, more, it seemed, than in prior trips. We used them to get to and from restaurants in Paris on two occasions, back to our hotel one afternoon when too much walking and shopping had taken its toll and the Métro station was not nearby, to and from railway stations, and to and from the airport. Not inexpensive by any means, we still appreciated the convenience and, quite often, interesting conversations with our drivers. We use airport shuttles at home to get to and from the airport, but being able to go door-to-door in a Parisian taxi is invaluable.

Buses

Paris has great bus transportation, but many travelers to France, especially for the first time, ask us about taking buses to rather remote places in the countryside. They should know that hired tour buses would do this for groups, but public buses in France are primarily in the cities - although some do go moderate distances between one town and another. One example is the bus we took from Biarritz to St Jean de Luz in the southwest corner of France. This was the most convenient transportation of our entire visit. We boarded the bus in Biarritz up the street from where we were staying and disembarked in St Jean de Luz a few hundred yards from the activities, restaurants and shopping. Clearly posted schedule boards at both ends of our ride made it easy for us to check times. Best of all the fare was €6 round trip per person! For those individuals or couples who want to venture out into the countryside, a car in France is essential.

Boats

Ah, here's where we had the most fun! Our first excursion on the water was a twenty-minute car ferry ride from Royan (south of La Rochelle) to Pointe de Grave on the Médoc peninsula north of Bordeaux. The ferry terminal was easy to find (it was shown on our Michelin map) and the ride was a pleasure. This trip across the gateway of the Gironde Estuary saved us about 76 kilometers of driving to our next destination. The cost was 29 euros.

Our next water experience was back in Paris when we decided to buy tickets for the Batobus at the Eiffel Tower. We had done this on prior visits and remembered the convenience, especially to get to the Musée d'Orsay. The boat took us up the Seine to the museum, and when we were ready to return we boarded and enjoyed the scenic ride past all the Paris monuments along the river including the National Assembly, Notre Dame and the Louvre. This 'water taxi' is a bargain and the ultimate in convenience as you can board at any of the regular stops, disembark, enjoy your visit, and then get on the next one that comes along. It is possible to visit many of the attractions at the stops, but don't plan more than two (maximum three) in one day. The museums alone (Orsay and Louvre) will take many hours each for quality visits.

Finally, we enjoyed a short boat ride on the lake in Paris's Bois de Boulogne to reach a restaurant for dinner with old friends. See more about this below. That was unique and enjoyable.

---
PICTORIAL HIGHLIGHTS ~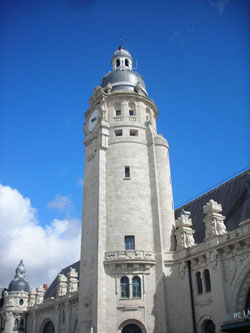 We all look back at our travels and certain things instantly come to mind. Hopefully, most of us have had good experiences, although there might be a few (hopefully not many) bad ones we also recall. This September in France left us with lots of pleasant memories we will relate here. We won't intentionally leave anyone or anything out, so we apologize in advance for some great experiences we may neglect to mention.
La Rochelle: There is a little restaurant near a marina a short walk from the railway station, La Marée - an informal outdoor setting filled with locals - a sign to us that it had to be good! We had lovely, fresh salads that were among the best we can remember and then we were off to pick up our rental car. Both the restaurant and the rental office were across from La Rochelle's very pretty railway station shown here.

---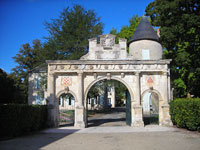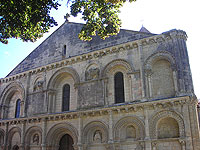 Renaissance Gate Notre Dame de Surgères Surgères Château & Mairie
Surgères and Ile d'Oléron: Surgères, a delightful medieval town not far from where we were staying, has an eleventh century Romanesque church, a Renaissance gate and a château now used to house the Mairie. The town is truly a gem, and our hosts were right to recommend we spend time there. Following our stroll around the village and the park, we were off to the Ile d'Oléron where we enjoyed a lunch in the town of Le Château d'Oléron and exploration of the citadel across the marina. Built in 1630 at the order of Cardinal Richelieu, it was later modernized by the famous military engineer, Vauban, and was an important defensive structure along the Atlantic coast. When we were there the weather was perfect, and the very colorful village of Le Château sparkled in the sunlight. A short drive took us to the other end of the island to the lighthouse, Phare du Chassiron and its surrounding gardens. Watch this video from the island's web site. We ended the day in Rochefort at the site of the reconstruction of L'Hermione (see page one).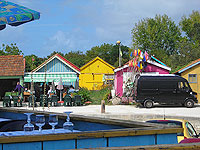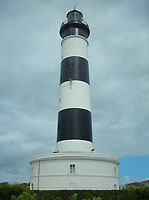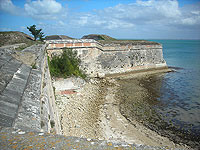 Cheery charm of Le Château d'Oléron Phare de Chassiron Citadelle du Château d'Oléron
---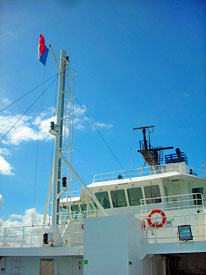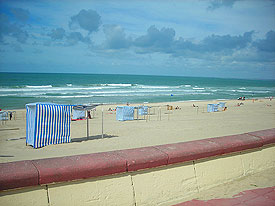 The ferry from Royan: Docking on the Médoc's Pointe de Grave to avoid a long drive to our destination was the perfect solution. An easy 20-30 minute ride, et voila! Driving on the Médoc Peninsula is a pleasure. You can stay on the D1215 from Pointe de Grave until you reach Lesparre-Médoc where you bear left onto the D204 taking you past all the famous Bordeaux wine producers such as Lafite Rothschild, Mouton Rothschild, the winemakers of Pauillac, Margaux and others. We opted for the D1215 from the ferry for a short distance to the D1 for lunch in in Soulac-sur-Mer on the Atlantic shore - a return visit after many years - and then on to Château Meyre in Avensan.


---
The Citadelle at Blaye: This is worth any detour to see - and we did it in the rain! It is an incredible, historic fortress by Vauban and, as you can see in the photos, lends itself to exploration. The views in all directions and over the town were great photo opportunities. A note here about Vauban (Sébastien Le Prestre, Seigneur de Vauban, 1633-1707): he was an important military engineer who not only designed fortresses but knew how to break through them. He was an advisor to King Louis XIV and showed him how to strengthen France's borders against its neighbors.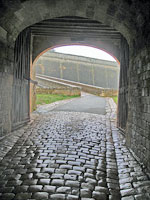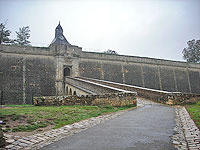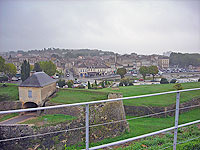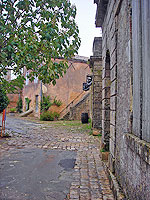 Entry Tunnel to Citadel Entering the Citadel at Blaye Town of Blaye from the Citadel In the Citadel's village
---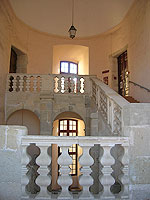 Narbonne: This small city on the Canal de la Robine is not far from the Mediterranean. There is the 13th century Cathédrale Saint-Just-et-Saint-Pasteur and a fine museum a portion of which is dedicated to French artists' renditions of North African life and scenes. It is very much worth seeing. We enjoyed spending one night at Marlane and Rob O'Neill's chambre d'hôte near the Canal and all the activity.

---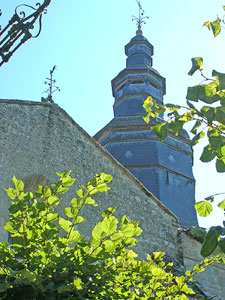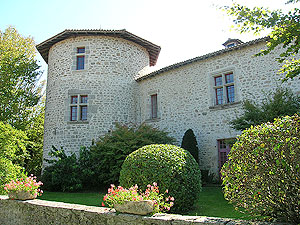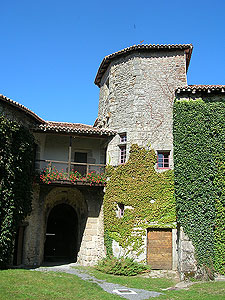 Images of Mortemart: The church bell tower, the Duke's château, and a private residence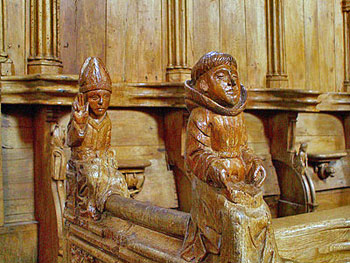 Mortemart in the Haute-Vienne of the Limousin is one of les Plus Beaux Villages de France - and a lovely historic place to visit. It is a town where you may find yourself saying, "I could live here!" The church has amazing carved stalls dating from the 15th century, and we spent a great deal of time looking at the different animals and people depicted in those carvings. After lunch at the local hotel/restaurant (Le Relais Mortemart, a member of the Logis de France organization where we were served a perfectly prepared lunch in a lovely setting) we wandered the town. We explored the 10th century Duke's château now used for exhibits (in what remains of it after Cardinal Richelieu order it destroyed), the 16th century covered market, and just absorbed the peacefulness and charm. Behind the château is the moat with some resident swans - the icing on the cake.


---

In Paris, around the corner from our hotel in the 16th arrondissement, we discovered a beautiful residence decorated in the Art Nouveau style. The photos speak for themselves.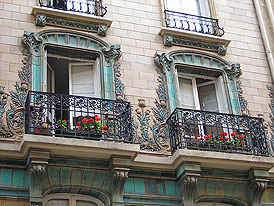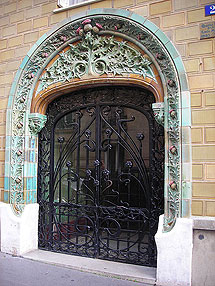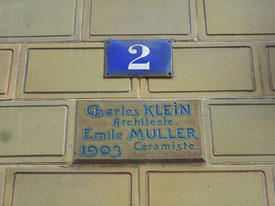 Beautiful example of Art Nouveau decoration on a residence in the 16th arrondissement, with credit to the architect and ceramicist
Please read on to learn about places to dine and places to stay. We hope you have the opportunity to visit southwest France yourself very soon.

---
WHERE TO STAY & DINE
Puyravault: Not far from Rochefort, La Rochelle and Surgères is the charming Le Clos de la Garenne. Your hosts Patrick and Brigitte François will welcome you to their warm and friendly bed and breakfast with spacious rooms, an apartment for two or a cottage for five. Enjoy their vast park, meet the charming donkeys (mother and son) and relax in this coastal region of western France. The location is ideal for touring the area or driving about 25 miles to the Atlantic beaches.

---
Château Meyre: This wine-producing estate has lovely guest rooms and suites for bed and breakfast accommodations, and it produces superb wines. Don't miss it! We were cordially given a tour of the château and were fortunate to obtain a bottle each of the 2003 and 2005 vintages, that we fully intended to bring home. However, temptation got the best of us later in our travels, and the wine was enjoyed in France! Château Meyre enjoys a great location about 23 kilometers north of the city of Bordeaux and guests will find it easy to go to the ocean beaches and towns or tour any of the large château vineyards of the Médoc and beyond.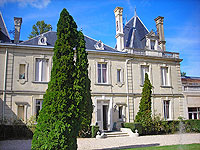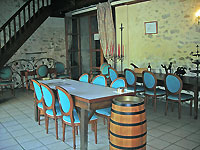 Château Meyre The Tasting Room Vineyards from a suite at the château
---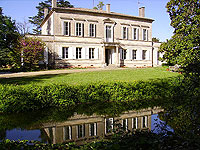 Château Soussac: In the Gironde and southeast of Bordeaux is this wine-producing estate whose owners, Joe and Nell Beattie, couldn't be more welcoming and hospitable. We had a lovely room overlooking the front lawns and lily pond, and enjoyed two exceptional dinners prepared by Nell who, obviously, loves to cook! Joe was kind enough to give us a peek into his chai and taught us a great deal about the winemaking process. Château Soussac is a great place to stay to allow you to explore all the wine regions of Aquitaine including Entre Deux Mers, Blaye, Sauternes, and St Emilion, as well as activities on the Dordogne River and a day trip to Bergerac.

---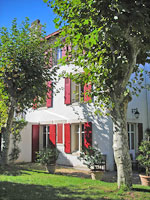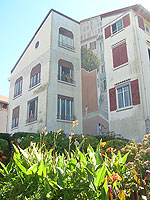 Biarritz: A city where surfing is the sport of choice, Biarritz has a lot of activity, style and charm. We were fortunate to stay at Villa Vauréal for three nights which is but a few steps from the shoreline and convenient to small restaurants. Although in the city, behind the gates of Villa Vauréal is a quiet, peaceful and spacious walled garden, private garage parking, and a house with stunning guest rooms. Christine Rannou Ader, the owner, has an amazing decorating flair making each room warm and inviting. Breakfast in the garden each morning was delightful. And, just up the street towards the beach, we were quite impressed with the trompe l'oeil shown in this photo.

---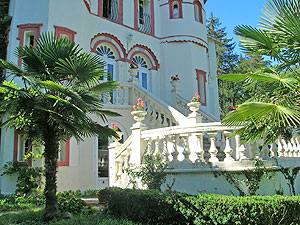 Château Barbé: This is a charming small château with a Michelin-trained chef as the owner. He served us two excellent dinners, and our time as guests there was calm and relaxing. This unique Napoleon III château has a restaurant open to the local public as well. The atmosphere of Château Barbé is cozy and warm, and Philippe Bonhomme's skills as a chef are superb. He has been cooking and loving it since he was 16! Even breakfasts were artistically presented and delicious. We highly recommend a visit - its not far from the large town of Lannemezan northeast of Lourdes.

---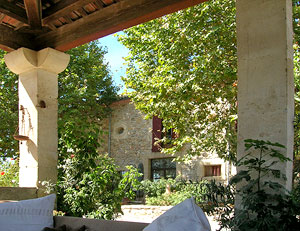 Domaine Saint Domingue offers exceptional accommodations near the city of Narbonne. Our room was simply beautiful with a very comfortable bed, a bathroom with a walk-in shower, and the most modern of conveniences. It is owned by a contractor, Olivier Jaulin, who spent decades in the Caribbean building resorts and whose skill and thoughtful design were evident. We not only enjoyed our accommodations, but breakfast in the garden was perfect each morning...and one afternoon, we reclined by the pool surrounded by several very friendly chickens and a rooster who were briefly allowed to roam free - their daily ritual.

---
Château d'Agel: Rent this Medieval masterpiece for a week or longer and enjoy château life, the sparkling swimming pool or exploring the Hérault. Carcassonne and the Canal du Midi are convenient for visits, and the Mediterranean beaches are only 35 kilometers from the château. You will also be in Minervois and Corbières wine country and have the opportunity to see some of the twenty-four Cathar castles or castle ruins in the region. Château d'Agel is also pictured on the first page of this newsletter, and read more about it on page five in Notes from Narbonne.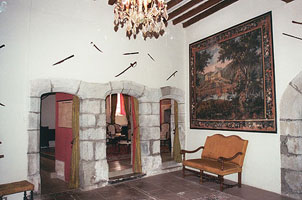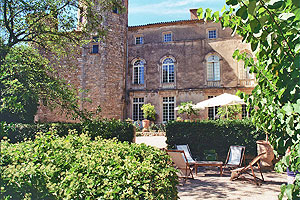 Château d'Agel Reception Hall The gardens of Château d'Agel
---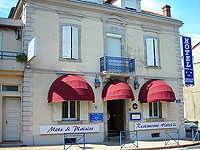 Lunch in Mazamet: We became quite hungry while en route from Narbonne to Lautrec, but unable to find an open restaurant we thought we would have to give up on lunch completely. Suddenly, as we turned the corner near la poste in Mazamet (with an inviting empty parking lot!), there was the little hotel/restaurant Mets et Plaisirs. As often happens to us in France, we came upon something entirely unexpected - and better than we could have ever hoped. Elegant inside with a friendly hostess (the owner) and English-speaking waiter, we enjoyed an excellent lunch and fine service at this husband- and wife-owned establishment (he's the chef). And what a chef he is! Don't miss this one.

---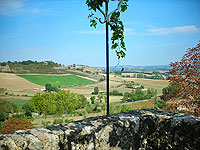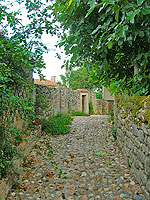 Lautrec: We just enjoyed our second stay at La Terrasse bed and breakfast in the most unique little hill village - Lautrec - with owner Dominique Ducoudray. We cannot emphasize enough how much this place means to us and how highly we recommend travelers stay here. Plus, Lautrec is one of the only places you can purchase L'Ail Rose - the region's delightful pink garlic. We met two different groups of travelers there to buy some garlic (and to enjoy to village, of course). There is also L'Ail Rouge, supposedly even more exotic! And look at the view in this photo from La Terrasse! Lautrec itself is very pleasant for walks in and out of the narrow winding cobbled streets to admire the medieval houses - all lushly landscaped and with flower boxes overflowing.

---
Touring the Dordogne: We visited a lovely domaine with an organic herd of cattle and owners dedicated to their home and guests. This was Domaine des Faures - owned by Jacinta and Ray Standen. The rooms are beautifully appointed, as are the common rooms, and the property is let by the week. We then checked into our accommodations at Le Prieuré du Château de Biron, where we spent two days with a group of friendly fellow travelers and dined elegantly on our last evening thanks to a professional chef who was among them. Our hostess, Elisabeth Védier, was delightful and made everyone feel welcome. One day we were invited to tour two nearby châteaux, rented by the week, Château de la Bourgonie and Château de la Poujade (pictured), both owned by Count and Countess de Commarque. The Dordogne is always an enjoyable region to experience, but this visit was simply unforgettable.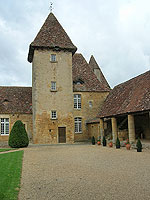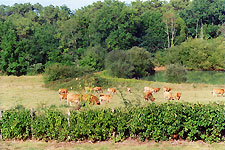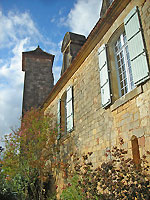 Three great places in the Dordogne: Château de la Poujade, Domaine des Faures, and Le Prieuré du Château de Biron
---

In the Corrèze: Barely over the Dordogne border lies the lovely Château du Bois Noir. Never ones to say 'no' to something new, we were off for two nights to an unfamiliar area of the Corrèze to what turned out to be one of our happiest surprises. The lovely Bois Noir château, meticulously restored and kept by its Dutch owners, Henk and Henriette Van Ampting, offered us a beautiful room with spectacular views, two evening meals prepared by the hostess and served elegantly by her husband in a lovely dining room, and the opportunity to explore the little medieval villages in the area. We couldn't have enjoyed ourselves more.

---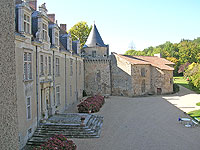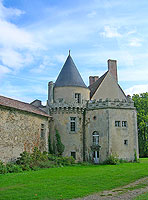 Old friends in the Haute-Vienne: It was our third visit with the delightful Count and Countess des Monstiers at Château du Fraisse. We always feel like we are coming home. They greet us warmly, spend quality time with us, and can't do enough to make our stay perfect. They are kind and gentle people who go out of their way to see to our comfort. And, it is lovely that their château (in the family for eight centuries) is located near interesting places to visit such as Mortemart, Oradour-sur-Glane, Bellac and the Monts de Blond. We always hate to leave Château du Fraisse and immediately begin planning our next visit to their château.

---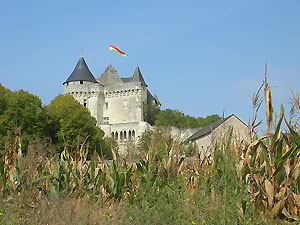 Fairytale Castle: Before returning to Paris, we spent two nights in a fairytale château in the Vienne, Château de la Motte. Not only is the château a masterpiece of design and filled with wonder, but the owners, Monsieur and Madame Bardin, have the most incredible gardens from which come much of the vegetables and fruit served at their table. Whether walking into their tiny hamlet, driving across the River Vienne to explore other villages, or wandering around the uncrowded, peaceful countryside, we knew we were en vacances! Sharing dinner each night with the proprietors and their charming guests was a treat - definitely a highlight of our trip to France. Madame Bardin's cuisine is superb, but we knew that before we arrived, as it was our second time at this château. It won't be our last.

---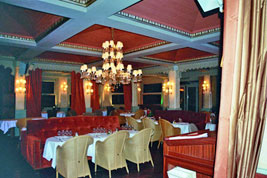 Paris: We had dinner with friends one night at La Coupole in Montparnasse, chosen for, among other things, its Art Déco design; and another night we met friends at le Chalet des Iles, a unique restaurant on the lake in the Bois de Boulogne. As mentioned before, we took a boat to the restaurant. Strung with lights, the restaurant's terrasse was perfect for dinner at the end of September - a balmy summer night and only two days before we were to leave France and return home.