Near Paris : A Medieval Castle of… Many Talents!
by Arthur Gillette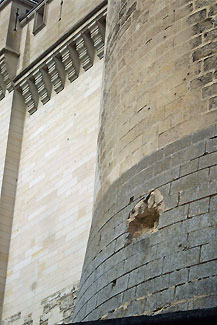 Pop star Michael Jackson visited it in 1996 and wanted to buy it. "Sorry," he was was told, "this is a national monument and, therefore, not for sale." Tenaciously attracted, and perhaps a mite irked, he had a not-so-miniature model made of it which he put on display at his Neverland Ranch in California.
Originally built towards the end of the 13th century, it was all-but-destroyed during royal/feudal feuding at the beginning of the 17th century. Huge cannonball holes are still visible in its lower (thus original) ramparts. Thereafter, the castle became an all-but-forgotten vestige until Napoleon I bought it in 1810. Time before Waterloo was too short for him to do much with the place, and in any event the then-dominant neo-classic taste ignored it. Until . . . Napoleon III came to power in the mid-19th century, a time of Medieval revival when the place's ruins had come to be deemed romantic.
What was the object of this attraction over the last century-and-a-half? Nothing less than the overpowering Pierrefonds Castle, about one and one-half-hours' drive northeast of Paris towards the Belgian border.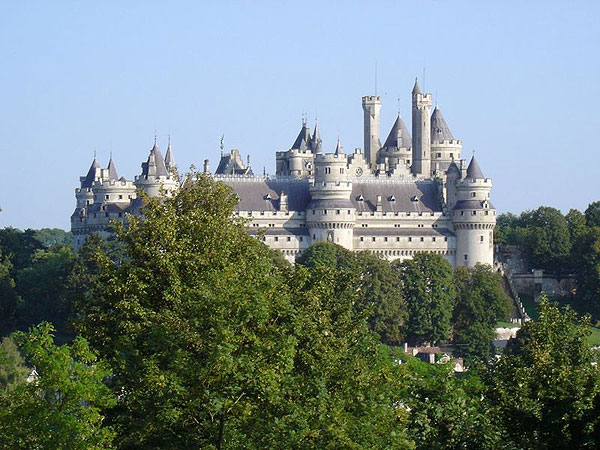 Château de Pierrefonds, Picardie
With a major restoration in mind, Napoleon III hesitated between Pierrefonds and another Medieval masterpiece. His Empress, Eugénie, much preferred Pierrefonds. Avoiding a spat, the imperial couple agreed that a decision would be made by 'drawing straws'. Eugénie is thought to have duped her husband by writing Pierrefonds on both slips of paper one of which the Emperor was to draw at random from a hat to decide the matter.
In 1857, the castle's revival was entrusted to that major restorer (including Paris' Notre Dame Cathedral), Eugène Viollet le-Duc. Here is his drawing of the romantic ruin before he started work on it: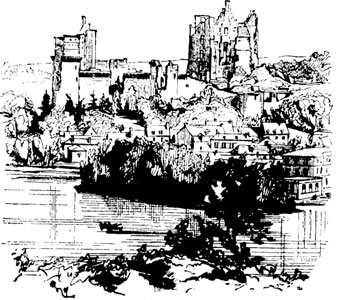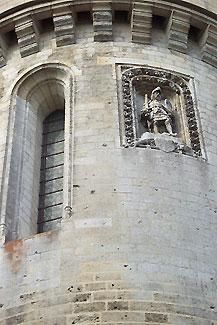 The job took over a quarter of a century, and Michael Jackson was right: the result – an enthralling visit still today – does indeed recall to a degree Peter Pan's Neverland fantasy kingdom! At the time, there were no rigid, universally-recognized and accepted criteria for architectural restoration, and Violet's passionate goal was to produce a Château de Pierrefonds as he thought it could/should have been. Today, the monument's managers call it "a re-invented castle".
To be sure, Viollet le Duc's restoration of the external walls, ramparts and towers does seem overwhelmingly and forebodingly worthy of Medieval military architecture. He embellished and lightened them somewhat, however, with statues of several preux, i.e. gallant and valiant historical personages of classical and Biblical fame, including for example Saint Michael slaying his dragon.
Once inside the Château de Pierrefonds, however, you come upon Viollet Le Duc's penchant for a variety of period styles. He bordered the interior courtyard with fenêtres à meneaux – technically known as mullioned windows - whose criss-crossed Renaissance structure allowed for light to enter the interior in much greater quantity than during the Middle Ages.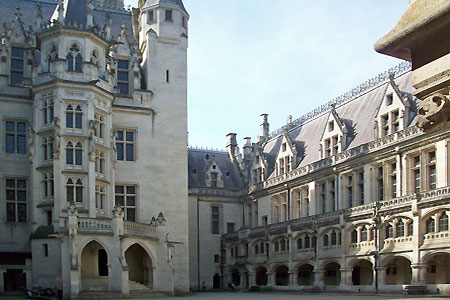 Mullioned windows at Château de Pierrefonds
The Monduit Permanent Collection of… Lead Artifacts!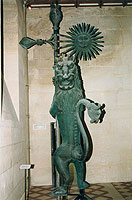 At first it seems totally incongruous that a Medieval monument should house a huge collection of 19th century industrially-crafted lead artifacts. But a single closer look explains why. The Monduit Company (1867 – 1970) focused much of its production on items helping to refurbish such medieval vestiges as the spires at Notre Dame Cathedral in Paris, the St. Michel Abbey on the Mount of the same name and Amiens Cathedral, not to forget the roofing of Pierrefonds.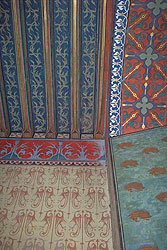 Donated by a Monduit heiress, the collection also contains models of contributions to such more recent structures as the Garnier Opera in Paris and sculptor Bartholdi's Statue of Liberty in New York.



For some specialists, certain elements of Viollet le Duc's interior decoration at Pierrefonds announce Art Nouveau's lively colored sweeps and swirls several decades before that iconoclastic style – partly of Medieval inspiration itself, in fact - really began to flourish.



Bringing things even closer to modernity, the restoration included, in Emperor Napoleon III's private quarters, a flush toilet! And to top things off, Viollet le Duc signed his restoration in the most contemporary way possible: with a statue of himself as a pilgrim to Santiago de Compostela greeting visitors at the Pierrefonds Castle's chapel entry.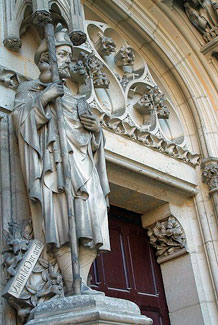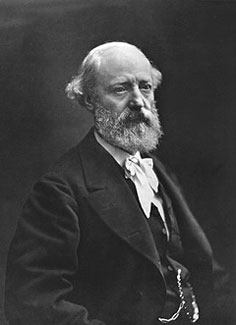 Pilgrim at Château Entrance Eugene Viollet le Duc
Are you doubting the likeness? Well, here's the restorer himself, immortalized by no less a photographer than Nadar: different garb of course, but same face and beard.
For practical information, mostly in English: http://www.pierrefonds.monuments-nationaux.fr/en

[Mouse over photos on this page for credits and further descriptions.]