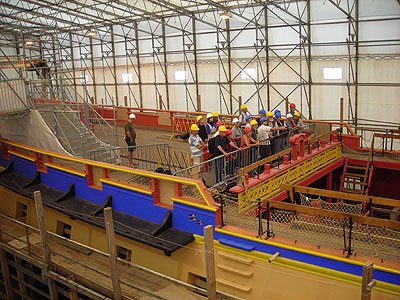 You may notice that we are spelling the Marquis' name La Fayette (rather than Lafayette) as his descendants and those at the Hermione restoration project do. We hope you will have an opportunity to visit the site of this project in Rochefort and the Corderie Royale (former Royal rope factory and now a museum), the 17th century historical monument where the Hermione-La Fayette Association is located. Or, perhaps you will have the pleasure of seeing L'Hermione during her historic maiden voyage to the east coast of the United States - hopefully by 2014 as scheduled. Plans include retracing La Fayette's route, calling at the US ports of Annapolis in May, New York in June, Boston in July and possible other stops along the east coast such as Norfolk, Baltimore and Newport.
A Tour Group on board L' Hermione

The Port of Rochefort in the days of La Fayette by Claude-Joseph Vernet - Corderie Royale at right
And, you can become a sponsor of this project which emphasizes the strong ties between the United States and France...an unbroken alliance lasting hundreds of years. Become a supporting member of the Association by visiting L'Hermione's official web site (in English) at http://www.hermione.com/en/support-participate/become-a-member/. A second way to contribute is to have your name embossed on a ship's sail (there are nineteen sails!), a permanent indication of your support - an option that is 10 euros per name. Submit your name on their French language web site and receive a certificate in the mail indicating your support. Here is the link: http://www.hermione.com/soutenir-et-participer/votre-nom-pour-l-hermione/. Either option is an important contribution to fund the remainder of this historic project.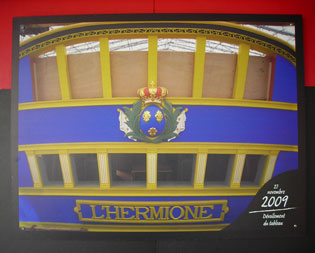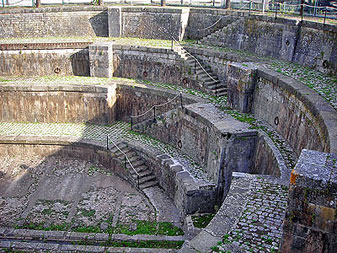 Museum Poster of Hermione Bow The Dry Dock at Rochefort's Arsenal
ROCHEFORT
The town of Rochefort has a strong naval history - five hundred boats had been built here until the time the complex closed in 1927 - but the Arsenal, rope work, forging mills and buildings began to deteriorate. The city suffered much destruction in World War II, including the burning of the Corderie Royale by occupation forces. The people of Rochefort knew that their naval heritage was worth preserving, so they began the daunting task of restoring their city and the port. It began with the Arsenal where they saved the buildings' façades and converted the interiors to useful spaces such as offices and hotels. They restored the Corderie Royale, and by 1985 the southern wing became the Centre International de la Mer - a fine maritime museum. The rope-factory had been an important part of King Louis XIV's plans to rebuild the French navy in the 17th century. It was at one time the longest building in Europe, and the people of Rochefort knew it was one of their important historic landmarks.
Rochefort is often overlooked by tourists in favor of La Rochelle just to the northwest or Royan to the south. But, in addition to its position on the River Charente, it is an interesting and important part of French history, a pretty town, and is worth a visit. Be sure to see the Jardin de la Marine, an historic botanical garden with an adventure playground for children. The Jardin des Retours is near the Corderie Royale and features exotic trees and spacious lawns ideal for picnics along the river front. Click here for photos of Rochefort.
The city was the first town to sign the Charte des Oiseaux, a charter with the League for the Preservation of Birds, especially important to protect the biodiversity in its urban environment. Nearby are the Marshes of Rochefort, considered '1000 years of history and evolution'. After much destruction in the 1970s and 1980s, agro-environmental steps have been taken to support animal rearing in marshland areas, and this adds to the ecological richness and preservation of the meadows. This part of the Atlantic coastal wetlands covers some 33,600 acres. The Marais de Rochefort is an important stopping point for migratory birds each year. For more, please visit http://www.maraisderochefort.lpo.fr/contenu/,birds,34?chglg=en.
Still important, of course, is L'Hermione! We hope you will share the experience.


ICI ET LÀ
This column is intended to advise you about cultural events, news and happenings
in France or France-related events taking place in the United States
between now and the publication of our next issue.
In France. . .
o In the news:
France reveals austerity measures and plans to save 65 billion euros in four years. This was announced on the 7th of November by Prime Minister François Fillon, his second austerity proposal in three months. The proposal includes a raise in the VAT from the current 5.5% rate on services and products including water, food and books to 7% beginning January 2012. He said that some essential products would be spared the hike. Included in the austerity plan is raising the retirement age from 60 to 62 in 2017, a year ahead of schedule expected to save 4.4 billion in the next four years; closing tax loopholes, known in France as 'niches fiscales', which include such things as rental housing prices offsetting the cost against income taxes due; cuts in social programs expected to be in the range of 700 million; corporations who have an annual turnover of more that 250 million will see temporary tax increases of 5%; social services and benefits will be indexed in the areas of housing and family benefits on the country's growth rate as opposed to the current indexing on the project inflation rate in 2012; and a freeze on government ministers' salaries will be put in place. Although the public will probably favor this, the commentary from France24 (the source of this information) was "...it is not clear whether that will be enough to make French voters forget that one of Sarkozy's first moves when he was voted into office was" to grant himself a 150% pay raise. Elections in France will be five months from now.
o New evidence indicates that the spotted horses found in French cave paintings may have actually existed. Up until this time it was believed that the spots were decorative or had spiritual or religious meanings. Now, however, geneticists have determined that the painters were not taking artistic license. As shown by DNA from the bones and teeth of horses that lived in Europe and Siberia when the paintings were created, scientists have found that several of the animals had a genetic variant causing the 'leopard spots', not all that dissimilar from today's Appaloosa horses.

o 'Carlos the Jackal' (Ilich Ramirez Sanchez), already serving a life sentence for killing two French secret service agents and an informer in Paris in 1970, went on trial in Paris on November 7th for a series of bombings 30 years ago. The trial is expected to last about six weeks as the still-defiant and aging revolutionary continues to deny any wrongdoing and have outbursts in the courtroom. The attacks in France took place in 1982 and 1983 in which eleven people were killed and over 200 were injured.

o Thinking of moving to France, getting a job and finding daycare for your small children? Well, good news is that nurseries and pre-schools in France are free (much like the public school system in the United States beginning with kindergarten), as long as a child is two years old at the start of school in September. Children up to age six are accepted. For older children, almost all French schools offer a before- and after-school childcare program for which parents do have to pay. For more information, get a copy of the Paris Complete Residents' Guide - Amazon.com currently has three new copies available.

o Paris kicks off a car-sharing program (no doubt influenced by its greatly successful bicycle sharing system) to reduce noise and air pollution in the city. Entitled 'Autolib' (also influenced by the bike program 'Velib'), people can pick up an electric 'Bluecar' at one location and drop it at another. By 2013, Paris officials are hoping to have as many as 5,000 Bluecars at over 100 locations in the city. This is also meant to assist those who have found owning a car in Paris a very expensive proposition. The people interviewed about the new program were most impressed with the ecological and economic advantages. The cars are simple to use with automatic transmissions (forward, reverse and neutral), seating four and with very small trunks. After an 8-hour charge it will go 155 miles before needing a recharge. There is a GPS system to keep you from getting lost and permitting Autolib to track drivers.

o We recently saw the Musée d'Orsay's Beauté, morale et volupté dans l'Angleterre d'Oscar Wilde exhibit - which examined the various facets of the Aestheticism movement - an attempt to escape the materialism of the Victorian era. Bohemian romantics, including James McNeill Whistler, felt that this movement encompassed the arts, literature, home décor and fashion. It was 'art for art's sake'. Until January 15th. Information at http://www.musee-orsay.fr

o Don't miss the opportunity to visit Paris' wonderful Musée Jacquemart-André for a special showing of the major works of the monk Fra Angelico from the 15th century in Fra Angelico et les Maîtres de la lumière. This exhibit by the 'master of light' includes works of Lorenzo Monaco, Paolo Uccello and some of his other gifted contemporaries. Through January 16, 2012. Details at http://www.musee-jacquemart-andre.com.

o The Grand Palais is the site for Des Jouets et des Hommes, an interesting presentation of toys in the Western world, emphasizing their importance in children's education. Over a thousand items are on display including antique dolls, trains, flying saucers, wind up toys, Barbie dolls and robots. Through January 23 at the Grand Palais. More information is available at http://www.grandpalais.fr.

o Cézanne et Paris is at the Musée du Luxembourg through February 26, 2012, focusing on the work he did away from Provence in Paris and Auvers. Details of this exhibit can be found at http://www.museeduluxembourg.fr.

o Glass lovers will want to go to Nancy, France, for the exhibit entitled Jacques Gruber et l'Art Nouveau: un parcours décoratif. Gruber also produced posters, paintings, menus and more - the show has over 150 pieces from private collections. It is through January 22 at the Galeries Poirel. Information at http://www.ecole-de-nancy.com.

o Danielle Mitterand, the widow of the late French President, François Mitterand, died in a Paris hospital on November 22 at the age of 87. Born in Verdun, one of the First World War's biggest battlefields, she was a member of the French Resistance in Burgundy in World War II, where she met Mitterand. She was awarded the Croix de Guerre for heroism for her Resistance activities during the Nazi occupation. Mitterand later became France's first Socialist president, and Madame Mitterand was an activist and advocate for human rights, opposed capitalist excess, and created many charities. Only last month she said in an interview, "Money decides everything...that's why we are working to get out of this system."

In the US & Canada . . .

o REMINDER: Rodin and America: Influence and Adaptation 1876-1936 is the exhibit until January 1, 2012 at Stanford University's Iris & B. Gerald Cantor Center for Visual Arts. The exhibit focuses on Rodin's influence on American artists and is comprised of 132 works. Admission is free. For more information: http://www.museum.stanford.edu or telephone 1.650.723.4177.

o Paris comes to California - Similar to Autolib above, San Diego, California is initiating a car share program with Mercedes Benz Smart electric cars entitled Car2Go. It will make available 300 two-seater Smart Fortwo cars at various reserved parking spaces in the downtown area of the city. Austin, Texas, is the only other city in the US currently enrolled in this program. This 2-year pilot program coincides with the city having installed 1000 electric vehicle charging stations in 2011. San Diego, which already uses natural gas fueled city buses, is eager to promote an environmentally-friendly travel option without making an investment of taxpayer money. Tourists will find this especially useful for getting around. Car2Go started in Ulm, Germany in 2008 and has expanded to Hamburg, Vancouver, Canada and Austin with plans to be in Amsterdam by the end of this year. Parisians and other French are very familiar with Smart cars, popular in cities across France and Europe for their economy and ease of parking.

o Toronto, Canada, will host Chagall and the Russian Avant-Garde: Masterpieces for the Collection of the Centre Pompidou, Paris at the Art Gallery of Ontario until January 15. This is an in-depth examination of the influences on the artist, and 118 works in a variety of media will be presented. More information at http://www.ago.net.

o Monet/Lichtenstein: Rouen Cathedrals is the Los Angeles County Museum of Art's exhibit until January 1st with thirty paintings depicting the Cathedral of Rouen by the artist. Seventy-five years after their creation, artist Roy Lichtenstein was inspired to paint them as well, emphasizing the pop art fascination with multiple images. This show runs through January 1, 2012. Information available at http://www.lacma.org.

o The Phillips Collection in Washington, DC, will present Degas' Dancers at the Barre: Point and Counterpoint until January 8. This show focuses on how his paintings evolved over a 16-year period. There are 30 complementary studies in bronze, charcoal, pastel and lithography. Details at http://www.phillipscollection.org.


Fun with Names: Why Paris Streets Are Called What They Are
by Arthur Gillette

Pretty much everybody knows that Boulevard St. Germain refers to the Abbey it runs past, and that Rue des Ecoles recalls the many university facilities along or near it. But the origin of names of public thoroughfares in the French capital can also be obscure and... just plain hilarious. So here's a mini toponymic typology for the curious stroller in Paris.

Often, 'corruptions' of the original nomenclature have appeared over the centuries. These are generally slippages due to a culture and communication that, until obligatory free primary schooling began at the end of the 1800s, were overwhelmingly oral - thus, the Rue du Grenier sur l'Eau (Attic On The Water) behind St. Gervais church near the Hôtel de Ville. Logical enough, when you think about it: the street is near the Seine, which was much broader in the Middle Ages than today, and whose nearby shores were used to unload merchandise. What better place to store goods than an attic, safe from the humidity of lower floors? Sorry: the medieval name was Garnier sur l'Eau. It honored an apparently well-off townsman who, in 1241, donated some houses on this street to the Knights Templar.

Then there's Rue Gît le Coeur (Here Lies The Heart), just by Place St. Michel in the Latin Quarter. Evocative of a lovers' tryst prematurely ended, perhaps by the death of one partner? Nope: something like 700 years ago an inn here boasted a memorable cook (old French queux) by the name of... Gilles le Queux.

Sometimes the name changes were imposed by rather prudish town fathers. Thus the unfortunate name of Place d'Enfer (Hell Place - perhaps derived from a Gallo-Roman Via Inferior or 'Lower Street') was cleaned up to become Place Denfert-Rochereau in memory of the Military Governor of Belfort by that name who defended the city against a Prussian siege in 1870-1871.

Cherry Orchard and Lions

More succulent is the origin of Rue du Petit Musc (Little Musk) near St. Paul church in the Marais quarter. Exotically and rather elegantly perfumed? Wrong: the thoroughfare is attested as early as the 13th century as Rue Pute y Muse (Wandering Strumpet)!

Let's take a further moment in this neighborhood to ponder on Rue des Jardins St. Paul (St. Paul Gardens), Rue Beau Treillis (Lovely Trellis) and Rue de la Cerisaie (Cherry Orchard). And, ah, and there's also the curious Rue des Lions St. Paul (St. Paul Lions). A clue to their origin is the the adjacent Rue Charles V. After townspeople assassinated certain royal counselors at the Ile de la Cité Palais Royal, this 14th century King was horrified and moved out to a townhouse here in the St. Paul quarter. He left a manager in charge of the Palace - called concierge (perhaps because he was symbolically a 'candle counter': compte-cierges) whence today's Conciergerie. Thanks to Charles V the Bastille was soon erected a stone's throw away from St. Paul. And the townhouse grew into a veritable palace, surrounded by gardens, an orchard and even a menagerie of wild animals.

More than a century passed before Rue du Figuier (Fig Tree), skirting the Hôtel de Sens also near St. Paul, got its name. How? Well, after a provincial exile of 18 years for scandalous behavior, King Henri IV's wife Marguerite de Valois - La Grosse Margot (Fat Margie) - was allowed to return to Paris in 1605 on condition that she be confined to the Parisian 'embassy' of the Archbishops of Sens. A churchmen's abode? Margie was incorrigible. The carriage traffic of her many lovers was soon so intense that she had a probably magnificent fig tree growing before the Hôtel's main gate chopped down. Four centuries later, however, its memory remains.

Headless Woman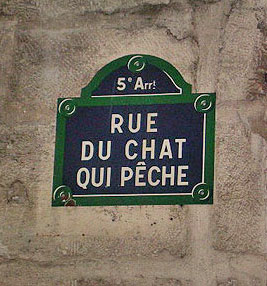 Another category of street names refers to signs of shops, inns and the like. The merchants' aim was to strike the imagination of a largely illiterate population, sometimes with publicity hype that makes today's ad people look like a bunch of neophytes. There's Rue de la Huchette (Little Hutch), Rue du Chien Qui Fume (Smoking Dog) and Rue du Chat Qui Pêche (Fishing Cat). OK, but what about, on Ile St. Louis, Rue de La Femme Sans Tête (Headless Woman), today called Rue LeRegrattier? Well, here the logic of a shopkeeper who sold bric-a-brac was unflinchingly sexist. The sign was the bust of a woman with no head, on the assumption that where a woman has no head she has no tongue, and where a woman has no tongue TOUT EST BON!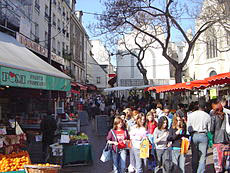 Finally, there are Parisian streets that haven't changed names, but whose original meaning has long been forgotten. Take for example, just behind the Panthéon, Rue Mouffetard. Known today as the main artery of a quaint, somewhat bohemian neighborhood, its origins are rather less attractive. Until it was covered over just about a century ago, the Bièvre River (from Latin biber whence our 'beaver') ran at the foot of Rue Mouffetard. And along the banks of the Bièvre toiled tanners and dyers, spreading some pretty pestilential odors. Annoyed by them, locals dubbed the thoroughfare with an old French word mouffe (= rot).
So, the quaint bohemian Rue Mouffetard is actually 'Stink Street'.
Arthur Gillette's Paris Through The Ages strolls to discover the city's
fascinating history can be the highlight of your next trip to France.
If interested, ask him for more information at armedv@aol.com