by Marlane O'Neill

It's that time again – August in France – which brings us all the festivities that people are waiting for the entire year. The city is throbbing with daily music, throngs of tourists, bright hot days and warm long nights when music plays until the wee hours of the morning.

The Charles Trenet Festival in Narbonne has become a national hit on television. France 3 broadcasts the entire three days. Never before has security been sleeker with large black limousines slinking around town, their windows blacked out. Men in black with curly wires winding down behind their ears cross their arms and survey the streets as they stand outside specially chosen apartment buildings to house the famous entertainers. This year is a heavy hitter.

As we live in the center of the city, I am privy to watching the pre-show rehearsals. I'm not the only one – several hundred people keep me company. My first huge surprise is to see Patrick Sebastian with his impressive orchestra. This is THE most famous orchestra in France right now as it is regularly featured on prime-time Saturday night in a program called Le Grand Cabaret. This show has a history of entertaining French people for decades. Mr. Sebastian knows la toute France, from presidents to chefs, actors and the super-rich. Patrick Sebastian knows no boundaries. Thus, I am fascinated to watch him with his sleeves rolled up and whipping his musicians into shape, blondish hair sticking to his head with the August sweat. I note with interest that the orchestra is neatly divided into young, beautiful female violinists, all with long flingy hair, on the left-hand side, and muscular male horn players on the right-hand side. It's a riveting sight as well as sound.

Nana Mouskouri is la marraine of the show; if you don't recognize the name, just check out her web site at http://www.nana-mouskouri.net. I've been listening to her for decades – une vraie phénomène! She spans generations with her music. Born in Greece, she is fluent in multiple languages including Greek, French, English, Spanish, and Italian. She has sported her trademark black-framed eyeglasses for over 40 years along with a classic Coco Chanel bob. She is impervious to time, it appears.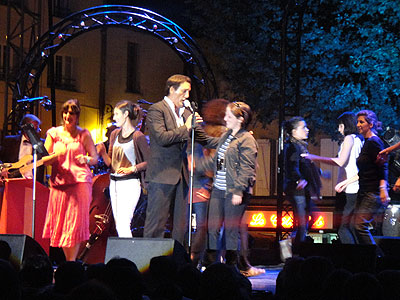 In addition to Nana and Patrick I get to see my favorite star-du-jour! Amaury Vassili is a young and fast rising singer with an operatic voice that puts forth such volume that it seems impossible for it to come from such a slender young man. Here is a YouTube of his performance http://www.youtube.com/watch?v=-ZGnUGgvkbI&feature=share wherein he sings the classic song The Windmills of Your Mind which is composed originally by Michel LeGrand as Les Moulins de Mon Coeur.
Other notable French celebrities at the festival are Liane Foly, Fabienne Thibeault and Serge Lama. I was lucky enough to be at the red carpet exit when they left the stage after rehearsal and get an autograph or two. All were most gracious and convivial. Several people posed with them for photos. This festival is getting the rock star route! Quite a progression from the low-key straw hat dancing-in-the-bodega party it started out to be. I almost wish it could have stayed more humble, but I think the spirit of Charles Trenet would have wanted the blow-out it has become. The festival is inspired by his ebullient personage, and his spirit is felt more and more every year this last weekend in August. It is a stellar way to mark the end of summer.
As little Narbonne says good-bye to the big time it is saying Allo Rentrée! The beginning of September brings us a relief from the constant music and entertainment, a return to normalcy, of sorts, because there are still lots of tourists. The weather remains summery, and we all take the opportunity to bathe in the sunshine on the less crowded beaches. Suntans are strong well into the month of September and the days are long and beautiful.
But, a new visitor has appeared on Les Barques de Narbonne, and it isn't a pretty one. Not welcome and certainly creating quite the commotion, its name is ceratocystis platani, a mushroom fungi growing on our beloved platane trees that shade the banks of the canal. 42,000 of these trees line the Canal du Midi and the Canal de la Robine and they are all threatened by this voracious and extremely contagious malignancy.
The French canal authority, VNF or Voies Navigables de France has been fiercely fighting the problem since 2006 without much success. The trees are valuable for more than their beauty; they shade the canal boats and walkers, retain the banks from collapsing into the water, and keep the canals from losing too much water to evaporation. The fungus is relentless in conquering more and more trees, and the latest information is that 2000 trees are slated for the ax this year. Alas, the disease has no known cure.
Here in Narbonne we have already lost about a dozen trees from our city center. But, the mayor is thinking ahead and is ready to do battle with the problem in a very aggressive and controversial manner. I still don't know what to think about his approach, there are aspects that I like and then others that I don't, so I will let you see for yourself the video that the city of Narbonne has made to showcase the new city center. It will cost roughly 8 million euros just to start: http://www.dailymotion.com/video/xl9pz3_amenagement-des-barques-et-du-cours-mirabeau_news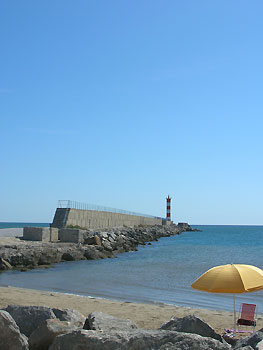 What do you think? Sally forth into sleek modernity or cling to the craggy old stones? I'm used to the bulky balustrades and creaky pedestrian bridge. I also know it is a good thing not to let decrepitude creep in and create a sad and neglected atmosphere. Old photos of Narbonne are testament to how unattractive the muddy old canal bank was in the early 1900s. So, maybe it is a good thing to keep moving ahead. Only time will tell.
Mid-September brings us our very own FRANCE On Your Own and au Château publishers Diane and George! We were delighted to have them in our chambre d'hôte and share Narbonne with them for a couple of days. We joined them with friends of theirs for a delightful lunch at Port La Nouvelle, a charming seaside town with a restaurant directly on the water. Port La Nouvelle is known for its cement factory and commercial port area; however, it also has a lovely residential area with several attractive restos nestled on the beach front. The beach itself is wide with a long walkway to stroll upon.
Also included in their visit the following day was a trip to Château d'Agel, a stunning medieval castle (and member of the au Château web site - see the photo on page one) about 45 minutes away from Narbonne. The château can be booked for official functions, weddings, family reunions and is a truly authentic jewel of the region.


The beach and jetty at Port la Nouvelle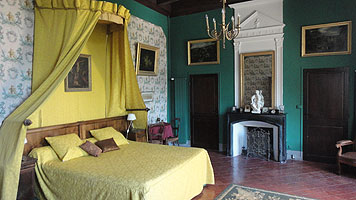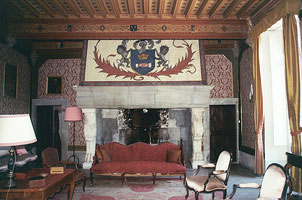 A guest room and the salon at Château d'Agel
Château d'Agel is family owned and run by one of the last owner's daughters, Martine, who was lucky enough to grow up on the estate. The chatêau originally was a wine domaine, producing robust reds and fragrant whites, one of which we enjoyed in the beautiful garden. The wine making business has been portioned off and sold, thus Château d'Agel now acts exclusively as a beautiful venue for vacations and events as well as a private home. We enjoyed touring the interior with its fantastic features including enormous fireplaces, beamed ceilings and massive ancient timbered doors with heavy iron hardware. The orangerie with its graceful Gothic windows was especially unique to behold.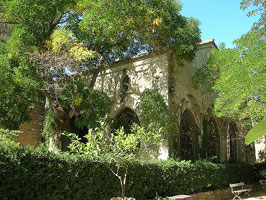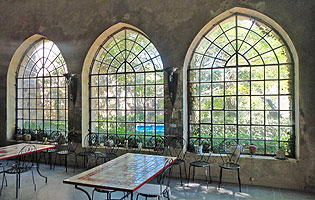 The exterior and interior of the spacious Orangerie at Château d'Agel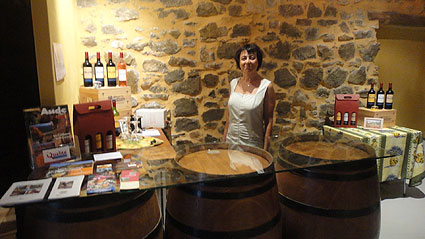 During my drive about halfway back to Narbonne from Chatêau d'Agel I couldn't help myself from pulling into a particularly charming domaine decorated with lots of turrets pitched on a hillside. Château Landure's proprietaire herself came out to greet and give me a private dégustation in their beautiful cellar. The domaine makes no white wines, which are only recently popular in the Languedoc-Roussillon. They offer a robust rosé and several hearty reds, typical of the Minervois where they are located. One in particular is remarkable for its licorice flavor.
I also like the bright yellow label with its gold scrollwork and detailed etching of the château and surrounding countryside. Château Landure takes no credit cards or Carte Blue, but they were very kind in letting me drive away with some wine on an IOU and a carte
de visit. I was able to post my payment to them that afternoon.
The tasting room at Château Landure
Narbonne has the advantage of dozens of interesting spots to drive to within an hour. Port La Nouvelle is one of them. So is Le Somali, a sleepy canalized bedroom community. However, besides boasting idyllic restos on the water with happy views of the penuche's, several art galleries and a cabaret, there is also a huge vide-grenier hosted in Le Somali about twice a year.
Vide-greniers in France are a very popular past time. The word literally means 'empty attic' – Americans would say 'garage sale' and the Brits would say 'car boot sale'. The French hold vide-greniers on a regular basis and there is even a web site to check out the weekly locations: http://vide-greniers.org. I have been to dozens of vide-greniers in France but this particular one in Le Somail was extraordinary in its length and breadth, assortment of items and quality of hard-to-find bijous. I loved ogling the pristine, white 100 year-old monogrammed linens, the tiny hatpins (two of which I purchased), the sparkling carved crystal ware and the oddball items, some of which defy description. Ancient commodes, apothacary sets, strange old homemade machines the purpose of which even the descendants of the creators have only a foggy notion. Cake molds, solid copper pots, decorative tins, tin toys, costume jewelry and real gold and silver jewelry add interest to the mix. I managed to score a solid silver bracelet, with the makers mark and white sapphires for a mere one euro.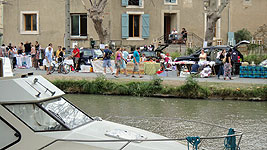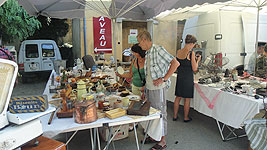 The Vide-Grenier in Le Somail in September with antique linens and collectible kitchen wares
We revel in the late summer sun and heat as the unusually cool July has melted into a warmer August and progressed to intense Indian summer during the month of September. The beach was ideal with the lack of crowds, and we were able to maintain golden tans well into October. Only now, mid-October, are we experiencing some cooling of the weather with temperatures in the mid-20s celsius. It is perfect strolling and shopping weather but getting cool on the beach. Our surprise restaurant oasis La Voile Rouge has virtually disappeared, even the plumbing has been wrenched from the sand, and there is nothing left of it. It will most likely be rebuilt next year in late May or June.
La Rentrée is here. I rejoin my weekly French class, renew friendships with people who have been on vacation, pull out a few sweaters from storage and pack the beach bag away until next summer. Narbonne ville is buzzing with renovation and construction projects all over town. In fact their latest logo is a bright yellow bumble-bee sporting a construction hat and a set of plans in hand.
It will be a hard-working city in the months to come. I watch my step as I pick my way through the steel fences around my favorite bakeries and wonder how the workers there can tolerate the constant noise and dust around them daily. An enormous trench forces the car traffic to divert onto les barques. Several restaurants are affected. Hopefully, Narbonne will pull this project off successfully without adversely affecting too many businesses.
If there an important archaeological find during all this digging then the construction will halt to allow a proper excavation that could last for months, even years. That is what the Narbonnaise rumor mill says will most likely occur. It's all about time, the times past and time forward, and only time will tell.

French Vocabulary
la toute – all of…
la marraine – the godmother
une vraie phénomène – a true phenomenon
star-du-jour – the latest celebrity or 'flavor of the month'
Les Moulins de Mon Cœur – the windmills of my heart
allo rentrée – hello re-entry. la rentrée is actually a fifth season in France that marks the return to school and work from summer vacations.
Les Barques de Narbonne – the areas around the canal where people stroll, there are benches to sit and there is no vehicle traffic.
platane – plane tree (Platanus orientalis)
Voies Navigables de France – Navigable waterways of France.
propriétaire – owner
Carte Bleue – debit card
carte de visite – calling card
bijous – jewels
La Voile Rouge – The Red Sail


---
EDITOR'S NOTE: Following are two photos - the first of a diseased plane tree in France along the Canal du Midi and the second of healthy trees taken in September of 2011. The fungus starts at the base of the tree and spreads while leaves turn color and fall prematurely. Thankfully, many plane trees in France are in good health in other regions like those in the photo along a highway in the Midi-Pyrénées.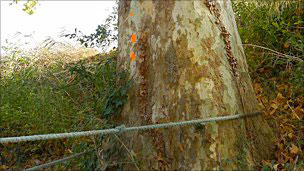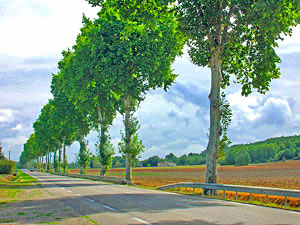 For additional information about living in or visiting Narbonne
by land or canal boat, or for a lovely bed & breakfast stay with the O'Neill's
[http://www.narbonnegites.com] contact marlaneoneill@hotmail.com.
Please visit the Style de Vie page of the FRANCE On Your Own web site to read
Marlane's account of their life on the Canal du Midi. And read Marlane's earlier
Notes on Narbonne in previous issues of FRANCE On Your Own.
To access them, visit our Archives page and scroll down to the bottom.
[Photo credits: Marlane O'Neill 2011 and Cold Spring Press 2011. All rights reserved.
Mouse over photos for additional descriptions.]

---
DISCLAIMER: You have received this newsletter because your email address is on our Opt-In mailing list, i.e., you have requested to receive FRANCE On Your Own ©. If you would like to discontinue receipt of this newsletter, please send an email to publisher@franceonyourown.com with "unsubscribe" on the Subject line.
Unless indicated otherwise, photos, graphics, artwork and text in the FRANCE On Your Own © newsletter are all the property of Cold Spring Press and FRANCE On Your Own © and cannot be copied, duplicated or used in any manner by anyone without the express written permission of Cold Spring Press. FRANCE On Your Own © is published online by Cold Spring Press, P O Box 26098, San Diego, California 92196-0098. This publication is copyrighted and no portions of the text, artwork, graphics or photographs may be reproduced or distributed in any form or by any means or stored in a database or retrieval system without the written permission of the Publisher. For more information about FRANCE On Your Own ©, visit our web site at http://www.franceonyourown.com.
Recommendations made in this newsletter are based upon the personal experiences of the Publishers or contributing writers solely to provide information to subscribers. Cold Spring Press and FRANCE On Your Own © make no endorsements nor are any guarantees or promises of satisfaction given or implied. Any and all information is correct to the best of our knowledge, and the Publishers accept no responsibility for errors and/or omissions. The responsibility lies entirely with the traveler to obtain current information regarding accommodations, availability, schedules, prices, reservations, or any other pertinent details. We do not guarantee the historical accuracy of the contents of articles in this newsletter. Historical accuracy is dependent upon one's sources of information -- and contradictions often exist among those sources. Links to other web sites or email addresses are provided for informational purposes only and do not imply any guarantees of service or endorsement of any organization or their business practices.
FRANCE On Your Own © is electronically transmitted via email. To add your email address to our database for this FREE newsletter, send an email to info@franceonyourown.com, and please put Subscribe in the subject line. We do not share email addresses with any other organization.
BACK ISSUES of the print version of FRANCE On Your Own © and Free online back issues are available on our web site at http://www.franceonyourown.com/Archives.htm.
©1998-2011 Cold Spring Press All Rights Reserved

---

previous page