"Most travel is best of all in the anticipation or the remembering -
the reality has more to do with losing your luggage."
- Regina Nadelson, American Author and Journalist
Severe weather, such as floods and dangerous tornadoes in the US midwest and the subsequent prolonged heat wave, has gripped many countries. France is experiencing its own weather problems this year, but at this writing temperatures seem to be easing somewhat.
Most important and serious is the problem of drought in many areas of the country and northern Europe. France had its hottest spring since 1900 with farmers struggling to keep their livestock fed and alive; many were forced to slaughter animals early and send them to market. Between January and June little rain fell, so ground water and river levels were extremely low. The French government imposed water limits in 70 of its 96 mainland départements, and many regions and municipalities are asking tourists and natives alike to conserve water and inquire at tourist offices about any local restrictions on water use. The natural progression of this problem will lead to higher food prices in France and elsewhere in Europe.
But, in recent weeks everyone we heard from in France had been telling us about the rain, rain, rain! However, it seems to have come too late for most farmers, so the French government has pledged one billion euros (nearly $1.5 million) for farm aid. Rain continued from June through July and now into August, hampering the harvest of about half of French crops. In fact, Météo France, the weather service, said July was the coldest in 30 years!
In June, farmers in the south of France had one weekend of heavy rain and hail, the latter damaging fruit crops, while they still had losses in the sale of produce due to Europe's EColi food poisoning scare. Areas of Provence were hit by flash floods and storms as well.
The Var département of Provence experienced violent 200kph winds in July on the border with the neighboring Bouches-du-Rhône when a mini-tornado tore through properties in the village of Rians near Aix-en-Provence. Twenty homes and many cars were damaged.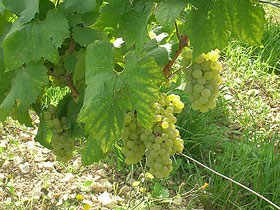 On the brighter side of the weather story, the heat and wet summer has benefited wine producers. The harvest will begin several weeks earlier than normal with picking beginning in mid-August; hopefully, some 10,000 job openings for grape-pickers are being quickly filled. Higher yields are anticipated, and wine producers are expecting a good vintage, although not quite as good as 2009 - a banner year for French wines.
For those of us planning a visit to France very soon, we are hoping and quite confident that the worst is over. We will be happy to conserve water while in France, and even if it should rain a bit now and then, we will nevertheless enjoy every minute we are there! If you are visiting France this year, just be sure to pack that umbrella!