DISCOVER SELECT PARIS SUBURB TREASURES: Meudon
by Arthur Gillette
There is so much to see and learn about in the French capital that many (most?) visitors
never venture beyond its boundaries, except perhaps to be jostled in the crowds thronging Versailles.
And yet, good regional/suburban public transport makes it easy to discover many veritable treasures
lurking just extra muros, in certain suburbs just outside Paris.
Arthur Gillette* helps point the way in this new series.
WESTWARD HO…
…to Meudon, which you can reach by suburban rail from the Gare Montparnasse in all of a dozen minutes. Its Latin name was something like Melodunum. The dunum part relates to English 'dune' and London's 'don', meaning 'hill' or 'hillock'. And melo? Hmmm . . . something of a mystery there. Some sources say it refers to the honey ('miel' in French, giving us 'mellifluous' in English) that beekeepers produced in Meudon many centuries ago. Others affirm it stems from the yellowish color of much of its soil, which is quite sandy. Perhaps both?
In any event, before looking at the ground, when you leave he train station head upwards along Avenue LeCorbeiller for a ten minute climb up the dunum to the public park at the Grande Terrasse, one of the most stupendous vantage points in the Parisian suburbs. A castle was built here in the second half of the 16th century and rebuilt later by Le Vau, who also took part in the construction of Versailles.
To support the castle, this Grande Terrasse – no less than fourteen meters high - was constructed as a horizontal projection from the rather steep hillside. It is 260 meters long by 140 meters wide. This is what the Old Castle looked like, viewed in its heyday: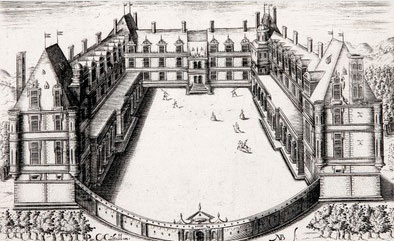 The Old Castle at Meudon
Many of those you can see prancing about in this engraving were not commoners. Meudon's Old Castle was, in fact, an aristocratic stopover on the main road from Paris to no less a place than Versailles. For reasons my research hasn't been able to fathom, a New Castle was built just above the Grande Terrasse ca. 1706 by that other major neo-classical architect Mansart. Here is an image of the two neighbors, clearly showing the still-extant gardens created by that other Versailles (and Tuileries) landscape genius Le Nôtre.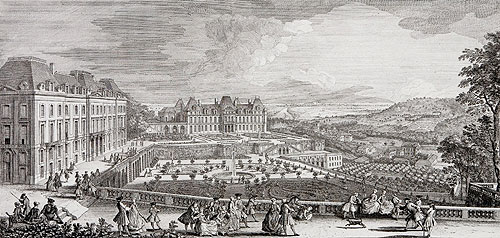 The New Castle at Meudon
The aristocrats were kicked out by the Revolution and Meudon's Old Castle was used for artillery experiments. One of them went awry in 1795, and the Castle burned to the ground. As for the New Castle, during the Franco-Prussian war it was occupied by the enemy and caught fire in 1871. Its vestiges were recycled at the end of the 19th century as an astronomical observatory, which it remains to this day.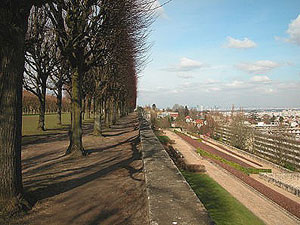 So, now you have the Grande Terrasse pretty much to yourself for a pleasant stroll. Not to forget an incredible view of Paris. But don't let yourself by totally mesmerized by the Eiffel Tower, Invalides & Co. The Grande Terrasse was designed as the center of an enthralling Grande Perspective several kilometers long. Much of it is still visible (or at least guessable) today, viewed from one end and the other of the Grande Terrasse. A plan is now afoot to restore as much as possible of the Grande Perspective. And here is an image of what it might look like.



The Grande Terrasse with Views of Paris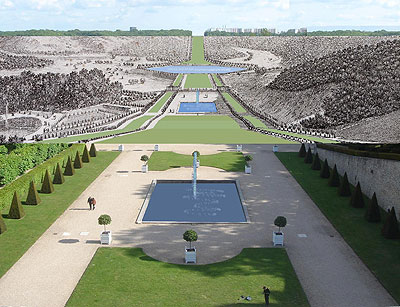 Now let yourself be tempted to follow what's left of the Grande Perspective. Running from just below the observatory end of the Terrasse, road will take you to the right of the large hexagonal lake you see in the reconstitution (it still exists!) and on for a pleasant stroll in the Meudon National Forest. At the base of the Green Carpet you can lunch on the terrace (or, if it's cold, inside) of a homey – no electricity! – little restaurant called Le Rendez-vous des Pêchers.
Back in central Meudon you can visit another historical monument, a kind of mini-castle built in the 16th century by royal physician Ambroise Paré and later lived in by Molière's widow, Armande Béjart. Today it houses the Municipal Museum (11, rue des Pierres). In addition to collections presenting the town's history, it has a garden that hosts the only vineyard left in Meudon, which until World War II produced much wine, not to forget some very avant-garde sculptures. In fact, in addition to its historical attractions Meudon has played quite a role in modern esthetic creation. It was here, for example, that a Sunday party sculptor, Antoine Bourdelle, met innovative American dancer Isadora Duncan, who was teaching courses at a Meudon hotel. She soon modeled for his allegorical bas relief La Dance which still graces the early Art Déco façade of the 1913 Théâtre des Champs Elysées in Paris. [For a visual preview go to the web site for the Ville de Meudon at http://www.ville-meudon.fr/culture/musee-dart-et-dhistoire and click on Voir le film de presentation.]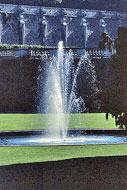 The Jardin du Musée, the fountain, and the Observatoire
It is perhaps not surprising that, at about the same time, Igor Stravinsky and Claude Debussy gave, in Meudon, a first private performance of the former's rather violently innovative Rite of Spring. When, also in 1913, it was publicly premièred at the Théâtre des Champs Elysées – danced by a "lightly clad" Vaslav Nijinsky – there was scandal and a riot!

Much closer to us and even more startlingly modern are the huge, sharply angular habitacle (dwelling space) sculptures created in the 1960s by architect André Bloc at his Meudon Villa. Go to http://www.natalieseroussi.com and click on 'Meudon' for a preview of two of them. The Villa André Bloc is now privately owned, but can be visited one Sunday a month upon prior reservation at meudon@natalieseroussi.com
Have you found this article prejudiced in favor of Meudon? Well, perhaps. You see, I live there!
Contact Arthur Gillette at armedv@aol.com for information about his
Paris Through the Ages Strolls, trips to Senlis and Vaux le Vicomte
and for more delightful bits of the history of Paris!