This column is intended to advise you about cultural events, news and happenings
in France or France-related events taking place in the United States
between now and the publication of our next issue.
In France. . .
o Terminal 2E at Charles de Gaulle airport in Paris will offer free baby strollers! These will help families with young children maneuver through the airport and customs without having to bring their own stroller. Forty strollers will be available 24 hours a day located at two points just beyond security. This service will soon be expanded to Orly Airport. More child-friendly services are being offered such as games, changing tables, and nurseries with free coloring kits for children on vacation with their families. For more information http://www.aeroportsdeparis.fr.
o Don't miss . . . Galerie de l'Opéra de Paris, the new concept store opened by Galeries Lafayette at the Opéra Garnier. It is a stylish boutique carrying the finest brands in apparel and accessories, and see the Aïtali 'Opéra de Paris' chair, commissioned for the opening. An area just for children called Enfance de l'Art provides costumes, toys and educational games to keep them busy while you shop or browse. Open every day at 8, rue Scribe in the 8th arrondissement. (We were there in October while it was under construction...if the crowds at Galeries Lafayette were any indication, the boutique will do quite well.)
o A double of President Barack Obama was brought to the Grevin Museum in Paris on Monday, February 15th, after an unveiling at the foot of the Eiffel Tower. This effigy joins such heads of state as Germany's Angela Merkel, Russia's Vladimir Putin, and almost all US presidents since the end of the nineteenth century including Franklin D. Roosevelt and John F. Kennedy.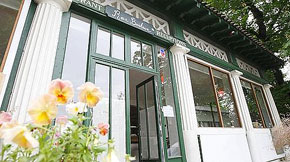 o If you are in Paris, you might want to join in the fun at Rosa Bonheur at the Buttes Chaumont Park as soon as the sun sets. It is a guinguette (open-air dance floor) constructed in 1867, and is near the Botzaris Métro stop. There is a lot of dancing, singers and music of all types. Everyone is welcome, and everyone seems to join in. It's a party without any pretensions in a relaxed atmosphere where strangers and friends alike have a good time without spending a lot of money. Rosa Bonheur, Parc des Buttes Chaumont, 2, allée de la Cascade, 19e arrondissement. Tél. : 01 42 00 00 45. Tapas à partir de 5 €. Closed from midnight, February 21 until noon on March 17, when it will reopen for business.
o France in the News:
Dominique de Villepin, the former Prime Minister under Jacques Chirac, was found not guilty of complicity to slander, complicity to use forgeries, receipt of stolen property and breach of trust during the last Presidential election. President Sarkozy is considering appealing the decision.
The Mayor of Gonneville-sur-Mer in Basse Normandie was told to remove a portrait in the city office of Marshal Philippe Pétain, WWI hero and head of the WWII puppet government head quartered in Vichy. The issue was brought to the government prefect by LICRA, a French rights group. The Mayor implied that he would not comply with the request.
Thirty-three Haitian children were sent to Paris on January 22 to be adopted by waiting French families. In 2008, the French adopted 740 children from Haiti and another 600 in 2009.
Air France will provide low cost airfares between French cities in direct competition with Ryanair and Easyjet. The Air France-owned Transavia will most likely be based in Nice and will bypass Paris airports as an economy measure.
In a related story, prosecutors in France are requesting that Easyjet pay a fine of 225,000 euros for unlawful employment of British workers in Paris. Reportedly, the UK's Easyjet made a profit of 80 million euros in 2009. The case centers on 170 British contract workers at Orly Airport between 2003 and 2006, resulting in a savings to the airline of over ten million euros.
Striking refinery workers are causing filling stations to run out of diesel and gasoline. This is felt especially hard as the half-term holidays began on February 22. The strike focused on Total's six refineries, but the union has now called for a strike at Exxon-Mobil's two refineries. The union actions came for fear that Total would be closing down their Dunkirk plant, which they have denied.
A survey by Paris Match magazine found that 69% of the French would like the old French currency of the franc to come back in place of the euro. They miss the franc, but this may be brought on by the recent crisis in the Greek economy, worrying French citizens that their ties to Greece though the euro would also hurt their economy, only now emerging from a recession. The survey showed that those hit hardest by recent economic problems and those in the working class were most nostalgic about the franc.
Five French airports closed on February 23 canceling hundreds of domestic flights due to an action by air traffic controllers. About half of the flights in and out of Orly and a quarter of those at Charles de Gaulle are canceled.
Some employees of the US-based Continental Airlines, an ex-French civil aviation official, and two Concorde engineers will go on trial for manslaughter in the death of 113 people on July 25, 2000, when a Concorde plane plummeted to the ground after take-off from Charles de Gaulle airport. One hundred nine on board and four people on the ground perished. The case will focus on a French accident inquiry that determined the disaster was partly caused by a strip of metal that fell onto the runway from a Continental Airlines DC-10 plane that took off just before the supersonic jet. The report said that one of the Concorde's tires was shredded by the metal and the subsequent blow-out sent debris into an engine setting it on fire. Continental says the fire started prior to the tire incident and says there were design defects on the Concorde.
o Are you interested in owning a château in France? We know of a property that is currently a successful business with both guest rooms in the château and gîtes on the estate for those who want self-catering weekly accommodations. Located in the desirable Loire, the property is only for sale because its owner now lives abroad and doesn't feel his age permits him to operate it any longer. The property comes fully furnished and is priced competitively in today's market. For more details, please contact us at publisher@franceonyourown.com. You can visit it on our web site's Marketplace page to read all about it and see more photos.
o Festival Banlieues Bleues will take place from early March to early April in the Seine-Saint-Denis region in the north of the Île-de-France. This is the 26th edition of the annual Jazz Festival to be held in various cities throughout the region. Information in French only at http://www.banlieuesbleues.org.
o Montpellier's Musée Fabre (Languedoc-Roussillon) will host Jean Raoux (1677-1734) through March 14. Raoux is, along with Sébastien Bourdon, Joseph-Marie Vien, François-Xavier Fabre and Frédéric Bazille, one of the great French artists born in Languedoc. The painter, a contemporary of Antoine Watteau, actively participated in the revival of French painting during the Regency. Virtuoso, sensual, elegant, Jean Raoux truly merits that his home town dedicates a major exhibition to him. More details at http://www.museefabre.com.
o Paris's Musée des Arts Décoratifs presents Kate Moss through April 24th. During her 15-year career, Kate 'Twiggy' Moss has become one of the world's most prestigious and photogenic super models. She is famous for having ushered in the 'waif look', but it was in advertising that she first made her name. She was still unknown when she signed her first exclusivity contracts for Calvin Klein campaigns and suddenly became the most in-vogue face worldwide. Les Arts Décoratifs is celebrating the Kate Moss myth and its creation by some of the greatest photographers of the last twenty years. Visit http://www.museums-in-paris.com.
museums-in-paris.com
o Lourdes is the location in early April for the 21st Festival of Sacred Music, held in several locations including the Basilique du Rosaire the Saint-Savin Abbey and Tarbes Cathedral. Information at http://www.lourdes-france.com
o The French government is planning a central online login service to help protect web users against identity fraud. Called IDéNum, it will allow people to log on to government web sites, do their online banking, and access mobile phone accounts with a secure USB device that plugs into their computers and will generate a PIN to enter on the web sites they visit. A government spokesperson says having one PIN will "avoid the nightmare of having 1,001 different passwords". The program is expected to launch in 2011.
o Menton (Riviera) hosts the Fête du Citron through March 3rd. This 76th Annual Lemon Festival includes the golden parade of fruit-filled floats and citrus decorations in the Biovès gardens. Visit http://www.feteducitron.com.
o A recent poll revealed that Camembert cheese has lost its status as France's favorite! The new Number One is Emmental, according to the French newspaper, Le Figaro. Apparently, although French consumption of cheese was up 2.9% in 2009 from the year before, less than half the French are now eating cheese with their meals. They are, however, consuming cheese as a snack, in salads or using grated cheese.
o Jazz in in the Rhône-Alpes. . . the Grenoble Jazz Festival, both in the city and nearby, will take place from March 10th to 28th. More details at http://www.jazzgrenoble.com (French only).
o The Midi-Pyrénées region will host Derby des 3000, March 20th and 21st - a mountain ski contest in the Pyrénées (Open International de l'Alpinisme), from Gavarnie et Luz. Information in French at http://www.derby3000.fr.
o The City of Lyon will host its annual fair, Foire de Lyon, from March 27th to April 6th. The French only site for further information is http://www.foiredelyon.com.
o Late March and early April (Easter Weekend) at Cabriès-Calas (Provence) is the time for the Benediction des Chevaux - the annual blessing of the horses to be held on the esplanade of the 5th century chapel of Notre-Dame de la Salette perched on the Calas hill. Featured events include the blessing of over 600 horses, bull races and games, riding exhibitions and a street ball. Held every Easter since 1958 in the small village of Cabriès about ten miles south of Aix-en-Provence. Visit http://www.cabries.fr.
o April 11th is the date of the 34th Paris Marathon. It begins at 8:45 AM on the Champs-Elysées and ends on avenue Foch. Route and other details can be found at http://www.parismarathon.com.
o Orléans will be the setting from April 29 to May 10 of the Fêtes de Jeanne d'Arc, Commemoration of the liberation of Orléans from the English siege in 1429 by Joan of Arc. Day 1: commemoration of her arrival May 1st in Orléans; Day 2: cathedral illuminations with sound and light show; Day 3: religious ceremonies in the cathedral followed by processions and military parade. See http://www.fetesjeannedarc.fr (French only) for more information.
o May 1st is the Finale de la Coupe de France, the final game of the French Soccer Federation's season at the Stade de France. information at http://www.fff.fr/cfra/calendrier/700 in French only.
In the US . . .
o Cartier and America - About 200 objects, including drawings and jewelry, will be on exhibit at the Legion of Honor in San Francisco through April 18th. Some items are from the collections of the Duchess of Windsor and Gloria Swanson. More information at http://www.famsf.org.
o A set of 390 alabaster 'mourners' from medieval times will tour the United States, reaching Los Angeles in 2011. Commissioned in the 15th century to adorn the tomb of the Duke of Burgundy, John the Fearless, the white robed figures standing 16 inches tall, were completed in 1457. They are housed at the Dijon Musée des Beaux Arts, which is currently undergoing renovations, and they will end their US tour at Paris' Cluny Museum before being returned to Dijon. They can be seen at the Metropolitan Museum of Art in New York between March 2 and May 23, at the St Louis Art Museum between June 20 and September 6, at the Dallas Museum of Art, the Minneapolis Institute of Arts, the Los Angeles County Museum of Art - all between May 8 to July 31, 2011 - and finally at San Francisco's Fine Arts Museums and the Virginia Museum of Fine Arts in Richmond before returning to France.
o Memphis, Tennessee's Dixon Gallery and Gardens will host Monet to Matisse: French Masterworks from the Dixon Gallery and Gardens. Some thirty paintings and pastels from the late 19th to the early 20th centuries by Degas, Renoir, Gauguin and Cézanne are also included in the exhibit. Until April 4. Details at http://www.dixon.org.
o Monet's Water Lilies is the show at New York City's Museum of Modern Art (MoMA) until April 12th, offering the museum's complete Monet collection from the artist's late period when his work was primarily of his gardens at Giverny. See the 42 foot wide triptych 'Reflections of Clouds on the Water-Lily Pond'. For times and other information visit http://www.moma.org.
o A Celebration of Henri Matisse: Master of Line and Light is the exhibit scheduled from February through April 18 at Florida's Tampa Museum of Art. Some 150 works by the artist are brought together to show all the techniques he used over fifty years of work. Both paintings and sculptures will be on display. Details available at http://www.tampamuseum.org.
o On loan from the National Museum Wales is Turner to Cézanne: Masterpieces for the Davies Collection until April 25 at the Corcoran Gallery of Art, Washington, DC. The exhibit contains works included in the 260 items donated to the museum by Welsh heiresses Gwendoline and Margaret Davies who had the largest collection of French Impressionist and Post-Impressionist art in Great Britain between 1908 and 1923. Information can be found at http://www.corcoran.edu.
o Philadelphia's Museum of Art will host Picasso and the Avant-Garde in Paris through April 25th. The show follows his work between 1905 and 1945. Some work by his contemporaries is included in the show. More details at http://www.philamuseum.org.
o Renoir in the 20th Century offers visitors a look at some 80 painting, sculptures and drawings completed by the artist during a time in his career when he suffered from crippling rheumatoid arthritis. Also works by Picasso, Matisse, Bonard, etc., are included in the exhibit. Through May 9 at the Los Angeles County Museum of Art. Information at http://www.lacma.org.
o The Normandy Coast is the subject of works in an exhibit entitled, The Lens of Impressionism: Photography and Painting Along the Normandy Coast, 1850 - 1874. Normandy's fishing villages inspired painters and photographers, and this exhibit examines both forms through oils, watercolors and pastels by artists such as Courbet, Monet and Manet, among others. Through May 31 at the Dallas Museum of Art. Times and schedules available at http://www.dallasmuseumofart.org.
o The Lyon Opéra Ballet visits the United States performing a selection of works in a five-city tour. The last three cities' performances are March 2 at the Mondavi Center, UC Davis, California; March 5 and 6 at NOCCA/Riverton Lupin Hall, New Orleans, Louisiana; and March 9 through 14 a the Joyce Theatre, New York City. More information at http://www.opera-lyon.com.
o If you are in Boston, you might want to visit the Museum of Fine Arts for the exhibit entitled, Café and Cabaret: Toulouse-Lautrec's Paris, through August 8. More information at http://www.mfa.org.
o Sèvres Then and Now: Tradition and Innovation in Porcelain, 1750-2000, is an ambitious exhibit that includes 90 pieces that include 18th century dessert services as well as Art Nouveau and Art Deco styles. Through May 30 at Hillwood Estate, Museum and Gardens, Washington, DC. Information available at http://www.hillwoodmuseum.org.
o The Baltimore Museum of Art will host the exhibit Cézanne and American Modernism through May 23. The exhibit will include pieces by Man Ray, Arshile Gorky, as well as Cézanne's paintings and works on paper that inspired later artists. Visit their web site at http://www.artbma.org for more information.

---
PARISIAN RELIGIOUS BUILDINGS OFF THE BEATEN TRACK
by Arthur Gillette
Most travelers who visit the French capital on their own
tour Notre Dame Cathedral and at least pass by the Saint-Germain
des Prés Church. But Paris also offers a number of other, lesser-known
religious buildings with often curious (indeed beguiling) histories.
To help you discover some of them, FRANCE On Your Own offers this series
of illustrated short takes ~ in this issue two very different religious buildings.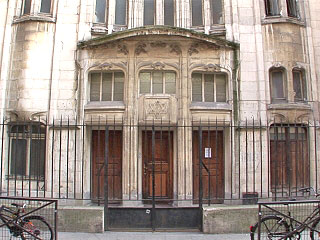 The Guimard Synagogue
(rue Pavée, 4th arrondissement)
Art Nouveau master architect Hector Guimard, designer of the famous Paris Métro entrances, married an American painter, Adeline Oppenheim. She happened to be Jewish, a fact that, in 1913, encouraged Guimard to design this synagogue, one of the very few Art Nouveau religious buildings in the world. It is much more sober than his more fanciful creations and was dynamited by anti-Semitics in 1941. Later restored, it has been listed as a historical monument since 1989.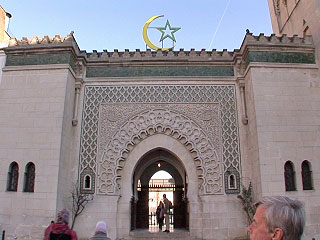 La Grande Mosquée
(Place du Puits de l'Hermite, 5th arrondissement)
The idea of building a mosque in Paris was first mentioned around 1895, but it took the deaths of 50,000 Muslim French soldiers during the battle of Verdun to move it towards reality. Inaugurated in 1925 following the style of the ancient mosque at Kairouan (Tunisia), it was a World War II center of Muslim partisans who not only helped Allied parachute troops but also gave refuge to persecuted Jews, and it is today the largest mosque in France.




Photos courtesy of http://www.netprof.fr, a free educational site on which you
can see (in French) more on the Guimard Synagogue and La Grand Mosquée. On the home page, scroll down
to Histoire de Paris and click on Des Lieux de Culte exceptionnels.
Join Arthur Gillette on one of his historic explorations of Paris.
Visit our MARKETPLACE page for his Paris Through the Ages Strolls.


---
Our Readers Write about France . . .
Some time ago, we asked readers to submit their own experiences of France to us in the form of short articles
~ photos included ~ so that their time in France can be shared with all our subscribers.
We're looking forward to receiving yours!
Here are the third and fourth of such vignettes submitted by Cathy Russell from Wisconsin
who has visited France seven times since 2000. We hope you enjoy it!
RENTING AN APARTMENT IN FRANCE
Choosing to rent an apartment for a week in a little-known French town affords us a chance to pretend we are natives ~ at least partly. When we were so graciously hosted by Dirk and Isabelle at their gîte in Carpentras, we were charmed by the accommodations.
Our half of the stucco-covered bungalow was decorated in blue, white and sunny yellow romantic Provençal style and included fully equipped living, dining and kitchen areas, as well as bedroom, bath and laundry facilities. The covered porch contained a barbecue and outdoor dining set for four. A well-kept pool was a stone's throw away, and we were invited to use it freely. Apricot trees heavy with fruit were near the road, and we were encouraged to take full advantage of them as well as the flowers and herbs growing near our door.
But the most luscious treat was the view. Our porch was less than ten feet from a vineyard ~ the farmer's pink, two-story house with worn blue shutters at one end of the vines, and the hazy purple form of Mt. Ventoux in the distance set against the bright blue sky.
That week was hot in Carpentras; the cicadas' songs rang from the trees like they were programmed to 'come on' during precise hours. My husband joked that since no one ever saw the cicadas, they were probably really just speakers, put in the trees to broadcast a recorded sound as part of a massive plot to fool the tourists into buying cigale souvenirs!
continued on page 3