IN THIS ISSUE:
Have Credit Cards, Will Travel
~ Some tips to save time and money
Paris Enigmas
Ici et Là
Parisian Religious Buildings
Off the Beaten Track
by Arthur Gillette
Our Readers Write about France
~ Renting an Apartment in France
~ Irresistible Crêpes
by Cathy Russell
Daily Life in 16th Century Paris
~ as Portrayed by the Plan de Bâle
by Arthur Gillette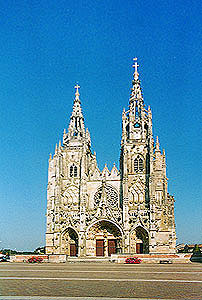 The Basilica Notre-Dame de l'Épine
FEATURING: Champagne-Ardenne
~ the département of La Marne
Up, Up and Away
~ hot air balloon rides in France
Notes from Narbonne
~ the Winter of 2009 and Wine Notes
by Marlane O'Neill
French Wine Report
~ Expats and their Vineyards:
How they have helped drive the
market for Provençal wines!
by Anita Rieu-Sicart
There are hidden credit card fees and money-saving tips that every traveler should know about before boarding a plane for a foreign destination. If you plan ahead, you will save yourself money, time and aggravation.

the most important phone call you may make before departure is to your credit card issuer. Ask them what coverage you have if you use the card to rent a car. If you will have full coverage, do not take the rental agency insurance. It could cost you as much as the car rental fee itself, and if you take the agency insurance, your credit card insurance will be invalid.


and, tell the person at the credit card company that you will be out of the country, what countries you will visit and the dates of departure and return so they will not put a hold on your card believing it was stolen.


check with your homeowner's insurance carrier to find out what they cover when you are traveling. Some policies cover your personal belongings no matter where they were when they were stolen. Your car insurance will most likely not cover such occurrences.


rent your car from home either by phone or online. Get a written confirmation sent to you while you are still home. Take it with you to the rental counter when you pick up your car to be sure you and the agent know the agreed upon price. Be sure to initial and/or sign the rental agreement noting that you will not take their insurance if your credit card covers you.


most credit card issuers (banks) tack on fees when you use your card internationally. These can go as high as 4% of each purchase, and you receive nothing in return. These are in addition to the currency conversion fees. There is a 2% or 3% fee for the privilege of using your card overseas, and there is another 1% charged by both VISA and MasterCard added to that. If you are away for several weeks or longer, you will come home to a credit card statement quite a bit higher than you expected.


Capital One does not charge any fees for using your card in a foreign country, and they absorb the 1% VISA and MasterCard fees as well. Charles Schwab Bank offers a VISA card with no transaction fees and puts 2% into a brokerage account for you. These cards are very much worth considering before you travel.


Capital One has no annual renewal fee, you earn a mile for every dollar spent, the miles have no blackout dates or seat restrictions, and you earn 2 miles for each dollar spent if your monthly balance is over $1000. There is no limit to miles you can earn, and they don't expire. New accounts are now being offered 0% APR until January 2011 according to the CardRatings.com web site. For more information on the Charles Schwab Bank VISA card visit Bankrate.com.


using ATM machines for cash advances also generate fees for 'borrowing' the money on a credit card, and a foreign exchange fee on either a debit or credit card. However, this is the least expensive way to get cash advances. Avoid change kiosks and exchanging money at airports!


using ATM machines for cash advances requires a pin number for both credit and debit cards. Note that you cannot use either of those cards in an ATM machine in Europe if your pin number is longer than 4 digits.


some card issuers also charge you a fee if you make a purchase from home from a web site that uses a foreign bank. When purchasing rail tickets, for example, we suggest you use the Rail Europe web site in your home country. In the US it is http://www.raileurope.com. From there you can find the web links to Rail Europe sites in Australia, New Zealand and other countries. You will pay for your tickets in your native currency, and tickets can be sent to you at home before your departure.


take some euros to France, if only to have enough money on hand for your first day or two for the taxi from the airport, a quick trip to the local grocer or for a cup of coffee at a brasserie on your first day in Paris, for example. Hold onto some euros at the end of one trip to take with you on your next visit. Not everyone accepts credit cards. This is common in the countryside at bed and breakfasts, for example; find out in advance so you are prepared with enough euros on hand. Travelers checks are not always welcomed, and, personally, we haven't seen anyone using those in a long time, although they probably are.


always purchase Trip Cancellation and Medical Evacuation insurance! It is inexpensive and probably the best investment you will make before traveling. Most policies cover lost luggage and expenses involved in delayed flights as well. All the major travel insurance companies have web sites where you can compare the coverage and prices of different policies online.
We hope this information has been useful, and we suggest you do your own research on the credit cards you plan to take to France on your next trip. [Our apologies to readers outside the US for whom some of this information does not necessarily apply. We have no interest, financial or otherwise, in the credit cards suggested above nor with Rail Europe.]