by Anita Rieu-Sicart
- Editor, Var Village Voice

Expats and their Vineyards: How they have helped drive the market for Provençal wines!


The gentle stream of expats settling in Provence over the past decade has become a steady river. Not surprisingly, they fell in love with the hidden valleys, rolling forests and vineyards of this historic region. As many of them are wine lovers and imbibers, quite a few have been prepared to invest in the greatest of dreams ~ for scratch the surface of any passionate wine aficionado, and you'll likely find one who dreams of having his own vineyard.

The Var is an incredibly beautiful region, still one of the most densely forested départements of France, abounding in wild boar which the local farmers go out to shoot on winter mornings, and it is transected by hundreds of small to only slightly larger vineyards, many of them boasting lovely 18th century bastides. The Maison des Vins in Les Arcs represents over 600 of the Côtes de Provence vineyards alone, and then there are those of Côteaux Varois, Côteaux D'Aix, Bandol and others.

However, the Provençal wine region twenty years ago was a totally different scene from what it has become. Then it was ignored and despised by other regions, wine lovers and critics alike, for it did indeed produce mainly 'plonk' ~ hearty vin de pays, reinforced with robust reds from Algeria. Then the EU put a full stop to imports from Algeria and encouraged the vignerons to pull out their old vine stocks and replant with AOC approved vines. The turnaround took awhile to happen, but it also coincided with the arrival, partly Peter Mayle-inspired, of thousands of expatriates, mainly from the UK, but also from northern Europe and North America, most of them devoted wine buffs.

Skip to the present, and you now find Provençal Rosé eliciting great respect, and in fact outdoing other regions of France in export sales figures. Not only has the overall quality of Provençal wine improved out of all recognition, fueled by much greater investment and technological know-how, but also the stream of expats, the new residents, coming from many places around the globe has contributed their technical expertise. This, allied with new ideas on marketing, has played not an inconsiderable part in the total turnaround of the region.

The Nielsen Company recently released a report showing a 28 percent jump in imported rosé sales in the United States in the past year ~ a category led by France (with 28 percent of the world's rosé production) and specifically, Provence. The growth in imported rosé sales is nearly eight times faster than the overall growth of wine sales in the U.S.

Château de Berne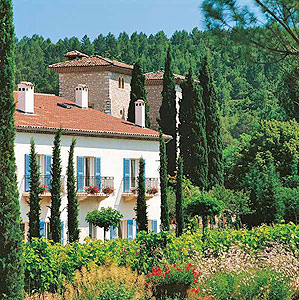 Londoner and self-made millionaire, Bill Muddiman, had a large hand in improving the marketing of Provençal wines. He started his climb up the financial ladder from his family's Fulham vegetable shop, and after twenty years of success in a variety of pharmaceutical-based businesses, from his then base in Monaco he decided to follow his biggest dream: to buy his own vineyard.
In 1987 he bought a run down domaine, the Chateau de Berne, set in 1,500 acres of vineyard in a secluded valley a short distance from Lorgues. He invested heavily, buying and clearing land, replanting better quality vines and building a state-of-the-art winery and wine cave ~ based on his knowledge of the wine producing businesses to be found in South Africa. He also built facilities for entertainment, a mini outside amphitheater for classical and rock concerts, venues for wedding receptions, dinner dances and conferences, finally completing the plan with a luxury nineteen room Auberge.
All this came as a distinct shock to the traditional vignerons in the region. I had come to live nearby just a few years before and listened to the dark mutterings from locals of the "Disney wine up the road". But, it was very clever marketing, and in no time at all started to pull in wine buyers from all over. I well remember attending the first Sunday Jazz Picnic ~ it was me, the musicians, and the help. However the audiences grew, and now it is hard to get a reservation.
Since then, a lot of other wine domaines up and down the region have copied his initiative, and come summer the region is literally bursting with "Jazz in the Vineyard" concerts of all sorts.
Bill sold Berne just a couple of years ago to another British self-made millionaire, Mark Dixon, of Regus, who had also started his career at the age of 16, but with a sandwich delivery service. Mark has taken up the baton from Bill, extended the facilities and is now marketing Berne wine in square bottles, having found from an experiment a year or so back that selling a rather good Viognier wine in a special bottle resonated with the public.
Grand Cros and 'Jules'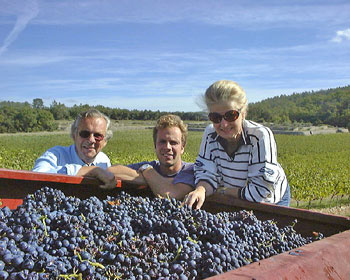 Retired Canadian diplomat and businessman Sir Hugh Faulkner and his English wife, Jane, an artist and cartoonist, bought the run down Grand Cros domaine in 1989 and spent the next few years investing in the domaine and restoring its dilapidated but very lovely Provençal bastide into a home. In the meantime, their eldest son, Julian, completed a masters degree in Bordeaux and took over the management of the domaine, which now produces some classic Provençal wines including a rather nice sparkling rosé. One of their rosé wines was chosen for the banquet at Windsor Castle celebrating the Queen's Golden Jubilee.
Julian, the younger generation, is combining his running of the family domaine in the traditional style with a new approach, having created his own brand just five years ago which allows him to experiment more widely. He buys in from neighboring wine producers ~ many of them small producers ~ sourcing the best value and quality and offering good value wines for drinking pleasure, marketing them under the "Jules" label.
He is also embracing new technology, a computer-linked weather station for the vineyard, and other advances. Meanwhile, he embarks on sales trips from Hong Kong to New York, offering tastings, and has put the "Jules" brand out there in computer ether, on YouTube™, which he tells me creates considerable traffic. He has also taken part in a documentary on wine making.
Château de Miraval
American Tom Bove, formerly a desalinization engineer, bought the very lovely Miraval estate some years ago and invested heavily, restoring a terraced hillside that dated back to Roman times. He planted hundreds of olive trees and replanted vines. Tom has concentrated on improving the quality of Miraval wines and growing organically, so that they now win prizes in all the major wine tastings, establishing a huge reputation both with the public and the restaurant trade. Miraval estate is part of the Correns commune which is now the first biological and organic commune in France.

It did Miraval ~ most noted for its white wine and a totally fairy tale estate ideally suited to the seclusion required by Hollywood's most famous couple ~ no harm when he leased it to the 'Brangelina', Brad Pitt and Angelina Jolie. Wine sales went through the roof. In fact, it really put Provençal wines on the world map!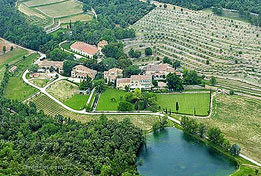 Now he has plunged his considerable technical expertise and energies into restoring another neighboring domaine, that of Mascaronne, and is replanting vines, investing and improving, organically of course. He too, like so many others has fallen in love with the terroir, that slightly mythic quality that Provence has in abundance, as he told me "you can walk all over just one parcel of Syrah vines, tasting them, and they taste just slightly different in several locations!"
Several other expat domaines are following in Tom Bove's footsteps, striving for better quality wines, with minimal environmental impact, and utilizing and embracing totally organic farming methods.
Château de Miraval
Domaine de La Brillane
Another vineyard run on strictly organic lines is that of Domaine de La Brillane, outside Aix-en-Provence, facing Cézanne's beloved
mountain Sainte Victoire. Rupert Birch, a retired London investment banker, bought this small vineyard of ten hectares in 2000, and from then on found himself in a totally different life cycle and struggle. As he recounts, when he came to the domaine there was little but a small shed, so they had to hide the tractor in the forest every night. Reality bit one morning when he woke up to the realization that there were 40,000 vines to be pruned soon!
He has since built his home and a very comfortable chambre d'hote offering 5 bedrooms. He produces only red wine, of very good quality, and exports nearly half of it to Japan and the far east.
Domaine Piqueroque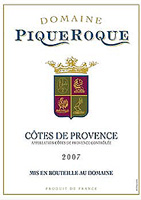 The Piqueroque Domaine near Flassans is run by Max Hubbard. He and his family bought the domaine in 1999 when the grapes were just being sold to another vineyard. They started their own marketing and wine production and now produce 100,000 liters from eighteen hectares of vines, much of it in bottles, but with a proportion in BIB (Bag in Box vacuum packed) and export 25%. Max started in the wine retailing business in Oddbins in London, before doing a year in Australian vineyards and at one large winery, Brown Bros.



St-Marc des Omèdes
Yet another small domaine is that of St-Marc des Omèdes, just outside Lorgues, run by ex-IBM'er Lindsay Phillips. It only boasts around three hectares, but Lindsay is very hands on in his approach and delights in producing a nice quality wine for a reasonable price. His wines can sometimes be found in London at Berry Bros. & Rudd.

Lindsay Phillips during the vendange at St-Marc des Omèdes
Promoting Wine in Provence
Another expatriate who has contributed greatly to the Provençal wine scene is wine writer, Ian Parkin, who writes a monthly wine column for the monthly English language magazine, VAR VILLAGE VOICE, which circulates throughout the Var. A disciple of Adam Bancroft (MW), Ian takes no prisoners, writing knowledgeably and very informatively about the wines of Provence, which hitherto, had been very largely ignored by wine critics per se. Sarcastic, acerbic, witty and downright hysterical, delighting in puns, he makes merciless fun of the great and good and snobs of the wine world, but keeps his criticism always finely tuned to what is going on in the region. His tasting revelations are valued and sought out by his readers. Several years ago, he and his partner Juliet ~ she takes the notes and keeps up the voluminous files on every vineyard he has visited ~ wrote an extremely helpful book, 100 Top Vineyards in Provence, which is unfortunately out of print and copies of it are treasured like gold dust.
American Mort Rosenblum, journalist with Associated Press, and war correspondent who had covered wars from Biafra to Afghanistan, came to Provence and the Var some years ago, not to buy a vineyard but a dilapidated bastide and an even more dilapidated olive orchard not far from Draguignan. He, like so many others, fell in love with Provence and then spent every spare holiday not only restoring the bastide but reclaiming the hundred year old olive trees on his land. It took him some years, but now he and wife, Jeannette, quite often entertain their friends and guests at Christmas, letting them help with the olive picking. He wrote the story of his olive grove in 'Olives', which won the James Beard award. Now, he travels between the USA and Provence, writing and lecturing. [www.mortrosenblum.net]
Just recently France's Minister of Tourism, Hervé Novelli, came to visit a Var domaine to talk about Wine Tourism. Wine Tourism is not yet up and running, but it will be in the not too distant future. The vineyards of this region have always welcomed visitors, asking them in to taste their wines, and one can happily wander the region tasting and slurping away to one's heart's content. Every vineyard is a revelation, even those cheek by jowl on the same hillside will produce wines with ever so delicately nuanced differences.

---
This March there are two major Rosé wine tasting events happening in the USA:
March 1 - An Evening in Provence tasting and dining event at the New York's Brasserie Cognac on Broadway, celebrating great rosé wine from 26 vineyards paired with great Provençal food. (Reservations: 1.212.757.3600)
March 4 - in Los Angeles a wonderful Evening in Provence tasting event. (Details not yet available)
So, if you, too, feel that incredible tug and desire to own a vineyard, there is a heart-achingly beautiful restored 18th century Provençal bastide with eight hectares of vines and 1200 olive trees up for sale not too far away.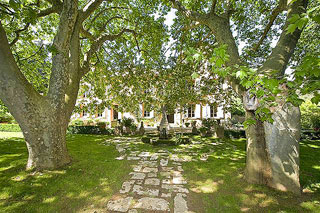 18th Century bastide with vineyard and olive grove for sale
There are superb wine tasting centers at:
Maison des Vins (Côtes de Provence)
Route Nationale 7
83460 Les Arcs sur Argens
This incorporates an excellent shop showcase
for the over 600 vineyards of the Côtes de Provence region.
It can also offer seminars, tastings and vineyard visits.
(33) 4 94 99 50 20
www.caveaucp.com

Maison des Vins (Côteaux Varois en Provence)
83170 La Celle
(33)4 94 69 33 18
Fax: (33)4 94 59 04 47
Offering visitors wine tastings of the many Côteaux Varois wines.
In addition, it is cheek by jowl with Alain Ducaisse's restaurant
Hostellerie de l'Abbaye de La Celle, worth a gastronomic pilgrimage in anyone's book.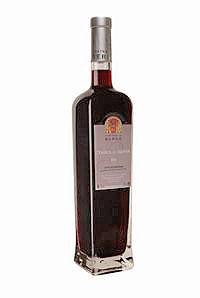 Côtes de Provence Sainte Victoire Tasting Centre
(Vinoteque)
1 Boulevard Etienne Boyer
13530 Trets – Provence
(33) 4 42 61 37 60
fax: (33)4 42 54 68 85
This visitors center has a wine tasting cellar for Côtes de Sainte Victoire wines
that are selected weekly, Monday through Saturday, together with a wine shop.
There are off-site tastings and free guided tours of vineyards and cellars on Saturday mornings.

Useful web site: The Côtes de Provence syndicate at www.provencewineusa.com
Château de Berne's popular square bottle
Anita Rieu-Sicart is the publisher and editor of the monthly
English language magazine VAR VILLAGE VOICE circulating throughout the Var.
Please visit her web site: www.varvillagevoice.com for more details or to subscribe.
[Photo credits: © Anita Rieu-Sicart 2009-2010 unless otherwise noted. All rights reserved.
Mouse over photos for additional descriptions.]

---
DISCLAIMER: You have received this newsletter because your email address is on our Opt-In mailing list, i.e., you have requested to receive FRANCE On Your Own ©. If you would like to discontinue receipt of this newsletter, please send an email to publisher@franceonyourown.com with "unsubscribe" on the Subject line.
Unless indicated otherwise, photos, graphics, artwork and text in the FRANCE On Your Own © newsletter are all the property of Cold Spring Press and FRANCE On Your Own © and cannot be copied, duplicated or used in any manner by anyone without the express written permission of Cold Spring Press. FRANCE On Your Own © is published online by Cold Spring Press, P O Box 26098, San Diego, California 92196-0098. This publication is copyrighted and no portions of the text, artwork, graphics or photographs may be reproduced or distributed in any form or by any means or stored in a database or retrieval system without the written permission of the Publisher. For more information about FRANCE On Your Own ©, visit our web site at http://www.franceonyourown.com.
Recommendations made in this newsletter are based upon the personal experiences of the Publishers or contributing writers solely to provide information to subscribers. Cold Spring Press and FRANCE On Your Own © make no endorsements nor are any guarantees or promises of satisfaction given or implied. Any and all information is correct to the best of our knowledge, and the Publishers accept no responsibility for errors and/or omissions. The responsibility lies entirely with the traveler to obtain current information regarding accommodations, availability, schedules, prices, reservations, or any other pertinent details. We do not guarantee the historical accuracy of the contents of articles in this newsletter. Historical accuracy is dependent upon one's sources of information -- and contradictions often exist among those sources. Links to other web sites or email addresses are provided for informational purposes only and do not imply any guarantees of service or endorsement of any organization or their business practices.
FRANCE On Your Own © is electronically transmitted via email. To add your email address to our database for this FREE newsletter, send an email to info@franceonyourown.com, and please put Subscribe in the subject line. We do not share email addresses with any other organization.
BACK ISSUES of the print version of FRANCE On Your Own © and Free online back issues are available on our web site at http://www.franceonyourown.com/Archives.htm.
©1998-2010 Cold Spring Press All Rights Reserved

---

previous page