Glenn Cooper's Twelve "Babies" - Paris Rental Apartments
by Arthur Gillette
Thirty-nine year old Long Islander, Glenn Cooper, has a ready smile and a
near-insatiable curiosity about Paris where he settled some eighteen years ago.
Arthur Gillette recently interviewed him for FRANCE On Your Own.
A.G. What brought you here in the first place?
G.C. Between my sophomore and junior years at Wharton Business School in Philadelphia, I did an internship with a construction and engineering firm headquartered near Paris, and I lived in a hotel by the Jardin du Luxembourg. I met a whole lot of interesting people ~ it was a good summer and made me want to come back.
A.G. Which you did during the second semester of your junior year...
G.C. You bet! Majoring in finance with a minor in French, I studied 'the psychology of marketing' here and learned a lot.
A.G. And that stint confirmed your Paris infatuation ~ or 'infection'?
G.C. Yes, indeed ~ and as soon as I graduated from Wharton in 1991 I came back. I worked at an international bank for a year, and then became a junior professional at the OECD.
A.G. That's the Organization for Economic Cooperation and Development, an inter-governmental body headquartered in Paris. What was your job?
G.C. I worked as a statistical analyst there for seven years. Interesting enough, but I found the structure a bit too old fashioned and the work done in ways which didn't correspond to my way of handling things. I am a fairly dynamic, hard-working person and the work methods of the typical OECD employee didn't take into account possibilities to correctly use IT systems. Change was looked down upon, and my desire to implement new ideas and systems wasn't always appreciated. Toward the end of those years, I was getting a bit fed up and felt something of a square peg in a round hole.
A.G. What then?
G.C. Well, I really wanted to stay in Paris and was wondering how to earn a living here. I genuinely like helping people and felt that working in a customer service area would suit me well. I started buying some Paris apartments ~ and thoroughly enjoyed, and learned about, the procedures I had to go through to do so. Then I helped some American (and French) friends who were looking to buy, and found that intriguing, too. Soon afterwards, I started renting out my apartments, and it became a successful venture quickly. A bit later I bought a third one to rent and decided to resign from OECD and go into the rental business on my own.
Small is Beautiful
A.G. Wasn't that quite a personal challenge?
G.C. Of course., but certainly not a 'paper and pencil' effort. I think I was among the first to offer online rentals for Paris in English. And, well, wow! It worked! I focused on providing almost-hotel-level personal services in interesting neighborhoods but at reasonable prices. I'm now up to twelve rental apartments (www.rentals-paris.com), and also provide service to people who want to buy in Paris (www.paris-aparts.com). And, after working in a rather large bureaucracy, it's been a pleasure to be a one-person operation.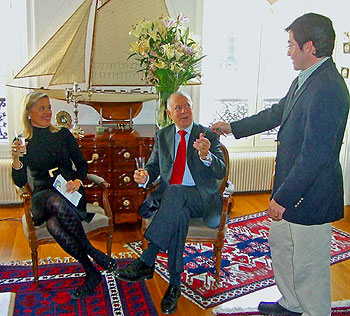 A.G. 'Small is beautiful'?
G.C. Oh, yes! And, frankly, over there years it's been a stress on quality with mostly 'hits' with no 'misses' ~ well, almost no 'misses'.
A.G. For instance?
G.C. I'd furnished one of the apartments with a wrought-iron stand including a porcelain basin and pitcher bought at an antique fair. A lady rented the place and knocked over the stand, smashing both basin and pitcher. Sloppiness and carelessness are behaviors I really don't care for!
A.G. Your most fun?
G.C. I guess it's been physically renovating the apartments I've bought before offering them for rent. I'll never forget the first one: I watched the workman figuring out how to refurbish it, then accompanied him when buying materials to do so and even helped him to do the job. It was probably the first time in my life I'd seen a project through from A to Z. Perhaps I'm over-serious, but I continue to care for my rental apartments down to basic details and services. After all, in a way they're my 'babies'!
For information on the personalized strolls Arthur guides to help Discover Paris Through the Ages,
go to our Marketplace page and scroll down to read all about each one of the, and/or contact Arthur at Armedv@aol.com.


---
SPONSORING THIS ISSUE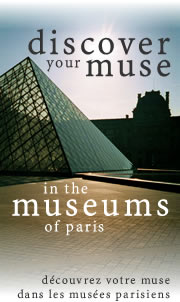 Paris Muse is a personal service to take you to the museums of Paris
with an experienced art historian as your guide. Widely acclaimed by
travelers the world over, Paris Muse can be contacted with a click on the banner above.
---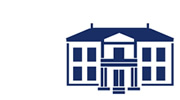 The Bordeaux Wine Experience, specializes in high-end wine and culinary tours in the Bordeaux region for an English-speaking international clientele. We offer small group tours open to individual travelers and private wine tours. We are generally considered the leading Bordeaux wine tour company.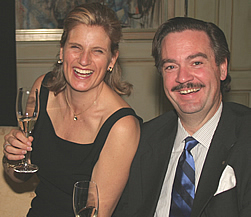 Travelers who tour with us will taste more Classified Growths than on any other Bordeaux wine tour! And, there is more! They will experience Bordeaux like an insider, they will visit and taste at the world's most famous châteaux, they will enjoy great food and exceptional wines, and they will have a lot of fun.
Best of all, the tour activities of The Bordeaux Wine Experience are based at Château Coulon Laurensac. Guests do not stay in hotels but at our private château.
Cheers from Bordeaux and Ronald and Margaret Rens, Wine Masters.




To get more information or to reserve your place in an upcoming tour,
click here to send an email to Bordeaux Wine Tours.
Please put Bordeaux Wine in the subject line.


---
DISCLAIMER: You have received this newsletter because your email address is on our Opt-In mailing list, i.e., you have requested to receive FRANCE On Your Own ©. If you would like to discontinue receipt of this newsletter, please send an email to publisher@franceonyourown.com with "unsubscribe" on the Subject line.
Unless indicated otherwise, photos, graphics, artwork and text in the FRANCE On Your Own © newsletter are all the property of Cold Spring Press and FRANCE On Your Own © and cannot be copied, duplicated or used in any manner by anyone without the express written permission of Cold Spring Press. FRANCE On Your Own © is published online by Cold Spring Press, P O Box 26098, San Diego, California 92196-0098. This publication is copyrighted and no portions of the text, artwork, graphics or photographs may be reproduced or distributed in any form or by any means or stored in a database or retrieval system without the written permission of the Publisher. For more information about FRANCE On Your Own ©, visit our web site at http://www.franceonyourown.com.
Recommendations made in this newsletter are based upon the personal experiences of the Publishers or contributing writers solely to provide information to subscribers. Cold Spring Press and FRANCE On Your Own © make no endorsements nor are any guarantees or promises of satisfaction given or implied. Any and all information is correct to the best of our knowledge, and the Publishers accept no responsibility for errors and/or omissions. The responsibility lies entirely with the traveler to obtain current information regarding accommodations, availability, schedules, prices, reservations, or any other pertinent details. We do not guarantee the historical accuracy of the contents of articles in this newsletter. Historical accuracy is dependent upon one's sources of information -- and contradictions often exist among those sources. Links to other web sites or email addresses are provided for informational purposes only and do not imply any guarantees of service or endorsement of any organization or their business practices.
FRANCE On Your Own © is electronically transmitted via email. To add your email address to our database for this FREE newsletter, send an email to info@franceonyourown.com, and please put Subscribe in the subject line. We do not share email addresses with any other organization.
BACK ISSUES of the print version of FRANCE On Your Own © are available on our web site at http://www.franceonyourown.com/Archives.htm.
©1998-2009 Cold Spring Press All Rights Reserved

---

previous page