Ten years ago we published an article on the Bordeaux region's Médoc peninsula. . . at that time not a very
busy tourist area. Since then, its popularity has grown immensely due to the increased interest in wine
throughout the world, the Médoc Marathon drawing participants from all over the world (this year September 12),
and a new-found interest by travelers to explore this quiet and culturally-rich region of France.
Ten years is a long time to neglect mention of such a wonderful part of France, so we are offering you an
updated version of that article and hope that you will discover the Médoc for yourself very soon.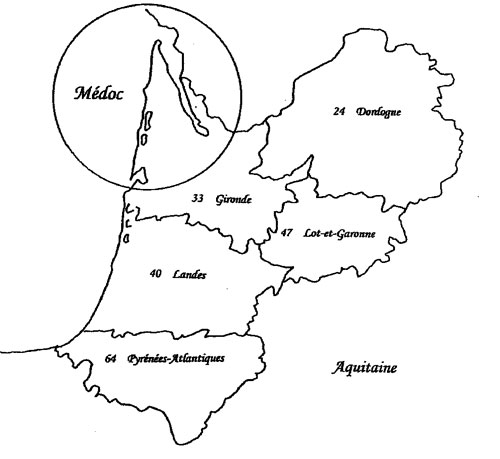 The left bank of the Gironde estuary in the département of the Gironde (33), is where you will find the area known as the Médoc, famous the world over for its red wines. The vineyards of this and the larger region surrounding it were planted by the Romans in the first century. Monasteries took over the vineyards when the Romans departed and, eventually, in the 13th, 14th and 15th centuries, the Plantagenets ruled all of Aquitaine.
The region was important to the English for many reasons, one of which was to provide them with abundant red Bordeaux wine for their tables. Known to this day in England as 'claret', the term originated in monastic times when it was called 'clairet'. The wine of today is much improved over that of Medieval times, as Médoc wines benefited greatly when aging could take place, a process made possible in the 18th century with the introduction of mass-produced bottles and corks. Many of the châteaux in the Bordeaux wine region are still owned by English and Irish families who have been in the business of winemaking for several centuries in this part of France. Médoc appellations are Médoc, Haut-Médoc, St-Éstephe, Margaux, Pauillac, Listrac, St-Julien and Moulis. To quote Jancis Robinson's book, Wine Course: A Guide to the World of Wine [order below from Amazon.com], "the Médoc…and its neighbour and partner the Graves district, produces almost exactly 100 times as much as all the Grand Crus of Burgundy put together."
The Médoc is bounded by the Gironde estuary on the east and pine forests and Atlantic Ocean on the west. (The January 25, 2009 hurricane, unfortunately, flattened some of those pine forests.) The eastern portion along the Gironde estuary from Blanquefort in the south up the peninsula north to Saint Vivien-de-Médoc is planted in vineyards – nearly 260 properties – many of which you can visit. The D2 into the Médoc from the east (Bordeaux) is a pleasant drive through vineyards and small Haut-Médoc villages. We recommend that you contact the Conseil des Vins du Médoc by visiting http://www.medoc-bordeaux.com/ and ask for their official guide; it is an invaluable reference providing the names, locations, appellations and visiting hours of each winery.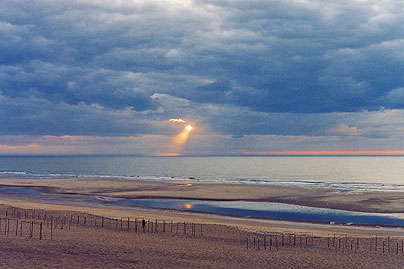 Sunset over the Atlantic at Lacanau-Océan
From the sparsely-populated Haut-Médoc in the south, you can cross the peninsula to discover the beautiful sandy Atlantic beaches. From Sainte-Hélène, turn west onto the D6 and stay on it as it goes around Lac de Lacanau to the coastal town of Lacanau-Océan. Or, drive on the N215 north through St-Laurent-Médoc and Lesparre-Médoc to Pointe de Grave at the northern tip of the peninsula, where you can take a car ferry that makes a half-hour trip across the Gironde to the resort town of Royan in the Charente-Maritime. At Pointe de Grave is a monument documenting the landing of American troops in 1917. Instead of taking the ferry to Royan, we turned south on the D101/D1E to Soulac-sur-Mer to enjoy a delightful dinner across from the beach. Look for the miniature Statue of Liberty as you enter Soulac from the north. This little town has a long history dating back to Roman times when it was called Noviomagus, and the British used Soulac as a landing spot near the end of the Hundred Years War to try to prevent the French from taking Bordeaux. A former Benedictine abbey, the 12th century Notre-Dame-de-la-Fin-des-Terres, eventually buried by drifting sands, has been uncovered and restored – its name means Our Lady of the Ends of the Earth.
Althoughwinemaking is the primary interest of those living and visiting the Médoc, you will also find some very charming and peaceful villages, small resorts and marshlands. The main wine route is the D2 which will take you past such famous wineries as Château Siran, offering free daily tours, and Château Margaux, offering tours on weekdays except August and during the harvest. At Château Siran you can enjoy a tasting and a visit to the cellars, but an appointment must be made in advance. At Château Margaux, you will also have the opportunity to watch coopers building barrels for storing the wine. About two and a half kilometers north of the town of Pauillac on the D2 is Château Mouton-Rothschild, with a chai (above-ground wine cellar) and caves (below-ground cellars) where over 100,000 bottles of Bordeaux wines are stored beneath moss-covered vaulted ceilings. (Caves are very rare in the flat terrain of the Médoc.) Château Mouton-Rothschild also offers a visit to the Musée du Vin de Mouton by appointment. Tours of the winery are also by appointment, there is an admission charge, and they are closed to the public in August.
The Médoc with its easy access to vineyards, beaches, stress-free driving and quiet has become a popular holiday destination. There is even a naturist resort south of Soulac-sur-Mer called Montalivet-les-Bains. Growing in popularity are the lacs - not far inland from the ocean - with sandy beaches offering more safety than the ocean for families with children. There are waterways connecting the lakes together and canal cruises are available. Abundant sports facilities can be found in this region from Bombannes on the shore of Lac d'Hourtin–Carcans south to Lac de Lacanau.
Because of the flat terrain of the Médoc, cycling has become a popular pastime for residents and visitors alike. Bicycles can be rented at very reasonable rates by the day, weekend or week at many locations on the peninsula. Biking through the vineyards on the many access roads is an enjoyable way to spend some time exploring the vines close up. We have some very special château bed and breakfasts to recommend at the end of this article for your stay on the Médoc.
The Médoc peninsula is an ideal location for summer vacations if spending time relaxing on great clean beaches, dining on excellent seafood in beachfront restaurants, taking a few winery tours, and just slowing down are what you want to do. A short day trip to Bordeaux will inject a little urban excitement into your trip, but the calm Médoc with its elegant château wineries may be just what you are seeking – at least for a portion of your next visit to France.
For incredible stays on the Médoc, we highly recommend two châteaus: Château du Foulon and Château Meyre.
Château du Foulon is a 19th century manor house on over 100 acres of verdant and tranquil land - the silence only occasionally interrupted by the plaintive call of the owners' peacocks. Wander down to the pond to visit with the swans, or take a stroll on paths through the thick woodlands of the estate. Excellent accommodations and bountiful breakfasts await you. Click on the link to see and read more. Reasonable room and apartment rates are between 80 and 100 euros per night including breakfast.


Château Meyre is not only a fine bed and breakfast, but it produces its own highly-acclaimed wines. You can stay in the château itself or in the charming annex guest rooms. Breakfast is included in the price, and you may have a tour of the vineyards or tasting rooms. Rooms and suites range in price from 100 euros to 230 euros per night including breakfast.



Of course, tours of the great Médoc wine estates can be arranged from either of these two properties; both châteaux are a brief and easy drive to the city of Bordeaux, and northward they are convenient to all the famed château producers of the region.
[Château photos courtesy of respective owners. All rights reserved.]


[FRANCE On Your Own is not responsible for the content or accuracy of the external web sites to
which links are provided. They are simply offered to provide additional information to our readers.]
---
French Pharmacies . . .
It isn't a rare occasion when a traveler becomes ill or injured in a foreign country.
We have often found ourselves in a pharmacy in France seeking help for a minor injury or looking for a specific remedy.
Over eleven years ago we wrote in our newsletter (then only in print and sent to a smaller number of subscribers)
about pharmacies in France. At this time, we think it is worthwhile to reprint that article for you. Here it is: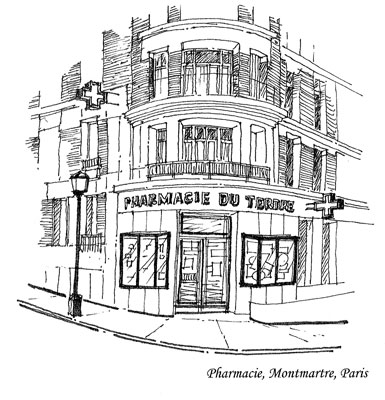 We have entered at least one pharmacy in France each time we've visited there. Once was for a salve for a horsefly bite in Normandy, another to find something for muscle aches. More recently, we tried to have an antibiotic prescription filled for a problem with a tooth. Without a prescription, we've attempted to get some medications, only to learn that we would have to visit a local doctor for an examination first. (Pharmacists in France cannot fill foreign prescriptions, although we have read that a generic prescription from your doctor may be filled in France.) We did opt to have more medication sent from home by FedEx. Having been in pharmacies in every region of France, we can say that each and every one was immaculate, neat and orderly, and the pharmacists were all friendly, knowledgeable and extremely helpful.

Pharmacists in France are well-trained and do not hesitate to provide simple medical advice. In fact, they are expected to! Those we have met spoke enough English to understand our needs, which is very reassuring when you are in some sort of discomfort. Even if you speak French fluently, you may not be able to describe your malady in exact detail. A little English on the pharmacist's side does make it much easier.

Pharmacies carry other products in addition to medication. The sell make-up, sunglasses, bath products, soaps and shampoo, and many carry walking or beach sandals and foot care items. Their stock is very attractively displayed in a clean and professional environment. Unlike the US, they are not mini-department stores with food items, toys, etc. They focus on health and personal care.

A green cross is the sign to look for when seeking out a pharmacy in France. The cross is neon and will be lit if the pharmacy is open. As an added convenience, if the pharmacy you find is closed, a notice will be prominently displayed advising of the nearest open pharmacy - pharmacie de garde. You usually won't have far to go. Most large towns and all cities have multiple pharmacies. Only the small villages have just one ~ or perhaps none at all. Once again, planning ahead is wise.
Bonne Santé!
[Drawing by George Ohanian. Copyright 2009. All rights reserved.]
---