IN THIS ISSUE:
Nine Surefire Ways to Ruin Your European Vacation
by Zeneba Bowers and Matt Walker


Twisted Tongues
~ Challenging French phrases


Ici et Là


Provence Art Exhibits
~ courtesy of the Var Village Voice
by Anita Rieu-Sicart


Restos du Coeur
an article by Arthur Gillette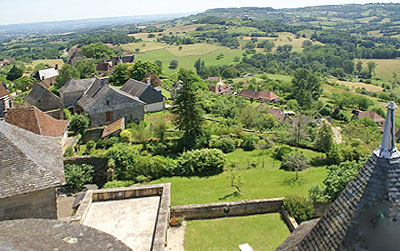 View from Saint-Robert, Correze, Limousin


Featuring the Limousin - Part 2 of 2

~
the départements of Creuse and Corrèze

Nine Surefire Ways to Ruin Your European Vacation
by Zeneba Bowers and Matt Walker


The authors from Nashville, Tennessee, who have mastered the art of authentic,
immersive, affordable travel, share all the things you shouldn't do
on your next European vacation, along with tried and true tips you should try instead.





Introduction



It's finally happening. Your long-awaited vacation is just around the corner, and you're ready to take France by storm! Or Italy! Or Spain! In any case, you've maxed out your suitcases, and you're about to do the same with your credit cards. Soon you and your family will be frantically rushing from one overrated tourist trap to the next and waiting in line to eat at uninspired restaurants aimed at American tourists. You know you'll come back more exhausted and stressed out than before you left ~ but, hey, that's just how vacations go, right?



"Sadly

, this is the way many people travel when they tour Europe," says Zeneba Bowers. "And, it's hard to blame them since most people don't take frequent overseas vacations. When they do, they all tend to make the same tourist mistakes." Bowers, along with her partner, Matt Walker, authors of the

Little Roads Europe

travel guides, make travel an integral part of their lives and visit Europe about five times a year, despite the fact that they are average people with average incomes. In addition to their books, Bowers and Walker also have an Itinerary Building Service for tourists looking for authentic immersive experiences while traveling.



Keep

reading for the couple's no-fail ways to RUIN your vacation ~ followed by their expert advice on how to have an unforgettably great trip!



And now

for what you

shouldn't

do . . .

Opt for a cheaper flight with a terrible schedule.

Walker says, "Speaking as a professional cheapskate, I totally understand the desire to save a few bucks, especially on something as un-sexy as airfare. That said, any joy you feel from depriving the airline from wrenching a bit more money out of you will dissipate the minute you realize you are stuck for an 8-hour layover at JFK airport.

Your time is a commodity,

and you need to think about it like that. If you save the money on airfare but arrive at your destination filthy, frustrated and exhausted, your first day will be a nightmare."
Pack too much stuff.

Do pack your bag so that it is never more than 3/4 full. Include an empty duffel bag or tote in the bottom and a lot of bubble wrap. This will inevitably mean a drastic decrease in clothing, shoes, books and toiletries. You can buy cheap shampoo, soap and other toiletries abroad. And sure, some people might look snazzier than you, with multiple changes of clothes and shoes, but those are folks who are throwing their backs out schlepping their giant bags through the town square at 8 AM. Plan to fill your bag with cheese, oil, liqueurs, wine, grappa, honey and jams. On the flight back home you can check a bag for free, and your bottles will be safely tucked inside the bubble wrap you packed. Take the duffel as a carry on and fill it with your extra clothes, plus breakable non-liquids you bought on your trip.

continued on page 3