Nine Surefire Ways to Ruin Your European Vacation continued . . .

Plan too many activities.

"A packed schedule is one of the premier ways to quickly destroy an otherwise great vacation," says Bowers. "Of course, you want to see as much as you can. But imagine if you applied the same approach to your birthday dinner at a nice restaurant ~ you'd order the filet, AND the oysters, AND a spinach salad, AND the shrimp cocktail, AND the baked brie, AND the stuffed potato, AND the lobster tail, AND the molten chocolate cake, AND the cheesecake, AND AND AND." Bowers admits that it is hard to whittle down all your desires, but it's much more fulfilling to experience a few things deeply that to whip through multiple places and barely scratch the surface.

Try to cover too much distance.

Sure, you can base yourself in Rome and take day trips to Naples and Florence, but that's the equivalent of basing yourself in New York City and doing a day trip to Boston or Washington DC. You

will

encounter traffic, delays, and problems, and creating an itinerary that requires driving like a cross-country trucker is a self-defeating exercise. Instead, pick an area, and give yourself the freedom to explore it ~ to find a great coffee shop or a local artisan, to spend more time at lunch, or to just sit with a drink and people watch. "After all, if you wanted to be on a minute-to-minute, demanding, frustrating schedule, you could have just gone to work," says Bowers.
Hit all the "must-see" destinations.

"Must-see" destinations are always going to be chock full of tourists who are also there because they

must see

them. If you feel like you just can't live if you won't get to see Le Mont St-Michel, go at dawn when no one else is there.

Must see

the David in Florence? Go in January or February. "Just know that popular sites are popular for a reason, and, therefore, will be highly populated, " asserts Walker. "So think about going in the off-off season; or perhaps pick one or two, and then find small town alternatives to the bigger

must see

sights."
"Just wing it" when it comes to meal times.

You don't have to plan every single meal in advance, but if you're in a country like Italy, there can be a wide disparity of food quality in restaurants, especially in the tourist areas. Italy is all about food, and you'll be thanking yourself for doing the research as you site down to a handmade, memorable, locally-sourced meal rather than a plate of spaghetti and meatballs (this dish is not typical Italian fare) in a restaurant with American flags printed on the menu. [Editors note: French restaurant food is usually quite authentically French, but remember that lunch time in a restaurant begins about 11:30 and is over in about two or two and a half hours. You can't walk in at 2PM and expect to dine. In those instances, head for a brasserie which is open all afternoon.] " You can search out a few 'destination restaurants', make reservations from home, and get to know the culture you are visiting through its food, "advises Bowers. "If you need to 'wing it', head to local farm shops or markets or ask locals in a br where they like to eat."

Rack up debt on your trip.

What could possibly be more relaxing than penny-pinching your way through a vacation, imagining how many hours you'll have to spend working once you get home to pay it off? Save up the money you'll need for a trip

before

you go! "I can't stress this point strongly enough, "says Walker. "Get a general idea of what things reasonably cost before you go (e.g. food, lodging, gas) then make a budget. Save the money, and stick to the budget. You don't have to count every dollar, Europe or pound, just be aware that you are in the ballpark. When you get home, if you've gone a bit over, it will be by a few dollars (Eurasia, or pounds!). And you won't be saddled with thousands of dollars in debt to pay off for that 'restful' vacation." [Editor's note: book and pay for rail tickets and reserve rental cars in advance from home. You will pay in your own currency and not be surprised in Europe. Take the email confirmations with you to show you have paid or reserved for a specific price. Book lodging in advance as well, paying any deposits required but know what the total bill will be. Also take those emails along as confirmation. This avoids any discrepancies at the check-in desk!]

View your entire vacation through a phone camera.

For the love of all things holy, put your phone down!!! Unless you are a travel writer or a health inspector, you don't need to document every bite you put into your mouth. No one is going to look at those pictures anyway, including you! Human eyes are much better at capturing scenery and natural beauty than your iPhone, even if it is the latest model. "You're going to see so many things that you want to record for memory's sake, but wean yourself away from having the phone as your only 'recorder', " says Bowers. "What sounds do you hear? Are there interesting scents? What doe the sun and breeze feel like on your skin? Try to put those 'markers' in your brain, and when you get home you will be able to recall these precious moments more accurately and with more pleasure." [Editor's note: Keep a journal! Write down the name of that great restaurant in a village in the middle of nowhere! Take a business card from places you enjoyed. And, take photos and digital movies, but don't let them become an obsession that will make you miss actually seeing what's around you!]

Make a checklist and base your happiness on it.

Don't make a checklist of the things you 'need' to see, ' need' to buy, or 'need' to do while you are on vacation. If you have some really strong feelings about goals you want to achieve, pick one or two, make sure that they are doable (e.g. the sight is open to the public), and get it done. A checklist can be a harsh mistress and a helluva way to spend each precious day you have off. Try to make your goal to learn something new, experience a new place, or find something you've never seen before. Allow yourself the time and space to satisfy your curiosity, i.e., What's down that small street? Make your goal to end each day having experienced something new and feeling rested and invigorated. You'll thank yourself when you get home and years later when you recall the vacation with fondness.

"There

are two distinct ways to visit Europe, " concludes Bowers. " Would you rather your vacation be an exhausting marathon full of crowds, mediocre food and sub par hotels? Or would you prefer to feel that you've deeply experience another culture and taken the time to actually enjoy it? Take it from me, you want option number 2. don't ruin your vacation with rookie mistakes. I promise that you'll be glad you packed light, sought out the hole-in-the-wall restaurants, and kept your head up and your eyes open to really see the beauty around you."
Zeneba Bowers and Matt Walker are travel consultants, owners of LittleRoadsEurope.com and the authors of the

Little Roads Europe

travel guides.
Their first print guide,

Emilia-Romagna, Italy: A Personal Guide to Little-Known Places Foodies Will Love

,

was named a finalist and received Honorable Mention
in the 2015 Foreword Reviews' INDIEFAB Book of the Year Award and a finalist in the 2015 National Indie Excellence ®
Awards.
They visit Europe multiple times each year and their travel focuses on finding authentic, immersive, memorable and affordable experiences.
They build itineraries for clients who want an off-the-beaten-track trip to Europe. When they are not traveling, Zeneba and Matt are
full-time classical musicians in Nashville, Tennessee and the founders of the Grammy-nominated ALIAS Chamber Ensemble.

[Apologies to the authors for our two Editor's Notes, but we felt there was something additional worth mentioning.]



France's

Restos du Coeur: Free Meals and More for the Impoverished



by Arthur Gillette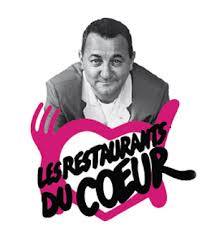 This article covers a subject that was very dear to Arthur's heart ~ a program to provide groceries and/or meals
for the hungry throughout France. We hope you enjoy it and that it reminds us all that hunger is an ongoing problem
throughout the world, even in first-world nations such as France.

When it's winter and cold, and you are helplessly poor, homeless and hungry, where, oh where, can you get something to eat?

In France a positive answer has been provided for three decades thanks largely to the comedian Coluche. Not at all vulgar, his one-man shows hilariously mocked certain moral and political taboos. Down-to-earth Coluche was anything but blind or insensitive to social issues.

In 1985, just after signing a check for several million francs in taxes, he remarked to his secretary-assistant, "Gee, if all the guys with dough like mine made an effort, we could get rid of poor people's hunger." His concern was real and led him to create the REstos du Coeur, which can freely translate to "Heartfelt Eateries".

His first one opened in the winter of 1985-1986, and he formed a non-profit Restos du Coeur association Even after Coluche died in 19986, the Restos took off and have since really burgeoned, growing to some 2,000 centers throughout France and serving 128 million free meals during the winter of 2014-2015.

.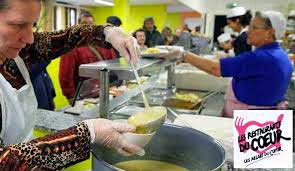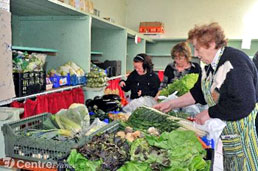 Staffed almost entirely by more than 70,000 volunteers, the Restos du Coeur are supported by various sources including mainly local governments, NGOs, businesses and individual contributions in cash ~ but also in kind, e.g. 34 tons of food products in 2014-2015 for instance. Severe socio-economic difficulties have continued in France, and towards the end of 2014 the National Statistical and Economic Studies Institute estimated at 8.5 million the number of people surviving in the country below the poverty threshold.
This has led the Restos du Coeur to diversify the services it provides. Thus, in addition to free meals, the association helps with job hunting, health services, emergency shelter, legal advice, academic support and toys for children as well as basic learning for illiterate adults.