IN THIS ISSUE:
Changing the Map of France


Arthur Gillette . . . adieu cher ami


Paris' Public Fountains
~ Part III in the series
by Arthur Gillette


Twisted Tongues
~ Challenging French phrases


Ici et Là


Music Now -
Lagrasse Piano Festival En Blanc et Noir
by Robert Turnbull with Anita Rieu-Sicart


La Normandie Réunie

~
Bidding Adieu to 'La Haute' Normandie
by Rob Silverstone



Featuring the Limousin - Part 1 of 2

~
Mainland France's least populous Region, but
not to be ignored!




Village Fleuri sign at Montrol-Sénard, Haute-Vienne, Limousin



Novel Ideas ~ Enthralling Mysteries set in France
Changing the map of France . . .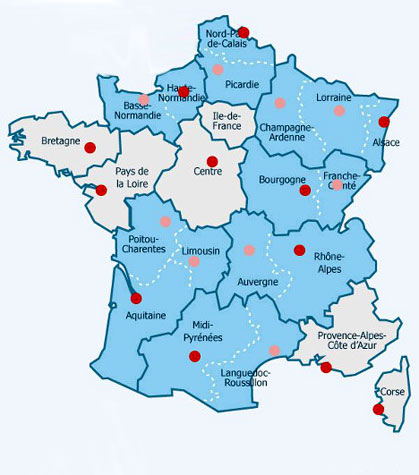 January 1st of this year was the date that the regional map of France was officially altered ~ a move by the
Assemblée Nationale
reducing the number of regions from 22 to 13. There were months of debate, objections, and a lot of redrawing of the lines on the map of France, all for the purpose of simplifying bureaucracy and to save money. Each administrative region is divided into
départements
as before, which, for the time being, will not change. However, as time passes, there may be
départemental
officials who want to join a neighboring region. Only time will tell if that ever comes to pass..
The
changes to the map will in no way alter historical or cultural areas of France, each preserving their own traditions, cuisine, architecture and character. But, it remains to be seen if this territorial decentralization will, as the French state hopes, deliver functions more efficiently. The regions have to abide by laws of the French state, but they continue to have discretionary control over spending, infrastructure, transit, education and tourism among other things.
This
map shows the changes, blending together 16 to create 7 new regions, and 6, including Corsica, shown in gray that were left as they were. The white dotted lines show the former borders, the red dots represent the new or retained regional capitals, with the pink dots representing the former capital cities. There are several mayors of the former capital cities who are not at all pleased with these changes.
Newly
assigned regional capitals are
Rouen
(Normandy),
Strasbourg
(Alsace, Champagne-Ardenne, Lorraine),
Bordeaux
(Aquitaine, Poitou-Charentes, Limousin),
Lyon
(Auvergne, Rhône-Alpes),
Dijon
(Burgundy, Franche-Comté),
Toulouse
(Languedoc-Roussillon, Midi-Pyrénées),
Lille
(Picardie, Nord-Pas-de-Calais),
Rennes
(Brittany),
Marseille
(Provence-Alpes, Côte d'Azur),
Nantes
(Pays-de-la-Loire),
Orléans
(Centre, Val de Loire),
Paris
(Île-de-France) and
Ajaccio
(Corsica). None of these changes should have any impact on tourism.
Be
sure to read Rob Silverstone's contribution in this issue with regard to his views as his little corner of France, Normandy, sheds the designations of
Basse-Normandie
and
Haute-Normandie
to become one region.

Arthur Gillette
~
adieu cher ami
It

is with profound sadness that we mourn the passing on May 26th of Arthur Gillette,
78,
our dear personal friend and colleague. Arthur left the U.S. for France in 1958 to complete his university studies at the Sorbonne after getting his degree in French literature and language at Harvard. He later earned his Doctorate in Education from the University of Massachusetts at Amherst. Arthur was a conscientious objector volunteer with the Coordination Committee International Voluntary Services (CCVIS) under the auspices of UNESCO and lived through the historic student demonstrations of 1968 in France. That same year his comprehensive history about youth voluntary service entitled

One Million Volunteers - The Story of Volunteer Youth Service

, was published by Penguin Books.
His choice to live in France resulted in a successful 30-year career with UNESCO in Paris as Director of its Youth & Sports Division, and he also served as
the editor of the scientific and cultural magazine at UNESCO.


Arthur

worked tirelessly for the poor everywhere and to provide education and other opportunities to children in developing countries. To quote him,

"I strove to continuously favor deeds more than words, i.e., innovative practical results more than time-worn declarations of good intentions."

Arthur was always learning and was not only fluent in English, French and Spanish, but fairly fluent in Russian and Italian with basic skills in German and Portuguese. His most recent linguistic goal was to learn Chinese. Arthur always had a strong attraction to the sea having sailed the Mediterranean and across the Atlantic in a small sailboat. He was very interested in history and politics, had a passion for classical music and, as you all know, he

loved

Paris.



His

contributions to FRANCE

On Your Own

in the past 15 years have been immeasurable. There are no words to express our deep appreciation and thanks for what he has done for our newsletter and for the wonderful friend and reliable expert on all things French that he has been to us. Our heartfelt condolences to Madeleine, his children and grandchildren and all who loved him. We will publish the last few articles Arthur provided in upcoming newsletters ~ we hope it is what he would have wanted.