More about Limoges . . .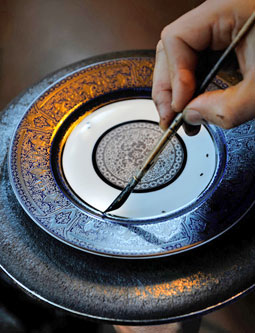 The city of Limoges is perhaps best known for fine porcelain ~ it is synonymous with quality and perfection. Limoges was a well-known center of vitreous enamel production in 12th-century Europe, and in the 1730s some faience earthenware was produced. But it wasn't until the discovery of kaolin clay in Saint-Yrieix-la-Perche near limoges that 'hard-paste' porcelain, similar to that made in China, was possible. They quarried the clay beginning in 1768, and manufacturing was established in 1771 by one Turgot, the newly appointed tax collector for the district which was one of the poorest and most over-taxed in France. Louis XVI's brother, the Comte d'Artois, was put in charge of the manufactory, which was later bought by the King in 1784. Following the French Revolution, private factories were built in Limoges including Bernardaud and Haviland.
You can visit the Haviland Porcelain museum to learn all about the design and production process for a company that has survived since its founding in 1842 by David Haviland.

Remember that the 2016 Tour de France will pass through Limoges on Wednesday, July 6. On that day, the Tour de France, Stage 5, will begin at Limoges and end at Le Lioran in the Auvergne ~ a distance of 216 kilometers. This is the first of the hilly and mountainous days of the Tour, as the riders cross the Limousin uplands and finish in an altitude of about 5000 feet in the ski resort of Le Lioran in the Massif Central.
LE DORAT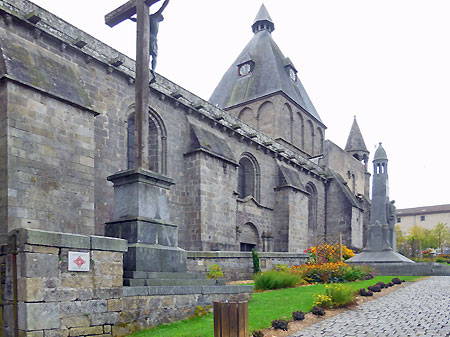 This

commune just north of Bellac, like so many in France, has a long history. In 866 the church of Le Dorat and its monastery were sacked by the Normans. In 980 rebuilding was underway, but it was 1112 that the canons start major construction. It took until 1170 to add the nave, the façade and the bell tower of the transept to what became known as the Collegiate Church of Saint-Pierre. It is one of the most important Romanesque monuments in the Limousin, and its western façade has a distinctive Mozarabic influence ~ a reference to Iberian Christians in Andalusia.
It was intended to accommodate a college of canons, and in the 15th century both the church and Le Dorat were fortified. We are happy that our hostess at Château du Fraisse encouraged us to drive to Le Dorat to see this church, now a

Monument Historique

. It is another amazing structure built a thousand years ago ~ engineered and constructed with decades of labor through dedication and ingenuity.
Le

Dorat has many activities throughout the year from horseracing in June, July and August, a national horse show in September,

son et lumière

(sound and light) shows, craft and Christmas markets, as well as concerts and water sports on the River Brame which forms part of its northwestern border.


< The Collegiate Church of Saint-Pierre, Le Dorat, Haute-Vienne
Oradour-sur-Glane

We will never forget our visit to this small village many years ago ~ a tiny commune left exactly as it was after tragedy befell it on June 10, 1944 ~ a commune today with no occupants, no life at all except for those who come to maintain the memorial. When you visit, you are asked not to speak loudly but to whisper as a sign of respect. General de Gaulle declared that it should never be rebuilt, so a new village is nearby for those who wanted to maintain their ties to the martyred one.



The

town was mistaken for Oradour-sur-

Vayres

where some members of the Vichy regime paramilitary force claimed that a Waffen SS officer was being held by the Resistance. The Waffen SS came into Oradour-sur-Glane, and in a few hours shot and then burned every inhabitant, leaving the village in ruins. In all, 642 French men, women and children were massacred. Quite amazingly, six men escaped.



A

television series,

The World at War

, ended with a narrative by Sir Lawrence Olivier describing event and is the most profound argument against war of any kind. He said,

"Down this road, on a summer day in 1944 . . .The soldiers came. Nobody lives here now. They stayed only a few hours. When they had gone, the community which had lived for a thousand years . . .was dead. This is Oradour-sur-Glane, in France. . . They never rebuilt Oradour. Its ruins are a memorial. Its martyrdom stands for thousands upon thousands of other martyrdoms in Poland, in Russia, in Burma, in China, in a World at War . . ."

This memorial was built to honor those who died that day.
We

are sure there are many people who prefer not to know this piece of history, but it is very important to the French, to those in the Limousin, and in particular the people of the Haute-Vienne. Oradour stands as an anti-war message for all to see, touch and experience.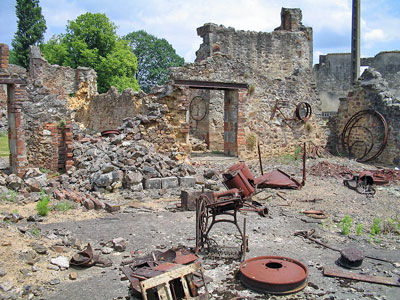 Oradour-sur-Glane exactly as it was found, including the local doctor's car
Saint-Léonard de Noblat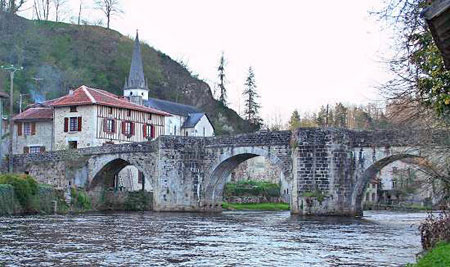 Saint-Léonard de Noblat
is a pretty town, one of those that invites your to explore its streets and alleyways. Here you will find timberframe houses from as far back as the 1400s, the museum that was an important paper mill in town from the 15th century to the 1950s, Romanesque architecture and a collegial church dating from the 11th century. Saint-Léonard de Noblat was a very important town along a Medieval pilgrimage route, Route de Saint-Jacques de Compostelle, and today is a recommended detour for travelers.
Montrol-Sénard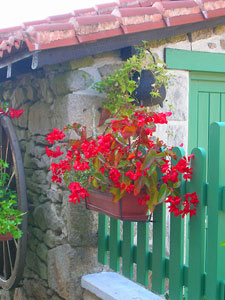 When you travel to France, do you ever find yourself returning to the same places over and over again? That is what we do when we are in the Haute-Vienne. We can't stay away from tiny Mortemart and even tinier Montrol-Sénard up the hill.



Stroll

through the commune only a few minutes drive from Mortemart. Walk past homes, down little lanes, and enjoy the quite silence. There is little history of this village other than evidence of the Romans when rimmed tiles were found nearby. The cemetery Chapel dates back to the 12th and 13th century where the graveyard is filled with white granite tombs.



The

Eglise St-Julien de Broude also dates from the 12th and 13th centuries and is worth a visit. It boasts grand Limousin gates, a massive bell and the original 1730 crucifix.

and, of The Most Beautiful Villages of the Haute-Vienne, there is only one:
Mortemart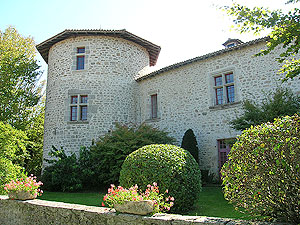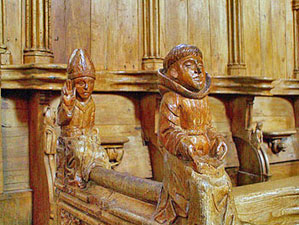 Château des Ducs de Mortemart, an aerial view of Mortemart, and some of the many 15th century choir stalls in the church
Mortemart

has a little hotel with an excellent restaurant, but it also has a small café in the square ~

LeCafé du Marché

~ with young, new owners and a great menu. As you sit outside for lunch (dinner is not served here) you can admire the Château des Ducs de Mortemart on the banks of a swan-filled pond . . . it's just all too make-believe!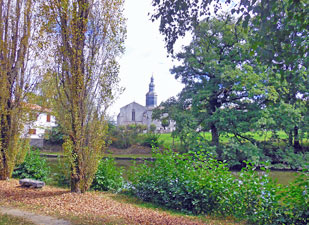 Cat at the Le Café du Marché, The Augustinian Church of Mortemart, and A lovely carriage ride

Mortemart can be traced back to a castle built in 995 AD which was the center of the first village here. Little remains of it today aside from the keep, and it was the 14th century that brought three monasteries to Mortemart, two of which still remain although updated in the 17th and 18th centuries.



The

church of the Augustins boasts the many carved choir stalls as shown above, and has a beautiful altarpiece in the Baroque style.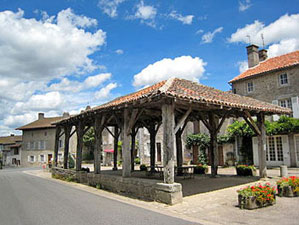 The pond behind the château and the covered market in Place Royale (open Sunday mornings, June to September

NOVEL IDEAS. . .

Fiction with a French twist
We

don't review novels, but want to provide you with a list of several, all set in France, that you might find interesting and/or intriguing. All can be found at Amazon.com; a link is provided below.

The Sea Garden

by Deborah Lawrenson - Set in the Porquerolles off the coast of southern France, this is truly a spellbinding book intertwining three women and three stories ~ between 1943 and 2013 ~ before the puzzle is solved. The author paints a picture of each scene so well that you believe you are there. It is nearly impossible to put down. Harper Collins 2014.

The Dordogne Deception

by Sherry Joyce - The setting is a beautiful château in the Dordogne purchased by a recently-divorced American lady with the idea of opening a bed and breakfast. Her subsequent romance with a guest and a visit from a detective from Scotland Yard somehow tie back to a mysterious death in England. The author received her inspiration for this novel after her calm and restful stay in a Dordogne château was punctuated by lightning strikes! iUniverse Publishing 2013.

French Kisses

by David R. Poe - The author's life has taken him from his birthplace in Buffalo, New York, to Paris and Normandy where he has lived for the past thirty years. Critics have written that his thirteen short stories about the lives of ordinary people one might meet in France "teem with humanity" and that he has "the expatriate's gift for seeing a familiar landscape through fresh eyes". Serving House Books 2014.

The Seven Turns of the Snail's Shell

,

The Blue Amulet

, and

As Darker Grow the Shadows

, form a trilogy of books by MJ Roe.


The first,

The Seven Turns of the Snail's Shell

, was published in 2009 and is a romantic adventure filled with suspense and taking place primarily in Paris in the late 1990s. It follows Anna, an American writer, and her French lover who has a Corsican connection. It won awards at both the Paris and Los Angeles Book Festivals in 2010.

The second,

The Blue Amulet

, published in 2012, is a love story with an intriguing thriller twist, set against the scintillating Mediterranean landscape of southern France. It placed runner up at the 2013 Los Angeles Book Festival.

The latest and third book in the trilogy,

As Darker Grow the Shadows - A Novel of the French Resistance

, published in 2014,

begins as France is bracing for war. Diamanté, who ties the other characters and stories together in all three novels, leaves his native Corsica to join his brother in Marseilles, and the two are soon drawn into the clandestine activities of the Resistance. It is a story of a remarkable spirit of a young man coming of age amid the agony of war. It received Honorable Mention at the 2014 London Book Festival and was a finalist in Historical Fiction at the 2015 IAN Book of the Year Awards.
Any

or all of the above would make great reading at home or on a plane to France, and, of course, thoughtful gifts for those Francophiles in your life.



---

DISCLAIMER: You have received this newsletter because your email address is on our Opt-In mailing list, i.e., you have requested to receive FRANCE On Your Own ©. If you would like to discontinue receipt of this newsletter, please send an email to publisher@franceonyourown.com with "unsubscribe" on the Subject line.

Unless indicated otherwise, photos, graphics, artwork and text in the FRANCE On Your Own © newsletter are all the property of Cold Spring Press and FRANCE On Your Own © and cannot be copied, duplicated or used in any manner by anyone without the express written permission of Cold Spring Press. FRANCE On Your Own © is published online by Cold Spring Press, P O Box 26098, San Diego, California 92196-0098. This publication is copyrighted and no portions of the text, artwork, graphics or photographs may be reproduced or distributed in any form or by any means or stored in a database or retrieval system without the written permission of the Publisher. For more information about FRANCE On Your Own ©, visit our web site at http://www.franceonyourown.com.

Recommendations made in this newsletter are based upon the personal experiences of the Publishers or contributing writers solely to provide information to subscribers. Cold Spring Press and FRANCE On Your Own © make no endorsements nor are any guarantees or promises of satisfaction given or implied. Any and all information is correct to the best of our knowledge, and the Publishers accept no responsibility for errors and/or omissions. The responsibility lies entirely with the traveler to obtain current information regarding accommodations, availability, schedules, prices, reservations, or any other pertinent details. We do not guarantee the historical accuracy of the contents of articles in this newsletter. Historical accuracy is dependent upon one's sources of information -- and contradictions often exist among those sources. Links to other web sites or email addresses are provided for informational purposes only and do not imply any guarantees of service or endorsement of any organization or their business practices.

FRANCE On Your Own © is electronically transmitted via email. To add your email address to our database for this FREE newsletter, send an email to info@franceonyourown.com, and please put Subscribe in the subject line. We do not share email addresses with any other organization.

BACK ISSUES of the print version of FRANCE On Your Own © and Free online back issues are available on our web site at http://www.franceonyourown.com/Archives.htm.

©1998-2016 Cold Spring Press All Rights Reserved

---
---