This column is intended to advise you about cultural events, news and happenings
in France or France-related events taking place in the United States & elsewhere
between now and the publication of our next issue.
In France. . .

o Hélène Darroze, 48, has been named the world's best female chef by Britain's

Restaurant

magazine. Darroze was the inspiration for the fiery chef, Colette, in Disney Pixar's 2007 film

Ratatouille

. Restaurant magazine said that Darroze was "loved and admired" across the industry and is far sweeter than her cartoon counterpart. Darroze is a fourth-generation chef from the Landes region of Aquitaine, trained under Alain Ducasse and opened her own restaurant in 1999. She currently has two restaurants: Hélène Darroze at the Connaught in London where she holds two Michelin stars, and Hélène Darroze, 4, rue d'Assas, Paris, where she has one Michelin star. She was admitted as a Chevalier of the French Legion of Honor by President Sarkozy in 2012.





o

The French Competition Authority followed up on complaints from competitors and travelers that Booking.com was not allowing hotel and property owners to charge lower prices than those shown on its site, even if a person booked in person or by phone. France, Sweden and Italy have disallowed the practice, although owners who use the service are still not permitted to charge less on their own web sites. The French hotel trade association, UMIH, said the agreement doesn't go far enough, stating that "The ability of hoteliers to protect their brand on the web has been shamelessly hijacked by Booking.com." The site still faces challenges elsewhere in Europe and is facing legal action by the French hotel group Accor. The association wants real competition to emerge between online travel agents. ** A recent poll of travelers is showing that there is a reversal in the trend to book with a computerized online booking site, especially with millennials; more and more travelers prefer and are using sites that provide actual people to help them or they are going to travel agents. They want to refine their travel plans with experienced people and make special requests that the automated services just can't provide.




o

Another Cannes jewelry heist

took place on May 5th, a week before the Cannes Film Festival began, this time at a luxury Cartier boutique on the famed Croisette promenade. It is estimated that €19 million in jewelry and watches was taken. The entire robbery by three men, one in a mask and the other two with scarves covering their faces, took four minutes. They then escaped in a stolen Mercedes driven by a fourth accomplice, and the car was later found burned in a residential area of the city. This Cartier store is next door to the Hôtel Carlton which was the scene of a July 2013 robbery when thieves escaped with more than €140 million in gems. There is an ongoing investigation and widespread concern about lack of security.

o

French saboteur, 'Bob',

has died at the age of 92. This secret agent, Robert Maloubier, recruited by the British when he was 19 attempting to reach London from Algiers, was assigned to Winston Churchill's Special Operation Executive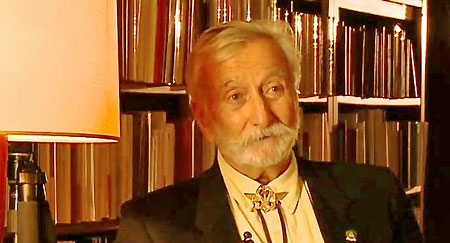 (SOE) during World War II working behind German lines. He parachuted into occupied France and narrowly escaped capture many times. Perhaps his most important mission was to convince the enemy that the D-Day landings would take place at Calais. Following the war, the 22-year old known as 'The French James Bond', joined the French secret service and helped establish their specialist diving unit as well as helping a colleague design the world's first diving watch for the Swiss company Blancpain ~ it later became the official timepiece of the US Navy Seals. Following retirement, he became a writer. One of his many books was entitled, "The Secrets of D-Day", and his last book was published two weeks before his death. He was one of the last two Frenchmen surviving the war to be awarded Britain's Distinguished Service Order, and was made a member of the Order of the British Empire by Queen Elizabeth II when she visited Paris in 2014 for the 70th anniversary of the Normandy landings. It was the second time he met her; he saw her in her Girl Guide uniform in London in 1943!

o

Champagne,

perhaps the oldest ever tasted, was the treasure found in 2010 in a shipwreck on the floor of the Baltic Sea. Studies have been completed and the results published in the American journal, Proceedings of the National Academy of Sciences. After 170 years under water, most likely a fine place for storage, this Champagne is proving to be one of the sweetest ever sampled. The sugar content is about three times that of today's Champagnes, and experts believe that the shipment was intended for the German Confederation (1815-1866). As sweet as it was, the Russians would have preferred it even sweeter! Although the labels had long dissolved, the markings on the corks indicate that the producers were Veuve Clicquot Ponsardin (VCP), Heidsieck and Juglar. Despite high levels of copper and iron in the Champagne (from anti-fungal copper sulphate used on the vines and the nails in the barrels), the Champagne never spoiled. Swirling the wine in their glasses, the experts said that the added oxygen gave the Champagne a pleasant taste and aromas. In 2011 a bottle of Veuve Clicquot from the shipwreck was auctioned for a record €30,000 and in 2012 one bottle from the same shipwreck sold for the equivalent of $18,600.

o The Grand Palais in Paris will host an exhibit of Spanish artist Diego Velázquez through July 13. More information available at www.grandpalais.fr.

o The Musée du Louvre will honor religious painter

Nicolas Poussin

through June 29 in the Hall Napoléon on the 350th anniversary of the artist's death in 1665. Details at www.louvre.fr.

o Napoléon and Paris is an exhibit at the Musée Carnavalet showing the affect the relationship between the Emperor and Paris had on the urban landscape and its influence on other European capital cities. Through August 30. Information at www.carnavalet.paris.fr. [See The Bookshelf for our review of Paris Reborn ~ all about Napoléon's plan to modernize the city.]

o Baux-de-Provence

's

,

Carrières des Lumières

offers a multi-media show providing a new perspective on

Michelangelo, Leonardo da Vinci, Raphael: Giants of the Renaissance

through January 6, 2016 ~ projections of their work will be on the walls of a chalk quarry. For more information please visit: www.carrieres-lumieres.com.

In the US . . .


o Over There! Posters from World War I is the exhibit until June 14 at the Museum of Fine Arts, Boston. Fifty posters from the US and Europe, many of which are being shown for the first time since 1938, include James Montgomery Flagg's famous 1917 poster "I Want You for US Army". Visit www.mfa.org.

o

An American in Paris

makes its debut on Broadway, through November 22, at the Palace Theatre following its premiere at the Théâtre du Chatelet in Paris. For information and tickets visit

www.palacetheatreonbroadway.com

.



In the UK . . . o Inventing Impressionism,

or

How Paul Durand-Ruel Created the Modern Art Market

, explores the role of the man who discovered Pissarro, Degas, Renoir and Monet when everyone else was mocking their work. Organized in cooperation with the Réunion des Musées Nationaux-Grand Palais, the Musée d'Orsay and the Philadelphia Museum of Art, it will be at The National Gallery, Trafalgar Square, London until May 31. More at

www.nationalgallery.org.uk

.

o

The EY Exhibition: Sonia Delaunay

, is the first UK retrospective of the work of this important member of the Parisian avant-garde movement. The exhibit, at the Tate Modern in London, was assembled with the help of the Musée d'Art Moderne de la Ville de Paris, and offers the visitors a look at the artist's painting, clothes and textiles over her incredible six decade career, as well as the results of her innovative collaborations from Diaghilev to Liberty. Details available at

www.tate.org.uk In Switzerland . . .

o

The result of six years

of work and planning by the Fondation Beyeler in Riehen, Switzerland, is an astonishing exhibit of 50 of Paul Gauguin's masterpieces amassed from museums and collections around the world. Through June 28 at Fondation Beyeler. Information at

www.fondationbeyeler.ch

.

PRINT ISSUES OF OUR NEWSLETTER (1997-2003) WITH ORIGINAL DRAWINGS
OF PLACES IN FRANCE ARE BEING PURGED FROM OUR LIBRARY.
Get yours today while supplies last!
Visit our
ARCHIVES
page for a summary
of each issue's contents and how to order.
This offer expires May 31, 2015.

THE BOOKSHELF: Paris Reborn - Napoléon III, Baron Haussmann, and the Quest to Build a Modern City


a book by Stéphane Kirkland
Sometimes
a book just grabs your attention, and you find yourself halfway through it in no time! Usually, this is because it is a gripping tale of mystery but rarely a history of how a failing city was rebuilt because of one man.
Paris Reborn
is such a book, and that man is Napoléon III. We've all heard that Baron Haussmann was responsible for the layout of the streets and style of the buildings so unique to Paris, but truth be told, Napoléon is the person who formed the idea and had the foresight to change a city that had become unlivable. To give credit where credit is due, Haussmann played a major role in the success of Napoléon's ideas.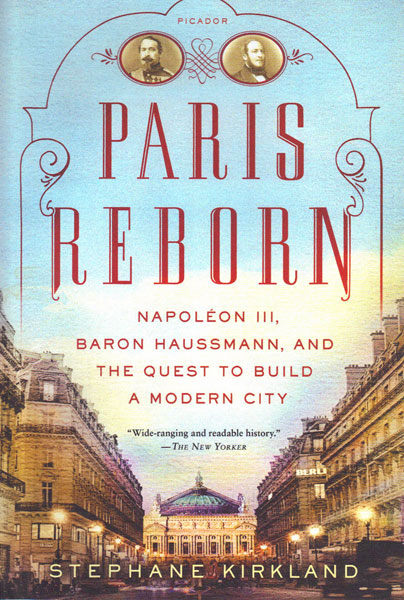 Napoléon III
didn't come to power easily. He fought hard, politically speaking, to achieve control. His famous uncle, Napoléon Bonaparte, had great plans and dreams for Paris, walking the city with painter Jacques-Louis David to see what needed to change, constructing embankments on the Seine, building new bridges, expanding the Palais du Louvre, and erecting a new façade for the Palais Bourbon which was the National Assembly. There was more, but it was all only a beginning. When he relinquished power after Waterloo, everything came to a halt.
Twenty
years passed and King Louis-Philippe came to power and further work took place including roadway improvements and the establishment of a railway network into the city. More than one million people lived in Paris, yet it didn't have the grandeur or the importance of a city such as London. It was, in fact, a dirty city. It needed important structural improvements, and everything began to change for the better when, in 1848, a forty-year old man entered Paris by train who had been exiled for thirty-three years ~ Louis-Napoléon Bonaparte ~ arriving from Bordeaux after having traveled to many places in the world including the United States and England.
This
amazing book, one that is incredibly easy and enjoyable to read and comprehend, tells the story of Napoléon III's rise to power, his clever manipulation of those he needed for his success, and emphasizes what we may not have expected of him ~ he truly cared about the downtrodden, those suffering in Paris from lack of sanitation, housing and jobs, and that he wanted nothing more than to improve the lives of all Parisians and the quality of life in Paris, a city he had come to love. His Second Empire lasted for 18 years, and this book tells us how important to Paris that reign really was.
He
found many bureaucrats in Paris quite insufferable upon taking power, and he knew he couldn't work with them to accomplish his goals. He recalled having met Baron Georges-Eugène Haussmann at a social gathering in Bordeaux and summoned him to Paris. Along with a few other select appointments, this team of two created the Paris we know today, building the crumbling or non-existent infrastructure, installing a sewer system, bringing clean drinking water to the city from the Champagne region, widening avenues to improve the flow of traffic into the city and so much more. Granted, their critics even today decry the destruction of old buildings and neighborhoods of winding, narrow streets, but they fail to admit that those buildings were not fit for human habitation, and the lack of any sanitation left the city with neighborhoods smelling so putrid that it was difficult to spend a moment there.
The

author, Stephane Kirkland, son of an American father and a French mother, is an architect and historian. His perspective is that of a professional who understands how an urban environment works ~ and when it works well. He reminds us that during this renaissance of Paris in the mid-nineteenth century the country experienced three revolutions and many other uprisings. Paris' working-class neighborhoods were wrought with conflict and the people in the cities seemed to have a disproportionate say in the country's political future over those in the countryside. Napoléon strove to improve the living conditions of those working class people while still imposing order on their neighborhoods ~ perhaps even destroying the neighborhoods in the process. He did it for the people, but he also knew that the urban dwellers were important to his political survival. He created government housing borrowing from what he had seen in London ~ much to the dismay of those city dwellers who were expected to appreciate it but were not pleased to have to part with centuries-old traditional homes.



This

book takes us through the political and social strife of both Napoléon and Baron Haussmann ~ what they endured to achieve their grand ambitions. It introduces architect Viollet-le-Duc, a favorite of the royal couple; it outlines the ultimate financial cost of all Napoléon's and Haussmann's projects ~ 2.5 billion francs between 1853 and 1870; and Haussmann's disapproval of financing everything without new taxes on the public. His reputation remained favorable: as recently as 1947 he was described as "the greatest city planner who ever lived."



For

anyone who loves Paris and cannot imagine it looking or functioning in any manner other than it does today, we would probably agree ~ even more so if we had experienced it prior to the changes that took it from a polluted and horrid city to a glowing and architecturally splendid world capital. Bravo to Stephane Kirkland for bringing us this fascinating narrative, especially appreciated by those of us who love Paris ~ a city like no other in the world.