For anyone interested in bed & breakfast accommodations at selected points along the route, the list below might be helpful. Lodging will become scarce, so if you are interested in any of them, please use the contact information soon to check availability. Driving times are given.


VINTAGE CAR TREASURES: Once in a lifetime discovery western France sold at auction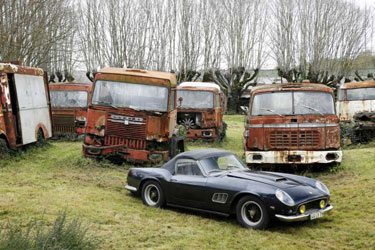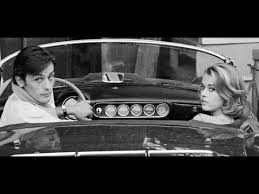 The 1961 Ferrari California Spyder now and then - with Alain Delon and Jane Fonda in movie Les Felins (1964)

Classic car enthusiasts must be beside themselves about the news in December that 60 vintage cars were discovered in western France by Matthieu Lamoure and Pierre Novikoff of the Artcurial Motorcars auction house - in horrific condition in a dilapidated old barn and some other makeshift structures. Left alone since they were brought to the farm between 1955 and 1965, the cars were exposed to the elements and to nature, some with plants growing in and around them! The collector who so casually stored them was Roger Baillon, a transport mogul, who sold off 50 cars of the collection in the 1970s.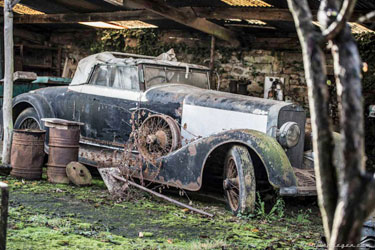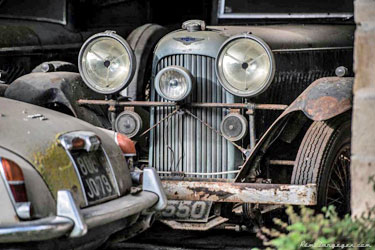 The two men came to the location after hearing rumors about the cars, never expecting to find more than a few old relics. What they rescued from this 'graveyard' includes a Talbot Lago T26s once the property of Egypt's King Farouk, a Bugatti and a Maserati among dozens and dozens even more rare vehicles. Many have said that this is the find of the century.

An auction of the vehicles took place at the Retromobile Salon on February 6th, and each car that sold (only 20 were unsold or withdrawn from the auction) was in 'as is' condition. The one car in presentable condition was a 1961 Ferrari California Spyder once owned by actor Alain Delon and one of only 37 made, and it was estimated that it would fetch €12 million. But, it actually was sold for €16,298,000, the highest price paid for any automobile in the Baillon collection! The total received at the Retromobile Salon auction in Paris for all of Baillon's cars was €25.15 million.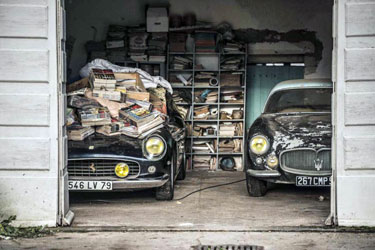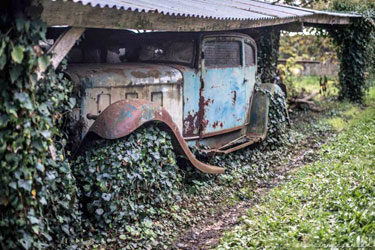 [Photos by Remi Dargegen were taken before the site was disturbed in any way.]






CLASSICAL MUSIC IN PARIS: Some High Spots and Highjinks


by Arthur Gillette

The National French Opéra was created in 1669, and its performances tended to take place at the Versailles Royal Court. But Paris Ville has also long hosted classical music creations and public performances. Anecdotes linked to the people and places concerned make for a somewhat wry understanding of the mainly 19th century classical musical life of the French capital. To be sure, not everything was light and fluffy. The heavy-duty four hour premiere of Rossini's William Tell (remember the Lone Ranger signature theme?) in 1829 signed that composer's decline, for example. In contrast, the Parisian classical music scene also saw lots of surprises, fun and games. A few examples . . .


Le Style Napoléon III

When the Théâtre des Italiens (now Opéra Comique) was built at the end of the 17th century, its main entrance was placed on the modest Place Boiledieu instead of, as expected, the major artery that came to be known as the Boulevard des Italiens. This caused a wag to rhyme:


Dès le premier coup d'oeil on reconnait très bien
que le nouveau théâtre est tout italien,
car il est disposé de telle manière
qu'on lui fait, au passant, présenter le ... derrière!


[translated: At first glance one can see clearly that the new theatre is all Italian because it is laid out in such a way as to present to passersby its ... backside!)


Another music-architecture laugh came when the Second Empire Paris Prefect (governor) Haussmann ran a competition to design the new opera house after Napoléon III narrowly escaped assassination on leaving the badly congested old one. A young architect named Charles Garnier, with little more under his belt than an internship with Notre Dame restorer Viollet le Duc, won. But his ornate project – later dubbed 'an overloaded sideboard' – still had to be approved by Empress Eugénie, a Spaniard who envied the broad boulevards and glitzy new buildings of Victorian London.


"Pray tell me, Monsieur," she admonished Garnier when he presented the design to her, and puckering her lips in near disgust, "what on earth is this style?"


A quick thinker (and realizing that his professional head was on the line), Garnier shot back out of whole cloth, "Why, Sire, it's le Style Napoléon III!"


"Ah, sighed the Empress, relieved, "that's all right then. I can sign."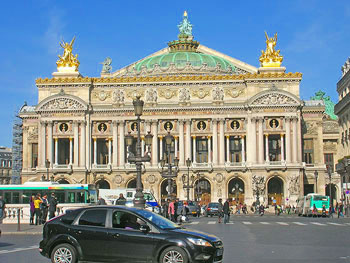 The Opera Garnier

The Avenue de l'Opéra is the only of Haussmann's broad Parisian boulevards devoid of trees, left so on purpose still today to enable admiration of, at its upper end, the recently restored 'sideboard' it took Garnier fourteen years to complete.

Modulate, modulate!

An international Mecca practically from its creation in 1795 for often very young and talented pupils (Saint-Saëns entered at eleven years, Debussy was ten!), the National Conservatory of Music and Declamation (i.e., drama) was the scene of more than one humorous run-in.

Its early 19th century Director enforced a rule against allowing matriculation of non-French. How Belgian César Franck managed to sneak in, I haven't been able to discover. But, the answer to Hungarian Ference (Franz) Liszt was an irrevocable non! The kicker is that the Director in question was Luigi Cherubini, who happened to be Italian. The kicker to the kicker is that Liszt's parents retaliated by renting a Paris concert hall for what was a runaway success by their son, who probably didn't regret not having to suffer through endless course work and boring practice at the Conservatory.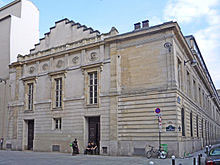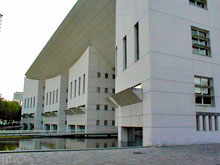 The former and the current National Conservatory
of
Music, Paris
Hector Berlioz was looked on as such a renegade when studying at the Conservatory that his work wasn't performed there; and a plaque honoring him was only unveiled there in 2003! Tradition and innovation certainly vied regularly between these august walls. When Gabriel Fauré became Director of the Conservatory in 1905, he undertook strenuous reforms that earned him the nickname 'Robespierre.'

Teaching a Conservatory piano course, César Franck once shouted a young Claude Debussy, "Modulate, modulate!"

"Why?" retorted Debussy, "I'm quite happy where I am."

Another instructor commented to student Debussy, "I'm not saying that what you write isn't pretty, but it's theoretically absurd."

"Just listen to me play," came the answer, "There is no theory; pleasure is the only law." Another exchange of niceties came between Debussy and up-and-coming whimsical innovator Eric Satie. Taunted Satie on one occasion, "Maître Debussy has always refused the Legion of Honor, but all his music has always accepted it!" Fact of the matter is that, under pressure from his parents, Debussy did accept the Legion of Honor, which didn't prevent him from orchestrating Satie's piano-scored Gymnopédie.

The 19th century Paris classical scene brought music into the modern epoch. Consider Jacques Offenbach: his early works, such as Orpheus in the Underworld and La Belle Hélène, drew on Greek mythology, perhaps partly to disguise his critique of contemporary mores and thus avoid the censor's heavy hand. His later La Vie Parisienne is right up to date, however it opens in a train station! And Bizet's Carmen begins outside a cigarette factory, while Darius Milhaud's Ox on the Roof is set an an American-style bar with a black barkeep! Could have been 2014!
Contact Arthur Gillette to take advantage of his amazing knowledge of Paris
by enjoying one or more of his
Paris Through the Ages Strolls.
Visit our
Marketplace
page for a complete list of strolls and information about Arthur.
Email:
pouchkine38@gmail.com

Recommendations made in this newsletter are based upon the personal experiences of the Publishers or contributing writers solely to provide information to subscribers. Cold Spring Press and FRANCE On Your Own © make no endorsements nor are any guarantees or promises of satisfaction given or implied. Any and all information is correct to the best of our knowledge, and the Publishers accept no responsibility for errors and/or omissions. The responsibility lies entirely with the traveler to obtain current information regarding accommodations, availability, schedules, prices, reservations, or any other pertinent details. We do not guarantee the historical accuracy of the contents of articles in this newsletter. Historical accuracy is dependent upon one's sources of information -- and contradictions often exist among those sources. Links to other web sites or email addresses are provided for informational purposes only and do not imply any guarantees of service or endorsement of any organization or their business practices.