IN THIS ISSUE:
Paris Enigmas
Ici et Là
Paris Focus with Arthur Gillette:
- A Visit to Paris' La Défense
- The Small Museums of Paris
- Discover Select Paris Suburb
Treasures - Saint Denis
Our Readers Write about France
~ The Kindness of Strangers
by Ellie Boutin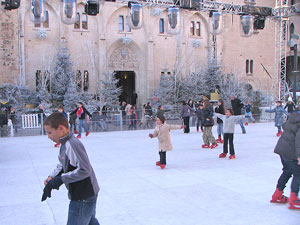 Ice Skating in Narbonne
The Bookshelf:
~ Cycling, Wine, and Men
A Midlife Tour de France
a book by Nancy Brook
Finalists in our Photo Contest
~ Our readers will choose the winner!
Notes from Narbonne
~ Narbonne: How can I miss you if I don't go away?
by Marlane O'Neill
" I met a lot of people in Europe. I even encountered myself."

- James Baldwin

It's hard to believe that we are now in our 15th year of publication! We never thought we'd be able to provide enough information and topics to last this long! But, we underestimated La Belle France. We've come to learn from our many travels in France and through the people who know France from the inside, that it is the most diverse and interesting place ~ from the incredible landscapes to the historical treasures, from the irresistible cuisine to the French themselves. We couldn't have enjoyed our experiences more, and we hope that they can continue to provide us with endless pleasure and enjoyment. We hope that for you, too!

This issue will take a little detour in that we won't be covering a featured region of France. Instead, the space will be devoted to our first-ever photo contest. We received many wonderful entries that took us to France through the eyes of our readers. It was difficult, but we narrowed the final selection down to twelve photographs that we believe say 'France' in one way or another. Some are landscapes or village scenes, others are things that the traveler came upon and immediately saw an artistic composition. All of them, we believe, are worthy of your consideration. Each of you will have the opportunity to vote for your favorite by email. There will be only one winner, and it will appear with a full description and something about the photographer in our Spring issue.

For our readers who find Paris the main attraction when they are in France, we will focus on some of its treasures in this issue and take you to Small Museums of Paris ~ highlighting those little-known places devoted to unusual subjects. We will also visit La Défense, the office complex at the western end of Paris that turned out to be a much greater success than was believed when the concept was first introduced. Last, we will step just outside the city and visit Saint Denis, an unique northern suburb of Paris.

Also, please visit The Bookshelf, to read our review of a travel adventure by one American lady who longed for the opportunity of cycling in France, and she finally took the plunge when her personal life needed a new beginning. Ride along with her from Bordeaux to Grenoble to catch a glimpse of cycling and personal growth in settings that only France could provide.

Last, but not least, we know that a lot of you are lovers of French wines, so you may be quite interested in Vin en Vacances, an article through which you can explore the region of Languedoc-Roussillon for those wines that are becoming increasingly popular ~ and that offer excellent quality for still reasonable prices.

Thank you for subscribing to our newsletter; we appreciate your interest and hope you will recruit your friends and family to join us as well. A subscription is free!
---
Advertise with us on our web site Marketplace page or with a banner in our quarterly newsletters that are posted to our web site for an indefinite period of time. We're happy to report that FRANCE On Your Own received nearly 95,000 unique visitors in 2010 from about 2 million hits. If you have a France-related product or service and are interested in more information about advertising with us, please contact us for details and answers to your questions at advertise@franceonyourown.com.