There are many wonderful trips designed for couples to enjoy, many group tours that make the most of your money and time, but here I'm writing about something a travel agent can't hand you: a personal journey you take to reacquaint yourself with the eager, wide-eyed girl you used to be ~ before you became the person in charge of everyone else's well-being. It's a mission, a spiritual quest. And fun!

You can do it. In France, you can definitely do it. It's safe, clean and welcoming everywhere you go. Even your mother would approve. Strap into my passenger seat for an imaginary first day.

We're starting off from my home base. You'll need one too ~ let's say you've booked the first night at a friendly little inn where you can leave them your itinerary so they know when to expect you back. (There's a perfect one in my village). Because I'm one of those people who want to know every day where I'm going to lay my head that night, I've made advance reservations for almost every night, because once I get the hang of it, I'll feel like being spontaneous once or twice ~ stay an extra night at a place I love, or take a chance at a new place that looks interesting.

Château de Chenonceau on the River Cher
You'll notice we're taking only National (N) or Departmental (D) roads as we ride through France's gentle countryside. We're traveling north to the mouth of the Loire, which will lead us to the most feminine of the Loire châteaux: Château de Chenonceau. As we leave Provence, we start seeing cows instead of goats and sheep in the pastures ~ something you'll remember over your cheese plate tonight. With that thought, let's eat. Keep in mind that, outside of big cities, the lunch sitting is from 12 to 1:30 and the dinner sitting from 7:30 to 9.
Stop in a town or village that looks inviting, park the car and stroll past several restaurants, reading the menus posted in front until you find the one you like. If it has a terrace, you can sit at a table facing out so you can give passersby the once-over. It's a game for everyone, and the passersby dress for it.
You'll be given the carte, which we call the menu. What they call the menu is like the daily special, which gives you one price for several courses, usually an entrée (appetizer), a plat (main dish), and dessert. The menu gets you fresh regional specialties that are on hand and in season. Order it even if you don't know what it is, or ask for the chef's recommendation. Order a glass of vin du pays or a half bottle (50 cl) of wine from a local domaine. Don't do that American thing of substituting two entrées. Just don't.
Now look around. Study your fellow diners (it's a French art form). The friendly middle-aged couple next to you will either honor your privacy or take you under their wing. Profitez! They think you are fabulous for being an American and traveling solo instead of en troupeau like your countrymen.
After lunch you might want to window shop (since no husband is here to steer you away from that chic boutique, or stand outside by the door tapping his foot). Or you might want to peek into the medieval church, visit the pottery museum, or meander through that little park with its splashing fountain and astonishing roses.
Back in the car, you're refreshed and unhurried, because tonight's lodging is just a few hours away, and you'll be there before it gets too dark to enjoy the scenery. Slip in a CD ~ Edith Piaf, Jane Birkin, or our lovely Madame Sarkozy ~ and feel yourself blending into the benevolence around us.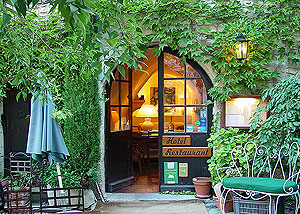 When you pull up to tonight's charming inn, make a note to take an early morning walk. There'll be a petit déjeuner laid out in a cheerful room set aside, but it might be fun to follow your nose to the best-smelling boulangerie and pick up a baguette for the road.
You check in at the desk. They are expecting you. Monsieur or Madame takes the key and leads you up to your sweet little room, chatting politely. You have a double bed plumped with a blanket and quilted spread in pastel tones, and two square pillows propped against the tubular traversin, a bedding curiosity you'll eventually figure out. In your bathroom there's a deep tub and little packets of perfumed bath salts. (There are no washcloths, but you know that's not a French thing and so you've wisely brought your own.)
You would think that after that lunch you wouldn't be hungry, but you are, so you go downstairs and ask Madame to recommend a restaurant, and she calls and reserves you a table at her favorite. Maybe it's a cozy place where the locals gather, and you can do more people watching. Maybe you choose your inn's own little restaurant where you can claim a corner and settle in with a book or write in your journal.
That night, lying serene and chaste as a virgin, you drift off to sleep thinking ~ hey, this has been wa-a-a-a-y easy. Tomorrow, I just might be an enfant terrible and see what kind of mischief I can get into.
La belle France chuckles and wishes you bonne nuit.




Dare to go solo?
Marcia Mitchell is at work designing your personal itinerary:
love Provence and the Riviera, adore Burgundy and the Loire Valley?
Marcia will line up the route for you, dotted with cozy inns, charming B&Bs
or fairytale castles where they know your name, and they're expecting you!
Contact FRANCE On Your Own (please put 'Solo' in the subject line)
to learn more about Your Own Itineraries
and continue to watch FRANCE On Your Own for more details.



Marcia also offers both cooking courses and painting classes from
her medieval village house in Saignon. Several lovely guest rooms
are available for those interested in exploring this incredible village and region of France.
Visit our MARKETPLACE page for more information.
(Photo credits: Marcia Mitchell and Annie Petrov. All Rights Reserved.)

Do you want to order At Home in France by Ann Barry?
Visit Amazon.com below to find the book.


---
Ici et Là
This column is intended to advise you about cultural events, news and happenings
in France or France-related events taking place in the United States
between now and the publication of our next issue.
In France. . .
o Hurricane devastates southwestern France and Spain . . . it has been nearly a decade since incredible windstorms destroyed the gardens of Versailles and the forests of northwest France. On January 25, an Atlantic storm came ashore at Biarritz and left a devastating trail of wreckage and death on its way to the Mediterranean. Nearly 1.7 million French homes lost electricity, transportation was crippled and the huge Landes forests were decimated. Despite restoration of power to almost 900,000 homes rather quickly, there were still an estimated 25 deaths in both countries. Of those who died, at last count four were in France. EDF, France's power company and Europe's largest power producer, restored power as quickly as was possible as many electricity pylons and telephone poles were flattened by winds reaching up to 93 miles per hour. On the telephone front, about 100,000 land lines were cut, and between 25 and 75 percent of the mobile network was down. Army helicopters were used in the Aude region near the Mediterranean to install a temporary power line. SNCF, the French national railway, said that some 1500 kilometers of track were affected by the storm, including some covered by fallen trees near Bordeaux. Perhaps the worst damage was suffered by the forests of the Landes as the waterlogged soil from recent heavy rains allowed the winds to topple up to 80 percent of the trees in some areas. Agriculture Minister, Michel Barnier, said that the fallen trees of the forests will quickly be harvested "to preserve its economic value".
o Paris hosts many exhibits . . . including Serge Gainsbourg, 2008 at the Cité de la Musique though March 1. This man of many talents from singer-songwriter to painter, actor and director, is viewed in this exhibit through photos, film excerpts, recordings and works of art from his collection. For more details, please visit http://www.cite-musique.fr...and don't miss Bonaparte et L'Egypte: Feu et Lumières at the Institut du Monde Arabe until March 20. This show explores the impact his failed military campaign in Egypt had on the scholarly exploration into Egyptology. One hundred years of French-Egyptian relations beginning with the births of Napoléon and Mohammad Ali Pasha (an Albanian considered the father of modern Egypt) in 1769 and culminating with the opening in 1869 of the Suez Canal. For further information please visit http://www.imarabe.org...through March 29 at the Centre Pompidou one can enjoy the Hommage à Ettore Sottsass, the twentieth-century industrial designer and architect who gave the world the bright red Olivetti typewriter. This great designer, who co-founded the Memphis movement of the 1980s, died in 2007. The exhibit presents ceramics, furnishings, jewelry and more. Details at http://www.centrepompidou.fr...and finally, Atmosphere: le Climat Révélé par les Glaces shows how the polar ice caps are affected by climate change and how they influence the world's climate. This exhibition is at the Musée des Arts et Métiers through April 30, and is complete with videos, films and objects of scientific investigation chronicling some 50 years of research and the adventures of researchers at both poles. More information is available at http://www.arts-et-metiers.net.
o Chef Gaston Lenotre . . . died at his home outside Paris on January 8th at the age of 88. Born in Normandy, Lenotre became famous for his desserts, specializing in lighter versions of old favorites. His first pastry shop was opened in Normandy in 1947, and in 1957 he moved to Paris' 16th arrondissement. He eventually expanded his business to an international chain of pastry and catering shops, selling the business to the Accor company in 1985. Today, Lenotre outlets can be found in twelve countries, including the US and Japan.
o Lyon's Musée des Tissus de Lyon . . . will offer Rêves de Papier: Isabelle de Borchgrave interprète Fortuny through April 26. Recently in Venice, this exhibit offers over forty dresses by the Belgian artist, de Borchgrave, made from hand-crafted folded, painted and gilded paper ~ exquisite creations are in the spirit of Spanish artists and couturier, Mariano Fortuny who died in 1949.
o Passing of French director . . . on January 12th France lost respected film director Claude Berri, born July 1, 1934 as Claude Langmann in Paris' 10th arrondissement. Changing his name to resemble his mother's maiden name, Berri was first an actor, making his first feature film in 1966 ~ The Two of Us ~ a somewhat autobiographical story of his childhood as a Jew under Nazi occupation. He is also well-known as a prolific art collector, owning masterpieces by Picasso, Leger, Dali, and others. In 2008, he opened his own gallery in Paris, Espace Claude Berri.
o Andorra . . . the tiny tax-free shopping destination and tax haven between France and Spain is looking for investments in resorts and other enterprises from foreigners ~ for the first time in 700 years! The small independent state, officially and jointly headed by French President Nicolas Sarkozy and Joan Enric Vives y Sicilia, the bishop of the Catalan town of Seu de Urgel, is considered an 'uncooperative tax haven', along with Lichtenstein and Monaco where people have been able to hide their money from their native countries' tax laws. Lichtenstein has recently agreed to open its books to the United States, but Andorra has not. All of this is taking place because Andorra is now, like many countries, in debt and needs foreign investment to help erase or, at least, reduce its budget deficit. Despite it size (less than one fifth the size of the state of Rhode Island) and mountainous terrain, this refuge in the Pyrénées popular with shoppers and skiers, has a population of 83,000 people who are now finding that their retail revenue is falling as is the drop in visitors (it had been 10 million a year), so investors are needed.
o Model and Muse . . . Dina Vierny, died on January 20 in Paris at the age of 89. At the young age of 15, she became the model for sculptor Aristide Maillol and later a model for Henri Matisse and Pierre Bonnard. She was arrested as a member of the French Resistance in World War II. Maillol helped to get her released, sending her to the south of France to stay with Matisse. She also posed for Raoul Dufy, and in her later years became devoted to art, opening her own gallery in Paris in 1947.
o Happy 10th Birthday to the euro . . . Who would have thought back in 1999 that the little-known euro would become a powerful currency, creating a large zone of stability and security for today's sixteen 'eurozone' countries? While the currencies of smaller countries verge on collapse in the economic turmoil we all face, the eurozone had been enjoying lower borrowing costs, easier trade among themselves, a boom in tourism between participating countries, and steady growth among those nations. Of course, Europe is currently facing problems relating to the world financial crises, but is probably weathering the storm better than if each country still had its own currency. The euro was first imagined in 1970 in Luxembourg, and it was launched as the European Currency Unit (ECU) in 1978. On New Year's Day of 1999, the euro, no longer the called the ECU, was launched. The 16 countries in the eurozone now are France, Spain, Italy, Netherlands, Belgium, Luxembourg, Austria, Finland, Ireland, Germany, Portugal, Greece, Slovenia, Cyprus, Malta and Slovakia. The euro is now used by 330 million people with a combined GDP of over four trillion euros. Currently, the Czech Republic, Poland, Latvia, Lithuania and Estonia are trying to meet the criteria to permit them to join the eurozone.
In the US. . .
o Stanford University's. . . Cantor Arts Center announces Treasure Market from March 26 - 29, 2009, with the theme "The Art of Collecting". This is the Center's biennial sale of art, antiques and collectibles, and will now include two evening events before the popular Saturday and Sunday sales. Bonham's appraiser, Alan Fausel, often featured on Antiques Roadshow, is the guest speaker at the Champagne Preview kicking off the Treasure Market on March 26th. The Champagne Review is a view-only (no sales) affair from 6:00 to 8:30 PM with hors d'oeuvres, a silent auction and a panel of experts to give guidance to those in attendance. Sale of all objects begins at the opening night party, Friday, March 27, from 6:30 to 9:30 PM. Tickets are $75 for Cantor Arts Center members and $100 for non-members and include admission to the Saturday sale. Admission on Saturday, 10 AM to 4 PM is $5. Admission is free on Sunday, March 29th. To obtain tickets please telephone 1.650.723.2997. The event is held at the Arrillage Center for Sports and Recreation on the Stanford campus, Galvez Street and Campus Drive East. Free parking is available. For more information visit http://www.museum.stanford.edu/tm or send an email to cactreasuremarket@lists.stanford.edu.
o Ongoing Exhibition of the Auguste Rodin Collection . . . in three galleries, plus outdoor sculpture, at Stanford University - the largest collection of Rodin bronzes outside of Paris - reopens to the public February 18, 2009. In addition to approximately 200 works in the three galleries dedicated to Rodin, including the monumental sculpture 'The Thinker', the Stanford campus boasts 20 works in the Rodin Sculpture Garden, plus the 'Burghers of Calais' nearby on campus. The exhibition is made possible by support from the Robert Mondavi Family Fund. Free tours led by docents are available, and visitor information can be obtained at 1.650.723.4177, or at http://www.museum.stanford.edu.
o Paintings . . . of Pierre Bonnard: Still Life and the Late Interiors at the Metropolitan Museum of Art through April 29, is the premiere exhibition devoted to this phase of his work focusing his use of the bright colors and light of the Mediterranean. Visitors will enjoy a collection of work produced between 1923 and 1947, the year he died. For more information please visit http://www.metmuseum.org.
o Pittsburgh . . . and the Frick Art & Historical Center, present The Road to Impressionism: Barbizon Landscapes from the Walters Art Museum February 7 through May 3. The subjects of the paintings were those seen in every day life and done en plein air long before the Impressionists. The Barbizon School, named for a village near the Fontainebleau Forest, found its place in the art world and gave us such artists as Rousseau, Millet and Corot. More information can be found at http://www.thefrickpittsburgh.org.
o West Palm Beach . . . offers Landscapes from the Age of Impressionism at the Norton Museum of Art. French and American paintings from the late 19th and early 20th centuries are on exhibit emphasizing the connection between Impressionism and the earlier Barbizon and Realist schools. Works of Monet, Sisley, Renoir as well as George Innes and John Singer Sargent can be viewed among others. February 7 until May 10. Details available at http://www.norton.org.
o Circus Art . . . is the theme of Baltimore's A Circus Family: Picasso to Léger, at the Baltimore Museum of Art February 22 through May 17. A major collection of paintings, sculptures and paper art with the emphasis on clowns, acrobats and other entertainers of the genre. More information available at http://www.artbma.org.
o Cézanne . . . comes to Philadelphia in Cézanne and Beyond, an exhibition exploring the artist's career and his profound influence on artists around the world. His paintings are exhibited along with painters such as Matisse, Braque, Mondrian and others who learned much from him. February 26 through May 17 at the Philadelphia Museum of Art. Details at http://www.philamuseum.org.
o San Francisco . . . at the Legion of Honor beginning February 7th is an exhibit entitled Artistic Luxury: Fabergé, Tiffany, Lalique comparing the styles, techniques and marketing to the wealthy. Exhibit runs through May 31. More at http://www.famsf.org.
o The Houston Ballet . . . presents Marie, based upon the life of Marie-Antoinette, featuring costumes from 18th century portraits, powdered wigs, and elegant scenery. Starring Melody Herrara as Marie, this is a new ballet premiering at the Wortham Theater Center. February 26 through March 8. Ticket information at http://www.houstonballet.org.
o The music . . . of Débussy, Revel and Fauré are on the latest CD of The Quatuor Ebène (Ebène Quartet) on a US tour at various venues from March 6 to March 22. Hear the string quartet's contemporary works, some jazz, and familiar classics. To learn more and to see the entire schedule please visit http://www.quatuorebene.com.