A Cultural Exchange - continued

But it was not all fun and games; we had to constantly remind ourselves that we were in fact abroad to study. Of course, going to university in France was always going to be a challenge. I'm not talking about the notorious French administration or their decision to conduct organizational tasks without the Internet, but rather the daunting prospect of being able to understand very little for approximately ten hours each week. However, despite the early nerves (which felt strangely familiar to the first day of high school) I managed to not only pass every subject, but actually enjoy most of them, too. Of particular note was the French art history class conducted by an eccentric and passionate ex-employee of the Louvre. La fac, as it is known, is very different from university in Australia. At home, we're used to sprawling campuses, interactive classes and opinionated writing. In France, scholarly life consisted of a compact, concrete building (which was once an old tobacco factory), 300 person lectures and rote learning. And never at home, would I ever have a day of classes from 8 AM until 8 PM with only two one-hour breaks! But that is part of the rich tapestry that is studying abroad - adapting to and adopting a new life and culture.

However, what remained in the back of my mind throughout the semester was a comment from a history teacher at our first orientation for Lyon 3 University. Surprisingly, he advised us to spend as little time cooped up studying as we could possibly afford. In that typical French manner he wryly advised that we must use all free time exploring the city and meeting the locals. That, he said, would be where the real learning occurs. And he was right. It was through visiting the local markets, wandering the streets like the beautiful rue Auguste Comte and rue Édouard-Herriot, or even just going to the bank, that we met interesting people and learned the language. So too, it was the after school visits to our favorite bakery, L'Epiaison (1 Avenue Adolphe Max), run by a slew of cheery French women who educated me in the art of baked goods and cheese regions.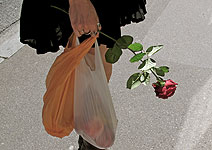 Amelia and Alice on market day in Lyon
This same teacher also warned us that the Lyonnais could perhaps be cold and difficult to 'crack'. But we found that almost all that we met on a day-to-day basis were patient and willing to help. It was one local couple, aged in their sixties or seventies, in particular who offered to take an obligatory tourist photo for us at the Musée Gadagne (1 Place du Petit Collège), though when our camera battery died Monsieur said he would take the photos himself and send them to us. True to his world, a beautifully articulated email entwined with French politesse arrived the following week. It was accompanied by the aforementioned images, which came not only in their original form but also with edited black and white and sepia alternatives.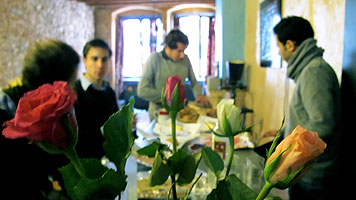 The city of Lyon, the second most populous in France, was perfect for student life. Not only is it beautiful but also it is less daunting and expensive than its famous sibling, Paris. With the towering Fourvière, certainly one of the most beautiful basilicas in Europe, overlooking the city and the two rivers, Rhône and Saône, running through it, Lyon really is a picturesque sight to behold. When we had groups of traveling Aussies friends come to stay, they all commented on how glad they were that we had made them visit us. Otherwise, they mentioned, they would never have thought to add it to their itinerary. Therein lies one of the joys of Lyon - it always felt to us an authentic French town, not too big and certainly not too precious or overwhelming. The size of the city, linked by the efficient métro system, meant that we were able to explore many hidden corners. Lazy sunny weekends were spent shopping at the marché on the Quai Saint-Antoine and were followed by picnics in the Parc de la Tête d'Or or study sessions at the beautiful courtyard at the Musée Gadagne and Café J'Adore (59 Montée de la Grande Côte). As winter came and snow blanketed the city, we switched to toasting our near frostbitten limbs in the charming cafés of the first arrondissement, namely the cozy café librairie Le Tasse Livre (38 rue Sergent Blandan) and the cool café bar, Le Voxx (1 Rue d'Algérie).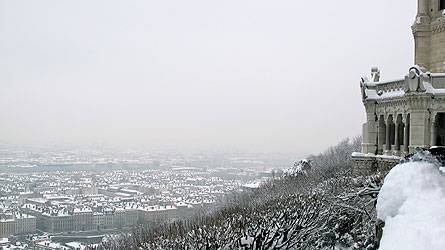 Our time in Lyon culminated with two Christmas festivities. The first in November with our French friends and fois gras and the second on the 25th of December with a group of family-less expats and a distinctly Australian pavlova*. This was fitting as both celebrations perfectly summed up our French life; the juxtaposition between Franco-Australian friends and cultures that somehow fitted together perfectly. I always wanted to study abroad because I thought that the fleeting visits to a place while on holiday rarely seem to be satisfying enough. I wanted to be able to 'live' a new life and to try something completely different. Indeed, the experience surpassed my expectations, and what I was met with were unmatched experiences and lifelong friendships. As we took the train from Lyon to Paris for the final time, I was listening to the Simon & Garfunkel song Homeward Bound. For the first time in my life, I couldn't decide where home really was.
* Pavlova is a lovely, light dessert made in a meringue shell.
Alice Crockett lives in Melbourne, Australia where she studies Media & Communications
at the University of Melbourne. Although she was required to begin studying French at the start of high school,
she quickly became an avid Francophile and has been enjoying the language and all things French ever since.


---
SPONSORING THIS ISSUE
Easily find cars at discount rates at railway stations, airports and in town and cities
by visiting the France Car web site. Reserve your car online at the location most
convenient to you. Wide range of cars and options available. Click on the
above banner or visit http://www.france-car-hire-rental.com/
---
The Bookshelf: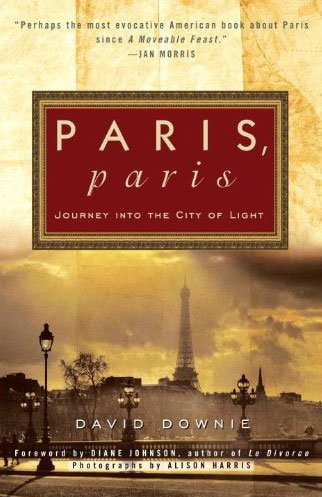 We are often fortunate to be asked to review new books on France and Paris, and even more fortunate when the book perfectly coincides with our next visit. Paris, Paris - Journey into the City of Light by David Downie, is one such book. Re-released in April to a wider circulation than the original, it is a superb collection of essays on this wonderful city from an expat insider who has lived in Paris since 1986. Pronounced 'Paris, Pah-ree', this book gives the reader the sense of tagging along with the author into places, neighborhoods and hidden corners of the city that the casual visitor might never experience.
If you are interested in neighborhoods and special places in Paris, not only for their attractions but for the history behind them, then this is the book for you. Throughout Paris, Paris, the reader explores the city with someone who really knows, understands and loves it ~ along with its foibles, eccentricities and surprises. Read about the regulations restricting the bouquinistes' stalls to a certain size ~ and why. Visit the districts that still encourage artisans and craftsmen, and see how development has driven many out of the city or out of business. Find out where the old cobblestone streets went (not far!) and how pedestrian streets came about ~ and where to find them.
David Downie is someone very well versed in the works of authors and artists who lived here as well as the history of the city. His is not a superficial examination of Paris but rather a deep understanding and appreciation for all that is quirky, unique or enchanting about the city. He has spoken with some of the city's most interesting inhabitants ~ not necessarily people of prominence as much as those everyday folk who bring Paris to life. Reading this book will make you feel that you are part of the conversations.
Although the book has limited black and white photos, they are very good photos by the author's wife, Alison Harris. Our only complaint is that there are not more. Chapter titles are interesting such as A Lively City of the Dead: Père-Lachaise Cemetery and Hit the Road Jacques ~ the author's wry sense of humor is throughout the book without distracting one from the subjects at hand. He is a superb writer with a style that captivates the reader making this one book that is hard to put down.
We recommend Paris, Paris as one of the most entertaining and interesting books written about Paris that we have found. It is perfect for anyone who anticipates an upcoming lengthy plane ride to France. It will make the time pass quickly and enjoyably.
Paris, Paris is available at bookstores everywhere or online at
Amazon.com (click below) or BarnesandNoble.com.

Click here to order
---
`

Winner of our First Annual Photo Contest - continued from page one

As he heard that there is often fog on the Aveyron River that runs in a loop around Najac, Garth set out the morning of July 8, 2008 to the main street of Najac that offers a great view of the castle. He was thrilled to see the fog rising up from the river. A local photographer suggested that Garth go to a higher vantage point. He drove to the suggested location and climbed some rocks, but to get the right angle he had to lean out from those rocks, resting his shoulder on a lamp post that was convenient to take the shot. He knew it was a 'winner' from the moment he took it!

During their stay, he re-visited the location many times but the fog was never as good as that first day.

In Garth's own words:

"I have been a photo enthusiast since I was about 8 years old, using my fathers Kodak Brownie. In University, I was peripherally involved with theatre (my girlfriend was in the theatre) and I shot promo shots that were published in the newspaper. I had my own darkroom and developed in both black and white and color. As with many things, photography fell by the wayside somewhat as business intervened, although it was always a hobby. When we planned to go to France in 2008, I decided it was time for a digital SLR and after much research bought a new camera. As a film guy, digital photography is an amazing world! It took me quite some time to get it through my head that there is essentially every type of film available in the digital camera, and you can change things as you go. I have remained involved over the past few years and have sold some stock photos, large prints and do real estate listing photography. My main focus is on landscapes and outdoor photography, as we live near Calgary, Alberta, and the Rocky Mountains are our playground – backpacking is our favorite recreation.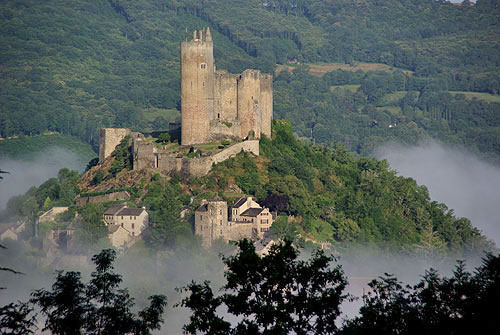 "The photo [of Najac Castle] was taken on July 8, 2008 at 7:59 am, local time. I used a Pentax K10D with a Pentax 18-250 zoom, at 155mm. Exposure was in manual mode, 1/125 sec; f5.6; ISO 100. Shot in jpeg, sRGB color space, Auto white balance. Najac Castle co-ordinates are: 44° 13' 6.48" N; 1° 58' 23.99" E. Elevation is 326 meters.
"The region of France around Najac is full of history, as it seems is all of France. The Cathar presence is everywhere, even though it has been 800 years since that sad episode played out. We toured around the area, visiting Cahors for a blues festival (!); drove over the Millau Bridge – a fabulous engineering spectacle that bridges a valley but the river in the valley is only about 25 meters wide; went to many Plus Belle Villages de France ( Najac is one); were awed by the cathedral in Albi that looks more like a fortress than a church; cheered mightily for the riders of the Tour de France as the Tour came near our home for that month – an event that needs to be experienced to fully understand the communal enthusiasm and good will; shopped on market days at the busy market in Villefranche de Rouergue; toured a Templar village and castle; and were agog at Pech Merle, a prehistoric cave with paintings 30,000 years old. But even with all this, the highlight of the trip was swimming in the local river, the Viaur, with my sons, who were 10 and 16 at the time, going to the boulangerie every morning to get our bread, croissants and pain au chocolat and having the owner greet me as a regular and watching my sons interact with the neighbors children who were a similar age. Language was no problem for them.
"We would go back in a heartbeat. There is more English spoken there than we were led to believe, but I have always found the French people to be exceptionally friendly and willing to put up with one's efforts to speak their language. Our goal was to get to know the 'real' France, not the tourist one. We all believe that we achieved this, sans doute!"