This column is intended to advise you about cultural events, news and happenings
in France or France-related events taking place in the United States
between now and the publication of our next issue.
In France. . .
o In the news:
French first quarter growth rose 1% from the previous quarter (GDP), exceeding economists' expectations. In fact, France's economy grew at the fastest pace in nearly five years, and the GDP number was twice expectations The increase in German GDP as well may prompt the European Central Bank to raise interest rates. But, French consumer prices were up 0.8% in March raising the inflation rate to 2%, with much of the cost associated with increasing food and oil prices.
The European Union celebrated it 54th Anniversary on March 25th, having begun with six nations and now consisting of 27.
Political upheaval in North Africa has seen an influx of refugees arriving in Italy, so the European Commission issued a policy on April 5 to temporarily reintroduce border controls between the nations. The French are dissatisfied with Italy's policy of issuing the immigrants temporary resident permits which give them open access to travel within the 25-nation Schengen zone. Countries are finding it difficult to cope with the number of immigrants coming across their borders, but to date nothing has been officially done to tighten borders. [The list of EU members is not the same as the members of the Schengen Zone which includes Iceland and Switzerland, but does not include Britain, Ireland, Bulgaria or Cyprus.].
Telephone service provider Orange has lost a law suit and must pay a French citizen €64,000 for changing his service to a more expensive plan without his knowledge or approval.
France leads Europe in terrorist arrests in 2010, and the EU's criminal intelligence agency praised France's intelligence services.
Earthquakes are not limited to the Pacific Ring of Fire or the southern Caucasus, as was made evident in Lorca, Spain last week. Scientists now believe that climate change can also affect the movement of tectonic plates. Proof of this has been found in India where stronger monsoons have accelerated the movement of the Indian plate. Two Lorca quakes measuring 4.5 and 5.2 in magnitude occured in the region where the European and African plates collide.
Dominique de Villepin released his plans in mid April should he become France's next President ~ among those are to leave NATO, institute higher taxes on the richest 3% of France's citizens, cut the number of government ministers back from 31 to 10, require large companies to meet a quota for the hiring of young people, require French citizens to do one year of national civic service and to vote, provide a guaranteed €850, up from €466 from the current RSA (revenu de solidarité active) income support for those who work but earn less than €880 per month, and more.
In a similar vein, President Sarkozy announced in March that companies would receive a €2000 bonus from the government for every employee over 45 that they hire. They will also be penalized if they have too few apprentices or young trainees. This is part of a €500 million aid package intended to stop discrimination against workers because of their age.
School bullying seems to be a world-wide problem, and the French have issued a study on the seriousness of the problem for UNICEF. In France it seems that 1 in every 10 primary schoolchildren suffers serious bullying, and it didn't seem to matter whether the school was in a socially disadvantaged area or not.
For the first time since 1992, Michelin's Guide Rouge did not promote any two-star restaurant to three stars this year. The number of restaurants in France holding that prestigious ranking has dropped from 26 to 25 as Michel Trama of Loges de L'Aubergade in the Lot-et-Garonne lost a star. For affordable dining, it was a better year as Michelin's Bib Gourmand added 117 new restaurants, bringing their total to an extensive 601 from which to choose. We were sorry to see Les Florets in Gigondas deleted from the 2011 Bib Gourmand Guide.
The French are investigating fraud charges against three Internet booking sites. Tourism secretary Frédéric Lefebvre has called on the Direction Générale de la Concurrence, de la Consommation et de la Répression des fraudes (DGCCRF) to halt such practices on the sites Expedia, TripAdvisor and Hotels.com. The three sites are owned by Expedia, a former Microsoft start-up, and Monsieur Lefebvre asked the DGCCRF to investigate them in January. He has accused them of conduct prejudicial to both consumer and hotelier. Investigators have said they have evidence of hotels being classed as 'full' when they still had rooms, prices claimed to be promotional when they were normal rates, hotels were classed above their real rating: four-star instead of three-star, and hotel phone numbers were inaccurate. They also had screen grabs showing that after hotels were flagged as being 'full', customers were being directed to another hotel which had a financial link with the internet site. A hearing is set for July 6. [This news item courtesy of The Connexion, France's English-Language Newspaper.]

o A serious drought has prompted authorities in France to make major cuts in water use and consumption, affecting about one third of the country. To see the current map (May 16) provided by the government, a map that is updated weekly, click here: http://www.developpement-durable.gouv.fr/IMG/pdf/11005_carte_limitation_eau_16_05.pdf. At this writing, Brittany and Normandy's Cotentin Peninsula (Manche département) seem to be areas least affected, but one of the hottest and driest Aprils on record in France has parched farmlands and lowered water reserves. France is the major producer of grains in Europe, and the drought will have a severe impact on crops.
o The Musée d'Art et d'Histoire du Judaisme, Paris, will present Chagall and the Bible, an exhibition that will retrace Marc Chagall's creation of his grand series of 105 engravings of Bible scenes, which the artist worked on from 1920 to 1956. The exhibit demonstrates how Chagall used sources, such as the Torah, as his inspiration. Through June 5. For more information visit http://www.mahj.org
o France's independent wine producers are returning to their 'roots', so to speak, and attempting to revive some rare grape varietals in the Gaillac region of the département of the Tarn in the Midi-Pyrénées. They are intent on saving their heritage and wine makers in other regions are doing the same. After finding one solitary cutting at a conservatory, the vintner Bernard Plageole has now ten hectares planted in the rare grape 'prunelard'. So, for wine aficionados, this may be the one to look for at your wine shop in years to come. The rare varieties allow these producers to offer the world something they cannot find anywhere else, and in the highly competitive wine industry, this may be something of benefit to French vignerons.
o Impressionists, 1848-1914. Masterpieces from the Musée d'Orsay at the Hôtel de Ville is the exhibit at the Hôtel de Ville in Paris presenting about 60 impressionist works depicting Paris at the turn of the century, including Manet, Degas, Monet, Renoir and Caillebotte. Through July 30th. Details at http://www.musee-orsay.fr.

o Driving in France is monitored by radar throughout the country, which has helped to decrease accidents and highway fatalities. However, signs are posted warning drivers of the existence of radar enforcement, with a debate presently ongoing in government between those who want the signs removed and those who do not. No decision has been finalized. The use of real radar detectors in your car is forbidden in France and comes with a €1500 fine and the device and car impounded, but you can make use of a GPS speed camera detector installed in the car or a database telling where the cameras are located. Click here for one such site:Speed Cameras in France. Use the map to find out where speed cameras are on your next driving route.

o Paris' Jacquemart-André Museum: Through July 11 see The Caillebotte Brothers' Private World, a new exhibition pairing the paintings of Gustave Caillebotte with the photographs of Martial Caillebotte. Through this juxtaposition of Impressionist paintings and photographs, the exhibition will not only reflect the time period when Paris was embracing new technology in the 20th century, but it will also evoke newly discovered similarities between the two brothers' works. With the help of generous loans from outside collections, the Jacquemart-André Museum will be able to present nearly 150 modern prints of Martial's original photographs, in addition to 35 of Gustave's paintings, some of which will be shown to the public for the first time. Visit the museum web site at http://www.musee-jacquemart-andre.com/jandre/home_en.htm
o Bonnard in Normandy - Artist Pierre Bonnard bought a house in Giverny in 1912, and this exhibit chronicles the years until 1938 when his work was incredibly colorful and rich prior to his move to Le Cannet. Until July 3 you can see this collection at the Musée des Impressionismes in Giverny. Information at http://www.museedesimpressionismesgiverny.com.
o More Bonnard! The Musée Bonnard in Le Cannet (Provence-Alpes-Côte-d'Azur) will open on June 25, 2011. Exclusively devoted to painter Pierre Bonnard (1867-1947), the museum is located in Le Cannet where he spent the last 25 years of his life. It will be located in the Hotel Saint-Vianney, an early 20th century townhouse, and will display the artist's work over four floors. While the space will primarily showcase Bonnard's paintings created during his time in Le Cannet, the museum will also occasionally feature artists who have been inspired by Bonnard. The first exhibition is titled Bonnard and le Cannet, in a Mediterranean Light, which will run from June 26 until September 25. More information at http://www.lecannet.fr (French only)
o Happy Birthday Normandy - In celebration of its 1100-year anniversary, the region of Normandy will host special events, festivals, and more throughout the year to showcase its strong heritage and rich Viking past. Restoration continues on Le Mont St-Michel to sustain its unique marine setting and prevent it from becoming landlocked, and Normandy begins preparation for the 2014 World Equestrian Games. Visit their tourism web site at: http://www.normandy-tourism.org.
o The Musée des Beaux-Arts de Quimper (Brittany) will showcase From Turner to Monet, the Brittany of Landscape Painters, a selection of landscapes of Brittany from the 19th century including Turner, Corot, Boudin and Monet. For further information visit http://www.musee-beauxarts.quimper.fr
o Le Musée Lalique will open July 2, 2011 in Wingen-sur-Moder (Alsace), the first museum solely dedicated to René Lalique's glass and crystal work. Situated in the 18th century glassmaking site where Lalique first started his now celebrated work, the new museum will trace the history of glassmaking as well as display nearly 600 pieces from Lalique. More details at http://www.musee-lalique.com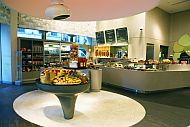 o Paris - Galeries Lafayette, the vibrant Parisian shopping destination recently lauded for having the largest shoe department in the world, just opened a new 100% organic restaurant called Lafayette Organic on the ground floor of Galeries Lafayette Paris Haussmann.
o "Manet: The Man Who Invented Modern Art" will be presented by the Musée d'Orsay in Paris through July 3. This is the the museum's first large-scale exhibit of Edouard Manet's works since 1983, focusing on his paintings from the 1870s, which are now mostly displayed in the U.S. and England. Through a display of 181 works, the exhibit also aims to demonstrate Manet's ties with politics, the public and media. Please visit http://www.musee-orsay.fr for more details.
o At the Louvre: "Rembrandt and the Face of Jesus" through July 18th. The museum will showcase Rembrandt's masterpiece "The Pilgrims at Emmaus" along with a variety of representations of Christ by both the artist and his students. The exhibition aims to showcase Rembrandt's innovative character and inventiveness. More information at http://www.louvre.fr.
In the US . . .
o Cyclists might be interested in Michelin's Protek Max flat-proof inner tube that automatically seals when punctured. It has an uneven surface that compresses and squeezes the hole shut. Michelin also claims that the tube will maintain its pressure when sitting at home in the garage. For more information visit this Michelin web site. Michelin World Headquarters are in Clermont-Ferrand, France, and their North American Headquarters are located in Greenville, South Carolina.
o Rodin: The Complete Stanford Collection - The Center's collection of Rodin's bronzes, plasters and waxes - some 200 works in all - is on view in three galleries plus outdoors. Large scale works remain perpetually on view in the Rodin Sculpture Garden adjacent to the museum and nearby on campus. For more information: http://www.museum.stanford.edu.
o Portraits, sculpture, tapestries and stained glass are among the work on display at the Art Institute of Chicago through May 30 in an exhibit entitled Kings, Queens, and Courtiers: Art in Early Renaissance France. The creativity during the reigns of Charles VIII and Louis XII, with influence by Anne of Bretagne who was married to both, is apparent through in this show. More information at http://www.artic.edu.
o Color Moves: Art and Fashion by Sonia Delaunay will be the exhibit through June 5 at the Cooper-Hewitt National Design Museum in New York City. Delaunay, with her husband, Robert, is a cofounder of Orphism, an offshoot of Cubism. This is the first major exhibit of her work in 30 years and includes textile designs and clothing influenced by her art from the 1920s to the 1940s. More details at http://www.cooperhewitt.org.
o The Mourners: Tomb Sculptures from the Court of Burgundy is on a two-year tour of the United States. Some forty mourners are at the foot of the tomb of John the Fearless, Duke of Burgundy, and his wife Margaret of Bavaria in the Musée des Beaux-Arts de Dijon, France. The tomb is a reconstruction from the 19th century as the original was destroyed during the revolution. The Museum has loaned thirty-eight miniature mourners (approximately 14 inches high) ~ mute monks expressing human grief more succinctly than any other late Gothic or early Renaissance sculptures. Carved by two sculptors, Jean de la Huerta and Antoine le Moiturier, they have, with several important exceptions, remained in Dijon since they were carved in the late 14th and early 15th centuries. Through July 31 at the Los Angeles County Museum of Art. For information http://www.lacma.org.
o Gauguin's Volpini Suite examines the artist's hand at printmaking, first exhibited in Paris at a café during the 1889 Exposition Universelle. Until September 18 at the Indianapolis Museum of Art. Further information at http://www.imamuseum.org.


SPA TALK . . .
Health spas and guest accommodations offering spa treatments, steam and sauna rooms, and exercise rooms are throughout France. We thought a little explanation of some of the types of spas would be helpful to travelers. Sometimes we don't completely understand the translation, so here are some of those you will see mentioned when traveling to France:
Balneotherapy is the medical use of thermal waters which, in France, are mineral springs. It can be combined with mud or heat therapy and is said to be helpful for rheumatoid arthritis and back pain.

Vinotherapy involves grape-based scrubs, rubs and wraps pioneered by Les Sources de Caudalie in Bordeaux over 12 years ago. Grape seeds and skins contain powerful antioxidants.

Thalassotherapy is derived from the sea using seaweed and seawater in baths, showers, and massages. France has some 40 Thalassotherapy centers along its coast and is the world capital for these treatments.